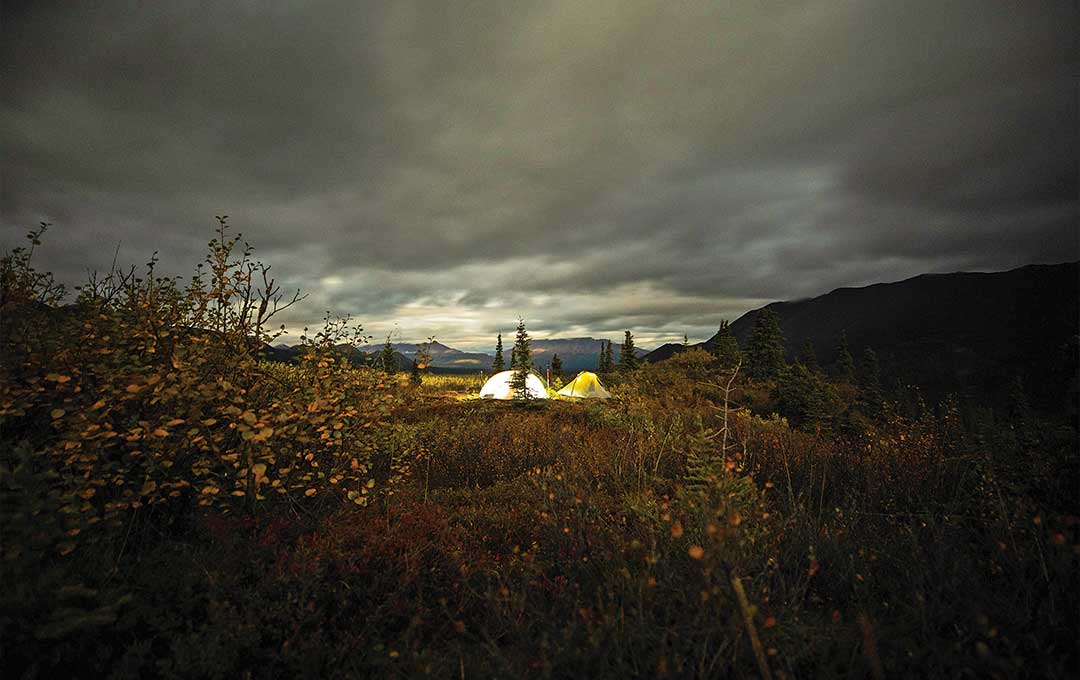 Backpacking tents 2021
I know some of you are trying to sneak guns in the house without the boss seeing what you bought and believe me, I understand the feeling. For me though, it always seems like I am trying to sneak things like new backpacking tents past the wife… Ok, she actually knows, but I feel like more than once I have answered the question, "Do you really need another tent?"
Do I need one? Probably not, but I always want one. It is not that I do not like the tents I have owned or still own, but I am always looking for a new feature that I love or a lighter tent that matches the functionality and features of what I already have.
The "right" tent is hard to define. Some people just want the lightest no matter what features they sacrifice, while others want more room to move around and store gear. For me, it depends on what type of hunt I am going on and the duration. My first several tents had only one entrance, and it was from the end of the tent. Anymore, I only use tents with side entrances and a vestibule to keep my gear and weapon out of the elements.
Obviously, we can't cover every company that makes tents, but we have highlighted numerous models that we have had the opportunity to use on hunts over the past year or so. Although there are many other tents on the market, we feel that each of these is worth looking at if you are looking for a new tent setup in 2021.
Big Agnes Copper Spur UL3 $499.95
Hotel UV Rainfly $299.95
Zach Bowhay
The Copper Spur line of tents has been a favorite of mine for several years. In 2020 I received the newest version of the Copper Spur, the HV UL3 $499.95, and over the past year, I have fallen in love with this tent. When solo hunting I opt for a single-man tent to shave as much weight as possible. However, when hunting with a partner where I can split weight, I prefer a three-man tent, so there is more room for sleeping and gear. At a packed weight of only 3 lb, 14 oz, each person carries less than two pounds, and that provides them a living space of 41 square feet. On top of that, this tent has doors on each side with a vestibule of nine square feet per side, so there is plenty of room both in the tent and in the vestibule for storing gear.
Like all Big Agnes tents, the Copper Spur HV UL3 is easy to set up with color-matched buckles to ensure the fly is buckled in the proper slots. The organization is also great with four interior pockets for stashing and stowing gear. The pole system is a hub design with pre-bent poles that are very user-friendly. The floor and fly are made from silicone treated, double ripstop mixed denier nylon that has a 1200 mm waterproof polyurethane coating. I have been through a few pretty serious downpours in my Copper Spur, and its waterproofing has performed flawlessly.
Lastly, I want to mention the Copper Hotel HV UL Rainfly with Extended Vestibule $299.95. I must admit when I first got this accessory, I thought, there is no way I am packing this thing and adding an extra two pounds to my tent weight. I then realized that this wasn't in addition to the tent and fly but rather replaced the fly and added a huge vestibule on one side of the tent. Although I haven't gotten to use this on an extended trip, this will definitely be with me on longer trips and will be a game-changer, especially if inclement weather keeps you cooped up in your tent.
These tents are an all-around well-thought-out design with user comfort at the forefront of the design. The Copper Spur line deserves consideration if you are in the market for a new tent. For more info visit bigagnes.com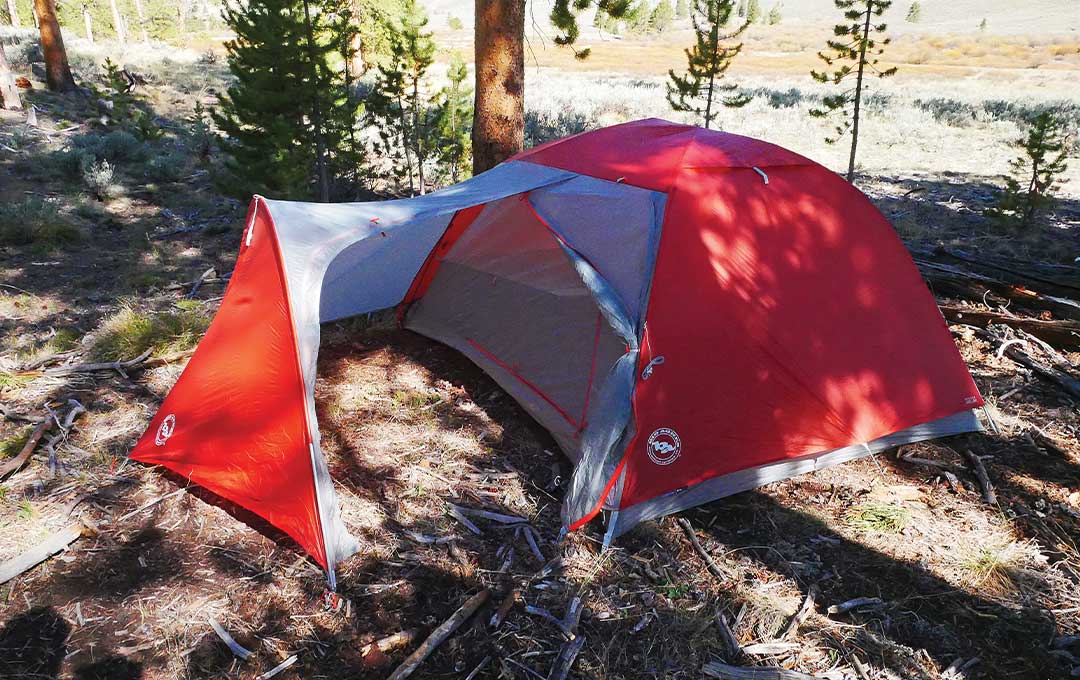 Kuiu Summit Star 1P $239
Zach Bowhay
When I am solo backpack hunting, light and fast is the name of the game. I want a tent that's lightweight and easy to set up when I am ready to go bed down for the night. I also want a tent with a small footprint so I can find a place to set it up no matter where I end up wanting to camp. When these are the criteria, the Summit Star 1P Tent from Kuiu is tough to beat.
With an overall trail weight of 1 lb, 4 oz, you will hardly notice you have it, yet with the large vestibule, you will have an overall living area of 43 square feet. A single trekking pole and a small carbon pole at the foot of the tent support the tent itself. If you don't carry trekking poles, a three-piece Summit Star tent pole can be purchased separately.
Entry to the tent is via a side door which is nice for keeping dirt and debris out when getting in and out or doing things like putting on or taking off your boots.
These tents are constructed from a high-strength 15D silicone/PU- coated micro ripstop nylon that for me has proved very durable. I have used mine in some rocky, carved-out deer beds and have had zero issues with tears or abrasions. Another nice feature is the tent is plenty tall for me (at 6'2") to easily sit up and move around.
This tent is a no-frills, all-business piece of equipment for the minimalist hunter who needs little more than a dry, roomy place to sleep. I love trying new tents, but I don't see myself replacing this tent in my lightweight setup any time soon.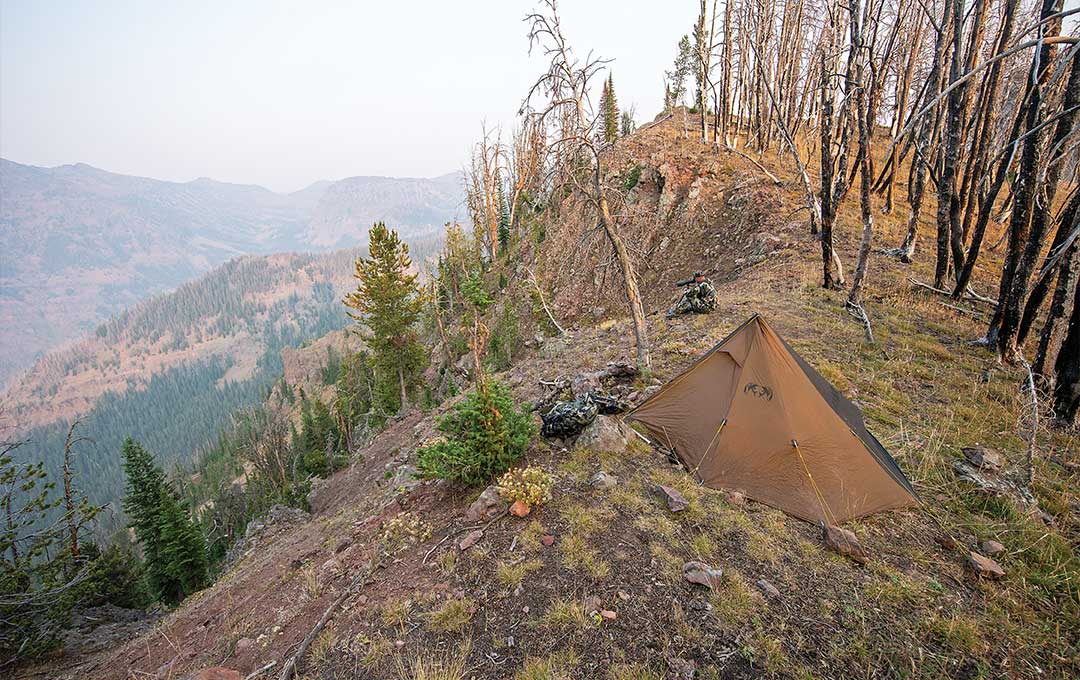 Stone Glacier SkyAir ULT Tent $165, vestibule $49, mesh insert with floor $125.
Chris Denham
On my Dall sheep hunt in Alaska, my guide slept under a tarp every night, even with heavy winds and non-stop rain. Each time we pitched his tarp, I was surprised how much we could do with a few trekking poles and guy lines. The Stone Glacier SkyAir ULT is the next evolution of a flat tarp and offers an incredibly lightweight option for fair weather conditions.
You need two trekking poles. I would recommend extendable poles like the Leki Carbon TA as opposed to folding poles, as these poles offer more adjustability when pitching the tent. The poles serve as front and rear supports while the stakes and guy lines provide rigidity. The packed weight of the tent is a scant 10 ounces! Depending on how you pitch the tent, you have more than enough room for one person, and possibly two, depending on how much you like your hunting partner.
The front of the tent is open and provides plenty of ventilation during warm and dry hunts. If you are expecting moisture or just want more protection from the elements, you can add a vestibule (4 ounces, $49). When condensation or bugs are in the forecast, Stone Glacier offers a mesh insert with a completely sealed floor (10 ounces, $125) for true three-season protection.
Stone Glacier has multiple videos on their website about how to properly pitch the SkyAir. I wish I had watched one before I set it up on a late October mule deer hunt in Idaho last fall; it would have cut my setup time in half. But without any instruction, I had a solid shelter set up in less than ten minutes. We were not expecting bad weather, so I didn't pack the mesh insert, but I did use a small tarp under my sleeping bag, which helped to keep the dust down and gear clean.
I couldn't have been more satisfied with its performance. I will never forget the look on Nate Simmons's face when I tossed him a 10-ounce bag and told him that was my tent! The modular design and quality materials make the Stone Glacier SkyAir ULT arguably the lightest three-season tent on the market. For more info, visit stoneglacier.com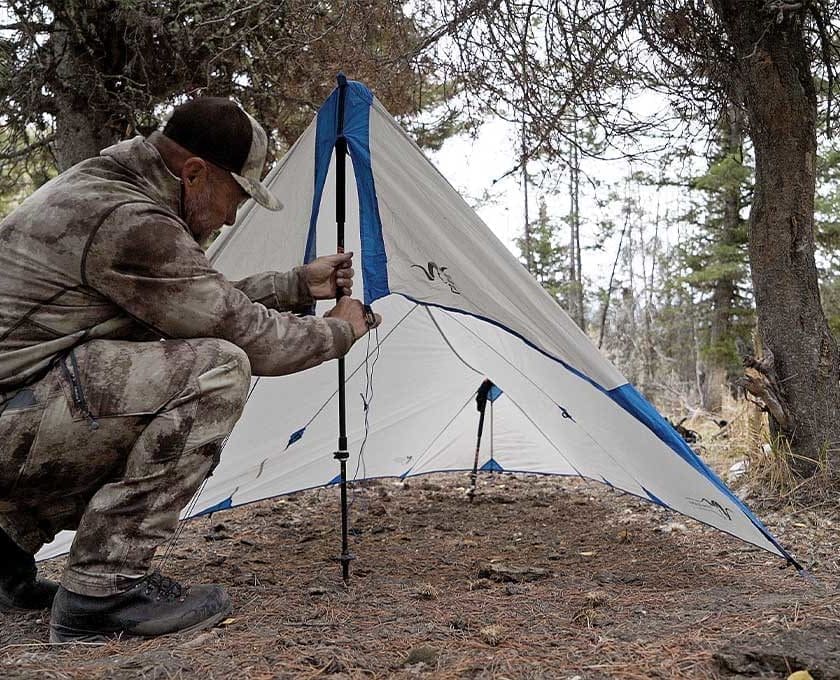 TarpTent Double Rainbow Li $649
Todd Harney
After following Dyneema Composite fabrics for the past few years, I finally purchased and used a number of items utilizing this cutting-edge material for the 2020 season. The most exciting Dyneema piece I picked up was the TarpTent Double Rainbow Li.
The most standout benefits to Dyneema over nylon are its weight savings and strength. TarpTent offers a standard silicone-coated nylon Double Rainbow tent as well. At 28.6 oz with poles and stakes, the 'Li' Dyneema model weighs an impressive 13.4 oz less than the same tent in nylon. The two-person, double-vestibule tent offers all sorts of room when using it solo as I did throughout the season, and it felt like a feather in my pack.
This is a single-wall tent, so a major intrigue I had was how well it would handle the condensation associated with rain, wet clothes, and boiling water inside… all of which occurred nearly every morning/night on a 10-day Alaskan backpack hunt. Without question, this tent withstood the conditions better than any other single-wall shelter I've used before.
TarpTent did a great job implementing some innovative features to control condensation: In addition to strategically placed vents, the ends of the tent have elevated mesh 'gutters'. These not only provide ventilation but also catch interior condensation and dispose of it to the outside before it reaches the floor area. A high ceiling allows me to sit tall and get dressed without my head/shoulders coming anywhere close to contacting the fabric.
I experienced the benefits of the Dyneema material well beyond weight savings. It remains fully taut when wet versus the sagging seen when nylon tents hold moisture after periods of rain. I've never had to re-tighten guyout points after initial setup, no matter the weather. The material is so hydrophobic that a sturdy shake sheds nearly all rain water from the exterior prior to take-down. It's a substantial benefit to pack/set a dry tent before/after each day's travels.
The TTDRLi has a built-in bathtub floor for extra rain/wind protection. While not free-standing, it's easy to pitch solo in about 90 seconds. One item of concern is the carbon fiber poles - I didn't break one, but they do feel a hair on the fragile side. Tread lightly around them in the dark! For more info, visit tarptent.com
Seek Outside Cimmaron Pyramid Tent $450
Zach Bowhay
I have to admit that I still am not sure if I am sold on the tipi life. I do appreciate many features, like the spacious living area you get with such a lightweight setup, but still am not sure how I feel about not having a floor in my tent.
The first time I backpacked with the Seek Outside Cimmaron was on my Utah elk hunt in 2018. My buddy Josh had recently purchased the tent and wanted to try it out. The set-up was a bit cumbersome, but once it was set up I was blown away. At less than four pounds carry weight, having 94 square feet of floor space is pretty impressive. With enough room for four people without a stove, the two of us had gobs of room in the tent. The next time we used the Cimmaron was on a backpack October mule deer hunt where the mercury was dipping into the low teens at night. On this trip, the set-up was easier and the packable stove made the long October nights much warmer and more enjoyable.
After several trips sleeping in the Cimmaron, I feel like we learn a little more each time about how to effectively live the tipi life. Spending extra time with set-up goes a long way. Getting the sides staked down close to the ground keeps cold drafts from coming under the walls. Also, when using a stove, packing a saw substantial enough to cut bigger wood is a good idea and honestly, just planning on the stove going out at night and starting it in the morning leads to more sleep than staying up and feeding the stove.
The Cimmaron doesn't have a ton of features. It's just made to be light and offer a large living area. Made from 30-denier Cordura nylon, the build seems robust enough to handle some abuse and yet remains light on your back. Although, as I said, I am still having mixed feelings about tipi tents, I am intrigued by the possibilities the Cimmaron can open up, especially on later backpack hunts. For more info visit seekoutside.com
Six Moons Lunar Solo $230
Zach Bowhay
For those looking for an affordable, solid setup, take a look at the Lunar Solo Backpacking Tent from Six Moons Designs. With a 26-square-foot living area and an additional 8.5 square feet of vestibule area, this one-man tent has lots of room for the solo hunter and their gear.
The Lunar Solo is made with a 100% silicone-coated polyester material and the 20D body and the 40D floor keeps the tent light yet strong enough to hold up on tough hunts in rough terrain. The weight of the tent is 26 ounces, not including the stakes and center pole. Most users set this tent up with an adjustable trekking pole, but a center pole may be purchased separately if you don't typically pack a trekking pole.
After you learn how to set up this tent, it takes literally minutes with the single-pole design. The canopy/body of the tent is a "floating" design, which increases ventilation and helps reduce condensation while sleeping. The floor is considered a floating floor as well. This helps to keep the floor from tearing or being punctured because it's not constantly under tension.
The internal gear area that keeps your essentials organized and accessible is a feature I really love in a tent. The oversized screen door makes getting in and out of the tent easy, and the 49" peak provides plenty of room to move around and makes getting dressed and undressed easier. Also, the hexagonal design with steep sides helps shed snow and rain and holds up really well to high winds.
All in all, I really like the design of this tent. It has some of the best features of a tipi-style tent while still having a floor and other gear organization features that I enjoy. For more info visit sixmoonsdesigns.com
Kifaru Sawtooth $837, Liner $288
Chris Denham

As we have mentioned many times in this article, floorless tents have their advantages and disadvantages. The Kifaru Sawtooth is a floorless tipi tent, so it is not exempt. But after using it on multiple backpacking and hunting trips, I have come to the conclusion that "conveniences and inconveniences" might be better terminology. As with all tipi tents, learning how and where to pitch your shelter is critical. Obstacles like moisture control and uneven or wet ground can all be overcome with practice and forethought.
The Sawtooth footprint measures 13'9" by 8'6", which easily accommodates two people with a wood-burning stove or up to four people without the accessories. The center pole stands up to 6'6" high for plenty of headroom for two people to stand up, while a shorter pole kicks out one wall, creating the modified tipi shape and adding a few more feet of usable interior space. It is a single-wall tent, so condensation can be an issue. For those types of environments, Kifaru offers a clip-in liner. The tent and poles weigh in at 4 lb 8 oz, and the liner adds just over one pound.
The tent can be ordered with a stove jack opening which will accommodate any number of backpackable wood stoves, which I highly recommend. The Smith Cylinder Stove from Kifaru weighs less than two pounds and straps easily to the outside of your pack. It is, more accurately, a stick-burning stove that must be tended often, but there is nothing better than going from cold and wet to hot and dry. Once again, you need to practice putting this stove together. It takes a little practice to become efficient. It is better to figure it out with warm hands and sunlight than with shivering hands and a headlamp.