Western Hunters Top 7 Insulated Jackets for 2021
What makes the perfect hunting jacket? This question is difficult to answer, as it varies greatly from person to person. Much depends on the type of hunting one does, the type of climate and terrain they hunt in, and people's individual wants and needs. For years, it seemed almost everyone used a soft-shell jacket of some sort while hunting. Then, down jackets and better layering systems became mainstream in the hunting industry and many ditched the traditional jackets for what they considered better for their hunting kit.
It's hard to argue who is right or wrong when both camps are right on this. What works for one, might leave another shivering on a cold hillside. Adversely, what works for another might leave the other overheated and drenched in sweat after ten feet of hiking. Luckily, hunting clothing has come a long way in the past couple of decades, and the possibilities are endless in this arena. It is easy to get a lot of money tied up in clothing, so making the right decisions can save you from spending all your tag money on clothes. Still, quality clothing can be a game-changer, and at times, it can be worth its weight in gold.
To help narrow things down, we asked several editors and friends to tell us about their favorite jacket/insulation piece, and these are their reports. We hope it helps you in your research if you are looking to upgrade in 2021.
Arc'teryx Atom LT Hoody $259
By Todd Harney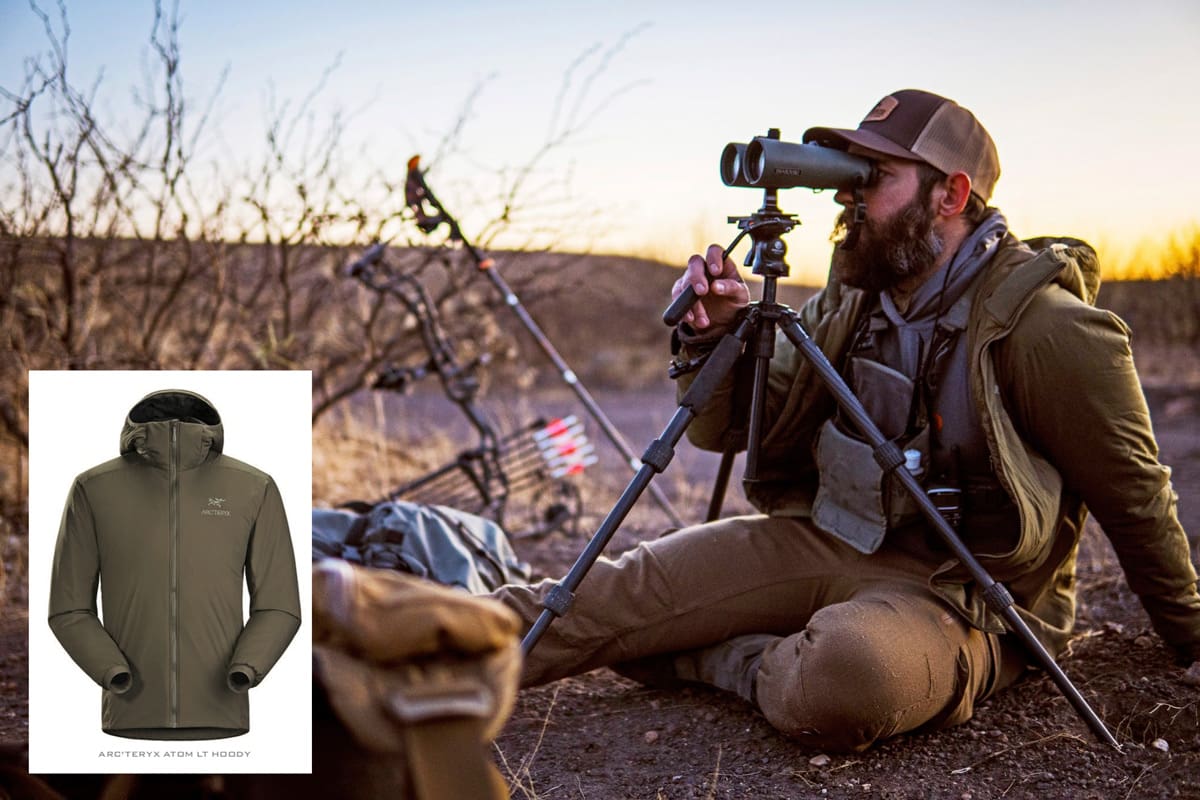 Heading into the 2020 season with a diverse lineup of hunts on the calendar, I set out to find the perfect all-purpose jacket. Without any sort of clothing brand affiliation and a preference for solid colors, the options were wide-open. The criteria for a hooded jacket were that it was lightweight, synthetic insulation filled, low bulk, quiet, breathable, durable, and could be worn effectively and comfortably as both an outer layer and as a mid-layer. A good-looking jacket would be the cherry on top.
After some diligent research and ordering a few different options to mull over in-hand, the Arc'teryx Atom LT Hoody seemed to stand out, checking all the boxes… including the bonus "cherry" category. However, it would take some hard use to validate my suspicions that this could be the perfect all-purpose western hunting layer. I went on to hunt blacktail in California, Dall sheep in Alaska, mule deer in Nevada, and elk in Colorado during the fall. Throughout it all, very few days went by that I didn't have the pleasure of donning what became my favorite jacket.
It breathes well while hiking in cooler weather and layers perfectly beneath a larger down jacket for long periods of glassing in the cold. It takes just enough edge off by itself over a merino base in the 40-55-degree temperature range. At 12 oz, it's light and compact enough for backpack hunting use. And to my surprise, it held its own through the Alaskan alders and miles of Colorado's famed oak brush thickets. I wore it hard and there are just enough minor battle scars to give it some character. The jacket is on pace to handle numerous seasons' worth of abuse.
As a bonus, I find myself wearing it often for casual use as well. I've tried to come up with a negative to keep this from being all peaches and roses, but in all honesty, there's not a thing I'd change about this jacket for my uses.
For more info, visit arcteryx.com
Browning Hells Canyon Speed Backcountry-FM Jacket $229.99
By Chris Denham
When I am looking back at my old hunting photos, I am stunned at how many different jackets I have worn over the years! It has to be well over 100 different styles, materials, and patterns. But when I start packing my bag for a western hunt, the first jacket that gets packed is going to be a medium-insulation softshell model, and for the past few years, that coat has been the Browning Hells Canyon Speed Backcountry-FM with Gore Windstopper® or the Backcountry-FM for short.
We all make fun of weather forecasters, but the algorithms used by the weather service are pretty darn accurate for a week to ten days out. I can just about guarantee in the Rocky Mountain region, from the middle of September to late November, it will be relatively cold with some rain or snow, and the wind is going to blow. That is exactly the type of weather pattern the Backcountry-FM was designed to handle.
The three-layer Gore Windstopper® fabric is windproof, water-resistant, and yet extremely breathable. Granted, the Windstopper® layer is not technically waterproof, but I have found it will keep me dry in any storm in which I could actually hunt. The soft-shell exterior is quiet, soft to the touch, and glides through Arizona catclaw and alders and willows in Alaska. The waffle-pattern insulation combined with the Windstopper® layer is incredibly warm considering its lack of bulk. The Backcountry-FM is available in the ATACS A/U (lighter camo), ATACS TD-X (darker camo), and charcoal grey.
Check it out at browning.com
First Lite Uncompaghre 2.0 Jacket $210
By Josh Kirchner
Hunting jackets have come more than a stone's throw away from the days of old. The classic image of a hunter around a fire with a plaid jacket on is one that fades more each year. Nowadays, these once-bulky jackets that inhibited our movements are now smaller, more efficient, and much more effective. As a kid, I remember feeling like the girl that turned into a blueberry in Willy Wonka with how many jackets I had on. Heck, I couldn't even see my boots! Those days are long gone.
One jacket to rule them all. We've all got one, right? For me, it's the Uncompaghre 2.0 from First Lite. This is my no-questions-asked, go-to insulation piece. Whether it's early-season above treeline or late-season chasing rutting bucks, this bad boy always owns some real estate in my pack. I say "some'' because it doesn't take up that much room at all for a synthetic piece. In fact, the Uncompaghre packs down into its own pocket. So, not only does it fit well in a pack, it can be used as a pillow for the weight-conscious backcountry hunter.
The 37.5 by Cocona's Active Particle Technology does a great job of transporting moisture from within, keeping the user dry and warm. Sweating is no bueno when it's cold out. Speaking of staying dry, the Uncompaghre also comes with a DWR coating, which will help bead water off should the sprinkles hit. Of course, it's not a substitute for rain gear, but it helps. And the fit. The fit is perfect and true to size. Jackets that are too big or sloppy-looking are somewhat of a pet peeve of mine. The 2.0 is anything but that. Even with the great fit, there is no lack of mobility. Bottom line, one jacket to rule them all.
For more info, visit firstlite.com
Kuiu Kenai Ultra Hooded Jacket $259
By Zach Bowhay
Just to give a little personal info, I have always been a soft-shell guy. I've been carrying a down jacket for years now, but still find myself carrying my soft-shell as well. I love having the warmth of a down jacket when sitting and glassing, but I run too warm to wear my down while doing any sort of hiking. For this reason, I must report that after hunting in the KUIU Kenai Ultra in 2020, I finally found the perfect jacket for many of my hunts.
Weighing only 14.5 oz, this jacket is very light and packable. Its 3DeFX+ synthetic insulation is strategically placed to deliver warmth to the core and less insulation in the sides and sleeves to better serve the active hunter. The shell is made from 30D Stunner Stretch nylon face fabric that is light and very strong but dead-quiet. I love it for bowhunts where my quarry is close and I don't want them to hear me as I draw my bow. The shell is DWR treated to repel water and dry quickly. This jacket also has pit zips, which is one of my favorite features on any jacket, as it allows me to dump heat when actively hiking without removing my jacket.
For now, I feel like this is the perfect jacket, but I will always be looking to improve. It's both a great insulation layer as well as a jacket I can wear while hiking in cool weather. I can carry just this layer and my rain jacket over the top if need be and don't have to carry the extra weight of a soft-shell, which is huge when shaving ounces on backpack hunts.
For more info, visit kuiu.com
Sitka Kelvin Lite Down Jacket $349
By Colton Bagnoli
The Sitka Kelvin Lite Down jacket has quickly become my favorite jacket and a key piece of gear for my layering system. I began using the Kelvin jacket two seasons ago when they were still in the development stage of design. Now, two seasons deep in Montana, and I have yet to even put a single hole in it after constant use during our generous late-season elk and deer hunts. The Kelvin Lite features 900-fill Primaloft Gold down blend, with 60 grams of Primaloft in the arms and back for active insulation.
This jacket is extremely lightweight at 17 oz and packs into its own zippered pocket, taking up little room in my pack. As with all Sitka products, this jacket is sized appropriately for layering and fit me perfectly to allow for maximum movement and comfort. Having compression insulation is paramount for late-season hunts in the mountainous country I typically hunt. With morning hikes gaining 1,000-2,000 feet in elevation and single-digit temperatures, I rely heavily on packing compressible clothing for layering once I am in position.
Utilizing a quality insulation layer for hunting the West has become a vital part of a successful hunt. If late-season is your game, I highly recommend the Sitka Kelvin Lite Down Jacket.
For more info, visit sitkagear.com.
Stone Glacier Grumman Goose Down Jacket $329
By Ben Britton
When it comes to choosing what jacket makes the cut for a given hunt, aside from a rain jacket (situationally necessary), an insulated jacket is a must. No matter the conditions, warm or cold, I will always carry a down jacket in my pack as a "warmth insurance policy". You never know when a cold snap may roll through, or a tough climb will leave you drenched in sweat just to sit down and glass from a windy ridge.
The Stone Glacier Grumman Goose Down Jacket is about as good as it gets. The outside fabric is durable, lightweight, and unlike a lot of down jackets on the market, it's soft and relatively quiet. In addition to a DWR coating on the fabric, the down itself is also treated to protect its loft and insulating properties from outside moisture as well as internal moisture such as sweat.
Filled with 5.3 oz of 850+ fill power down, this jacket does what it is designed to do–lock in the warmth generated by your body. The performance of the jacket is incredible when you realize how light it is, weighing only 11.3 oz total.
When it comes to the fit, I would say it is a little on the larger size to accommodate for layers underneath, which is perfect for this style. I'm 6'1" 220 and wear an XL. The hood has plenty of room for multiple hoods, and a long torso helps keep the wind out when seated. It comes in two colors, gray or tan/green, and includes its own stuff sack. Overall, this is my favorite down jacket I have owned, and it would be hard to find one better.
For more info, visit stoneglacier.com
Under Armour Ridge Reaper Down Hoodie $220
By Remi Warren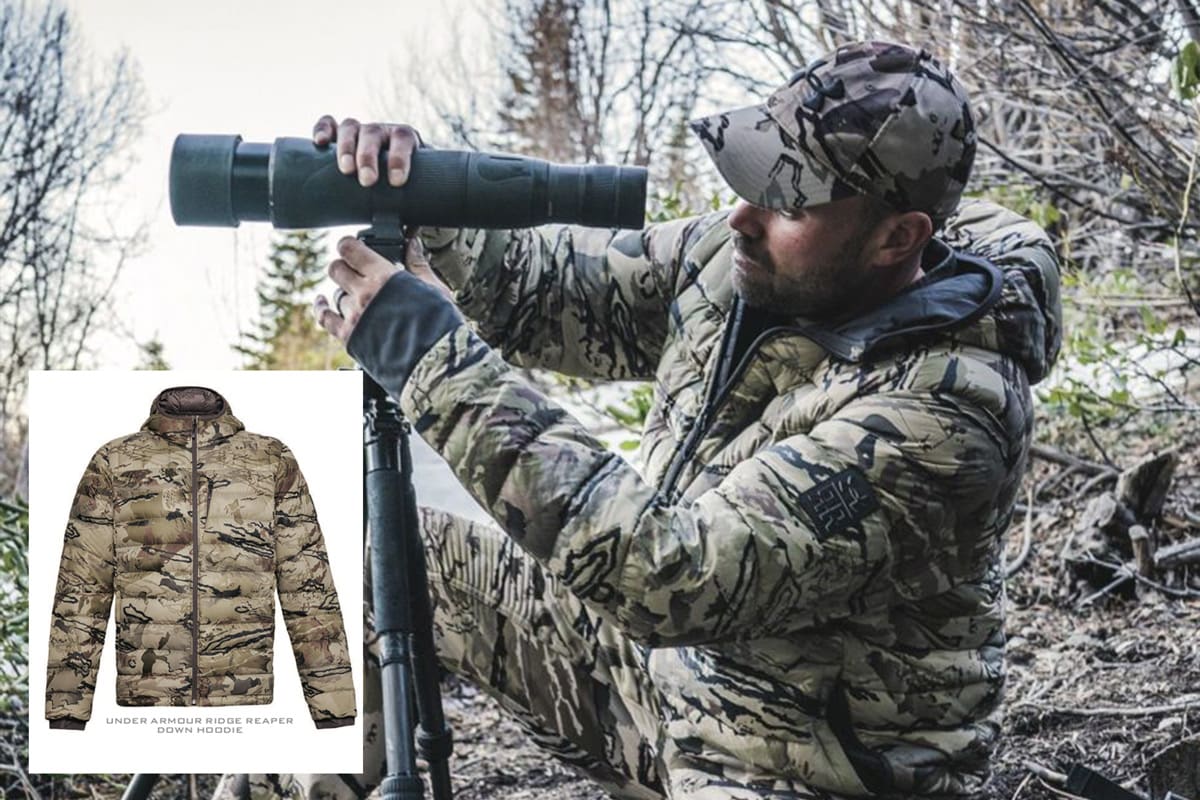 The Ridge Reaper Down Hoodie is a lightweight, durable down jacket, great for the constant temperature fluctuations experienced while hunting out west, especially the change in body temperature between hiking and glassing.
Working with Under Armour, I had a lot of input in this piece. They came to me asking what was missing in the kit. I wanted something light, warm, and functional for the mid-to-late season, something that did not sacrifice flexibility and breathability while hiking but has a lot of warmth retention while stopped or glassing. This product hits the mark.
One feature that makes this hoodie a home run for me is the cuff with the built-in thumb hole. It is comfortable and helps trap heat. It also pairs well with gloves when it's cold but keeps hands warmer in the constant stop-and-go of western hunting without the use of gloves. The thumb holes also aid in maintaining a great, functional fit when used as a base layer under or over another garment. I am partial to it because I was the one that recommended that added feature, but I believe it makes the piece that much better.
While I wear this piece as an outer layer on most hunts, it is not at durable as a softshell or a waterproof jacket. It works great in combination with rain gear for heavy precipitation. There is no heat-dump side zips to cool down while hiking, but the fill weight is great for regulating temperature, so those are not necessary. Like most down puffers, the nylon outer layer is slightly louder than a softshell material and can be prone to tears or fire damage.
A major bonus for me is the fact that RRDH stuffs easily into its own pocket. It is great for storing when not needed. The 700-down fill is extremely warm but light. The UA Storm coating keeps it water-resistant but still breathable. Overall, it's one of the best down jackets I have used.
For more info, visit underarmour.com.