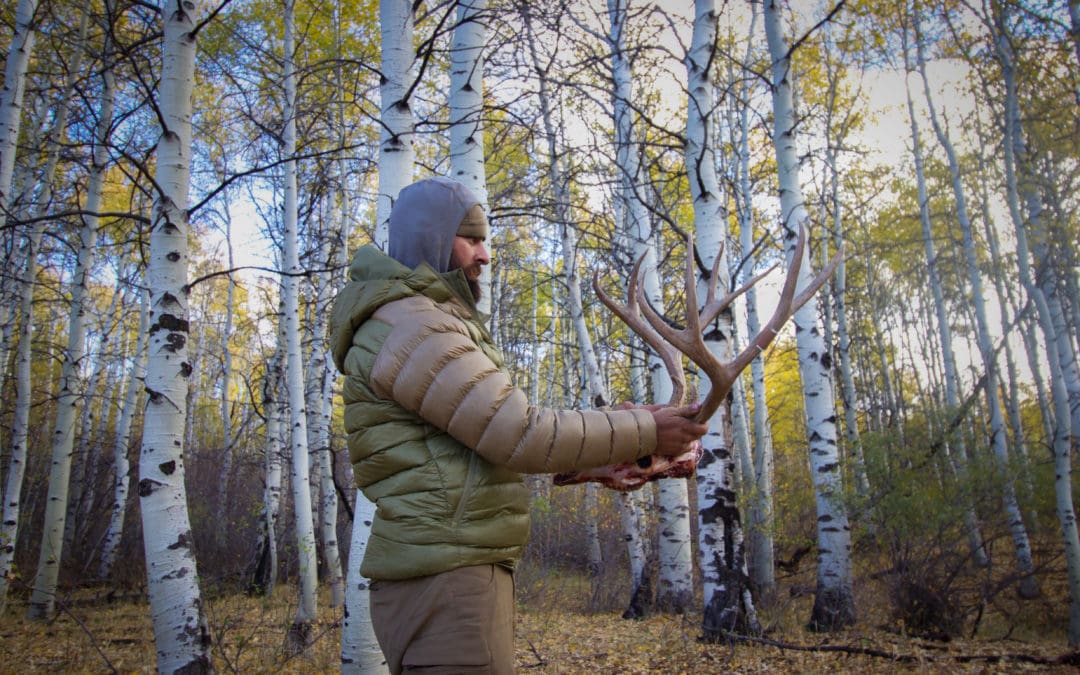 Stone Glacier Grumman Goose Down Jacket Review
Prior to the 2020 hunting season I had spent 7 years working for a popular hunting apparel brand, using their clothing exclusively. Naturally, I had kept an eye on offerings from other apparel companies in the hunting space over the years, often seeing pieces that caught my interest. Just because I worked for a certain company didn't mean that I thought everything they made was "the best"... that would be silly, close-minded, and unrealistic.
With my new-found freedom to perform an entire overhaul on my gear for the year, I was excited to research and try what I felt was truly the best fit for my style and needs. With hunts in 5 different states on the calendar it was a great year to put some new gear through the paces.
Stone Glacier was one of the brands I was excited to try. Their packs had always been carried in high regard and while their clothing line was/is on the new side, they do a great job of sharing the thought process, materials, design philosophy, and field testing process with their customer base. For someone who enjoys diving into the details to gain confidence prior to committing to a purchase, I found their information quite useful. The fact that they offer solid colors only was right up my alley. Based on field experience both rifle and archery hunting, I'm in the camp that camo is overrated and tends to be more marketing hype than actual field value. Plus, I was assembling a combination of new gear from multiple brands which (more power to the folks who don't care about this) looks goofy to me when it's a number of various camo styles hodgepodged together.
The down insulation layer is one of the most important pieces of gear for most of the hunts I do. It has the highest warmth-to-weight ratio of any layer type. You simply can't get the insulating properties of down from any other fill type, not to mention the weight and packability benefits when it comes to long-distance backpack hunting. However, not all down garments are created equal, and it requires some knowledge and research to narrow down options that fit a user's wants, needs, and budget (that's not what this article is about, but you can read more on that subject in Ben Britton's article HERE).
My Stone Glacier Grumman down jacket arrived after vetting similar products from numerous brands in and out of the hunting market (for example the Feathered Friends Helios, Western Mountaineering Flash, First Lite Brooks, Arc'Teryx Cerium, and a couple others I can't recall at the moment). Selling points for me on the Grumman included:
Advertised 850+ Fill Power Down
This is a high-quality fill. Compared to lower fill power down, the higher number indicates that less down (weight-wise) is required to achieve the overall insulating volume. This translates to a lighter, more packable garment that still expands to a warm, 'puffy' layer when worn… assuming enough of the fill is used in the jacket of course.
An advertised fill amount of ~5.3 ounces
Based on experience with other down jackets with published fill weights, I knew that 5 ounces of fill was about the sweet spot for warmth and 'puffiness' for my personal preference and needs.
Pertex Quantum shell fabric
One of my previous gear upgrades for the year was a Feathered Friends sleeping bag, which utilizes Pertex Quantum. I really liked how soft and quiet the material was compared to the nylons in my previous down jackets. I was excited to see this in the SG Grumman, and as suspected it definitely has a high-quality feel in the hand and when wearing it. One minor drawback for hunting applications is that there's a bit of sheen to it.
DWR Treated Down
There's a lot of talk among high-end non-hunting brand sleeping bag companies as to the true effectiveness or difference-making qualities of treated down versus high quality non-treated down. It makes sense for sleeping bags, given it shouldn't be raining inside your tent. But for a jacket worn out in the elements, the DWR-treated down still seemed like a good idea. At the very least, what would it hurt?
Weight-Saving features
No chest pockets or pit zips, simple elastic wrist cuffs, and a streamlined hood cinch… it's obvious these guys wanted to save weight where possible, and they did so without really sacrificing anything. Good stuff.
High Collar
Fully zipped it appeared that the collar was taller/higher than others I was looking at, which would provide ample insulation around the neck and face when conditions really called for it.
Sewn-on Logo Patch
Super minor but hey, it's a quality look compared to screen print logos and that's worth something.
Hunting season got underway and it was time to "put it to the test" as they say. The first hunt I used it on was a friend's 10-day backpack Dall Sheep hunt in Alaska. I wore the jacket every day and night and was simply thrilled with how it performed. It was warmer than expected, handled moisture exceptionally, and experienced zero damage. Feature-wise there wasn't anything I'd have changed about it. Boring, right?
The next trip was a scouting run in Nevada prior to the start of our early rifle Mule Deer hunt. It was supposed to be warm the whole time and like a total idiot I left my Grumman at home. My brother, hunting partner Ben, and I ended up spending the first two days scouting in thick fog and hail storms. They laughed at me from the comfort of their Grummans while I spent a considerable amount of time picturing mine hanging on the back of a chair at the dining table at home. Needless to say they raved about their Grummans on this trip.
Two weeks later we returned for the deer hunt and I made up for lost time on the previous outing, wearing it every morning and evening as I had in Alaska. Once again, no issues, damage, or complaints over the course of 9 days on this trip. When the temps really dropped I'd layer the Grumman over my synthetic insulation (an Arc'teryx Atom LT) which was a great combination.
The next trip was a 4th Season elk hunt in Colorado. Temperatures were often in the teens on this hunt, and we were frequently working through tall, dense oak brush. A tough combination for down jackets from both a noise and durability standpoint. I kept the bushwhacking to a minimum wearing the Grumman for obvious reasons. It's tough, but it's not invincible. It's also north of $300. Once again I was pleased with the performance. The jacket handled wind, snow, and rain like a champ. Others in camp were audibly jealous of my jacket.
Most recently I relied on it again on a January archery deer hunt. Once again... great performance and zero issues, even while constantly surrounded by sharp and spiny plants. We ran into some Border Patrol agents on this hunt who commented on how 'good lookin' the Stone Glacier was and asked if I wouldn't mind taking it off for them to check out. They were all hunters and had been eyeballing them online recently. I damn near froze while they fondled it.
As best as I can figure, I wore the Grumman on 34 hunting days this past season. Factor in casual use and the number at least doubles. Just the other day I was lying on my back under my truck in the driveway searching for the source of a minor oil leak. After about 10 minutes of squirming back and forth, grinding my back into the pavement, the thought crossed my mind… "I can't believe I'm wearing this jacket to do this." Once again it came out unscathed.
I keep trying to think of at least a couple negatives about the jacket to keep this review from being all peaches and roses. I mentioned the sheen thing earlier. It is shinier than I'd prefer when the sun hits it. However, that factor didn't cost any animal opportunities during the season, at least that I'm aware of. I wouldn't plan on archery stalking an animal with any down jacket on as an outside layer anyway. The Grumman is quite puffy and I do get some string slap on the sleeve while shooting my bow. I won't target shoot with it on, let alone shoot at an animal with my bow while wearing it. Lastly, it comes with a nice stuff sack that actually can actually be thrown like a football pretty well when packed. My brother and I had a nice game of long distance 'camp catch' with his in Nevada. However, at this point in time I couldn't tell you where my stuff sack is if my life depended on it. It's lost. A reversible zipper in the pocket to act as a built-in stuff sack would technically be better, although I've rarely used that feature in the past with other jackets that had that option.