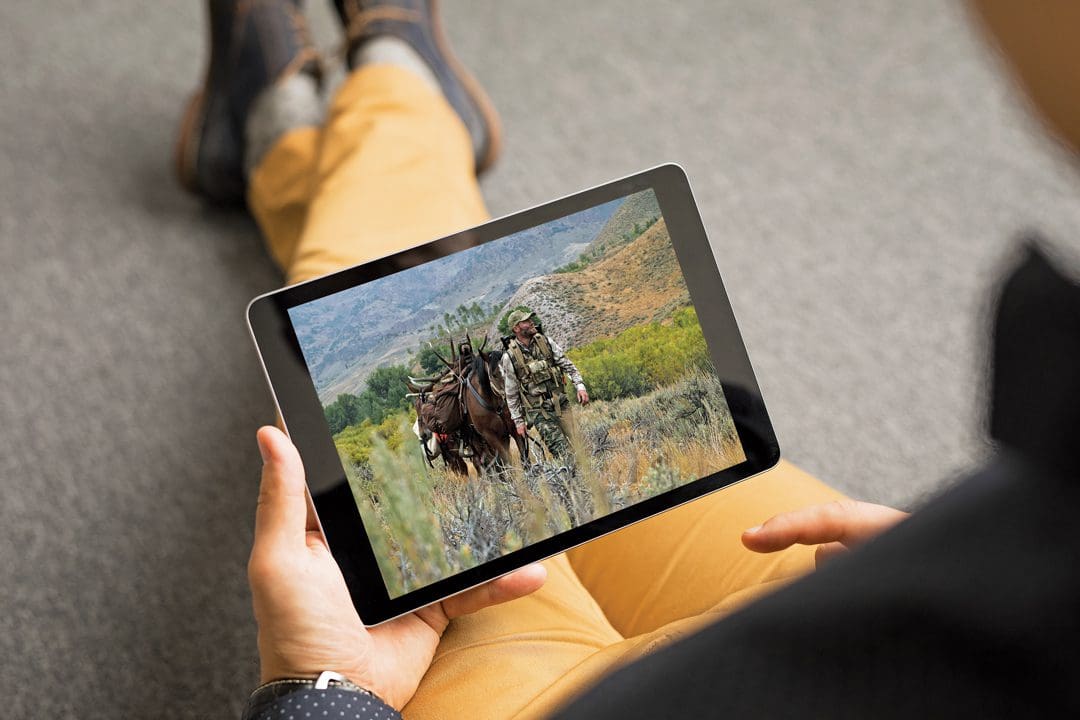 How do I Watch The Western Hunter TV?
To gain a better understanding of what is available without getting lost in the technological details, we've done some research. Here are the various ways to access and watch Sportsman Channel content like The Western Hunter so you can choose the platform that works best for you.
As technologies advance, more and more products are introduced to the market to make information and content easier to access. One area where this has been abundantly evident is the television market. Talk of cutting the cord: "a la carte television", "pick-and-pay", and "on-demand" has rolled off the tongues of countless salesmen for a number of years now. Still, in the ever-expanding market of subscription video content services, to say the choices are perplexing would be an understatement.
Linear vs On-Demand
There are several ways to watch TV shows in our modern era, but all of them fall under one of two categories: linear or on-demand. The Western Hunter airs on the Sportsman Channel, whose content is available on a number of platforms including traditional cable or satellite service, My Outdoor TV (MOTV), Sling TV and Fubo, with additional platforms currently in the works.
Linear:
Cable and satellite services are an example of linear platforms – meaning the content is scheduled ahead of time and aired in a linear time- line according to the schedule. Another example of linear content would be livestreams for events such as sports games that are broadcasted as the event takes place in real time. Along with satellite and cable providers, web-based apps like Sling and Fubo offer linear content streamed live via the internet. These apps are accessible through smart TVs and other various hardware platforms we'll discuss in the next section.
On-demand:
On-demand services offer subscribers access to large libraries of video content to choose from whenever they want. Since hunting, fishing, and outdoor content is limited on the mainstream on-demand platforms like Netflix, Hulu, HBO NOW, and others, My Outdoor TV (MOTV) provides exactly this type of content as its own on-demand platform, with shows like The Western Hunter and other content from Sportsman Channel.
OTT:
Bridging the gap between these two types of service is over-the-top or OTT service. Satellite providers such as DirecTV and Dish offer over-the-top (OTT) services that deliver on-demand content in addition to standard linear content. In other words, you can watch satellite TV as you normally would and also have access to a library of movies and TV shows that are available to watch at any time, similar to Netflix. Satellite and cable companies are always changing their offerings and re- naming them, but currently, DirecTV NOW (XTRA Package) and the DISH Anywhere app (America's Top 250 Package) are OTT services that offer Sportsman Channel content.
The Hardware
The television market has shifted in the digital age and tech companies have spawned a variety of hardware platforms in response. As more people move away from cable boxes, alternative hardware devices have popped up to fill the void.

Amazon alone offers four variants of their Fire TV devices, with more certainly to come. In addition to these devices, they have worked with television manufacturers to license their Fire TV user interface in smart TVs for an all-in-one package.

Perhaps an even better example of this is Roku. They have seven different devices, plus their licensed Roku TV lineup. Others yet, like Apple TV, are working on their 5th generation of devices already.
These examples are a few of the most popular, but they are by no means the only devices available. Google's Chromecast devices, Microsoft's Xbox consoles, and Sony's PlayStation consoles are all capable of streaming on-demand and linear video. With so many devices competing for their share of the marketplace, we narrowed our scope to those offered by Amazon, Roku, and Apple. These three companies seem to be the most pervasive and we are merely attempting to establish a baseline of information on the topic.
With that in mind, there are still plenty of different features and capabilities among the devices in our list. Every device offers a myriad of features that may or may not benefit the user depending on what they value in a home entertainment platform. Features like DVR allow users to record live shows – something that might not be particularly valuable to someone with exclusively on-demand service (think MOTV) and not linear service (think Sling or Fubo).
Resolution is another feature to pay close attention to, as people are often misled on this topic. Devices capable of 4K output (also called UHD or 2160p) will not be useful to someone with an HD television (1080p or 720p) unless they plan to upgrade to a 4K television in the near future.
Similarly, audio compatibility varies among these devices, with some devices offering standard Dolby Digital and others with the more advanced Dolby Atmos. Above all, it's important to remember that, when discussing audio and video, the resulting quality will only be as good as the weakest link.
A key piece of hardware that many people forget to consider when they're investing in home theater equipment is the cable. Using the same HDMI cables that were connecting equipment for HD content will most likely not be able to handle the data transfer speeds required for 4K HDR video and Hi-Fidelity audio. The content itself must also be available in the desired format (4K video, HDR, Dolby Atmos audio, etc.) or the resulting image and sound quality will be reduced.
Voice commands are another popular feature many of these devices offer, allowing users to play, pause, and search for content by speaking to the device. Advanced devices expand the capability of voice control by allowing connectivity to multiple devices so users can do things like ask for weather reports or lower the volume of a soundbar.
Choosing a Service
The terminology surrounding these different services and technologies can be cumbersome, so the important thing is to avoid getting hung up on what all the acronyms stand for. Instead, focus on the type of platform (on-demand vs. linear), content (what shows are offered), cost, and features. To make this a bit easier, we've created a visual aid. A quick note before delving into these services: most app-based services can be accessed on most tablets, phones, laptops, and desktops in addition to one of the aforementioned media players. If you travel much, this might be something to take into consideration so you can watch The Western Hunter anywhere. *
*The information is current at the time of writing