I know some of you are trying to sneak guns in the house without the boss seeing what you bought and believe me, I understand the feeling. For me though, it always seems like I am trying to sneak things like new backpacking tents past the wife… Ok, she actually knows, but I feel like more than once I have answered the question, "Do you really need another tent?"
Do I need one? Probably not, but I always want one. It is not that I do not like the tents I have owned or still own, but I am always looking for a new feature that I love or a lighter tent that matches the functionality and features of what I already have.
The "right" tent is hard to define. Some people just want the lightest no matter what features they sacrifice, while others want more room to move around and store gear. For me, it depends on what type of hunt I am going on and the duration. My first several tents had only one entrance, and it was from the end of the tent. Anymore, I only use tents with side entrances and a vestibule to keep my gear and weapon out of the elements.
Obviously, we can't cover every company that makes tents, but we have highlighted numerous models that we have had the opportunity to use on hunts over the past year or so. Although there are many other tents on the market, we feel that each of these is worth looking at if you are looking for a new tent setup in 2021.
Big Agnes Copper Spur UL3 $499.95
Hotel UV Rainfly $299.95
Zach Bowhay
The Copper Spur line of tents has been a favorite of mine for several years. In 2020 I received the newest version of the Copper Spur, the HV UL3 $499.95, and over the past year, I have fallen in love with this tent. When solo hunting I opt for a single-man tent to shave as much weight as possible. However, when hunting with a partner where I can split weight, I prefer a three-man tent, so there is more room for sleeping and gear. At a packed weight of only 3 lb, 14 oz, each person carries less than two pounds, and that provides them a living space of 41 square feet. On top of that, this tent has doors on each side with a vestibule of nine square feet per side, so there is plenty of room both in the tent and in the vestibule for storing gear.
Like all Big Agnes tents, the Copper Spur HV UL3 is easy to set up with color-matched buckles to ensure the fly is buckled in the proper slots. The organization is also great with four interior pockets for stashing and stowing gear. The pole system is a hub design with pre-bent poles that are very user-friendly. The floor and fly are made from silicone treated, double ripstop mixed denier nylon that has a 1200 mm waterproof polyurethane coating. I have been through a few pretty serious downpours in my Copper Spur, and its waterproofing has performed flawlessly.
Lastly, I want to mention the Copper Hotel HV UL Rainfly with Extended Vestibule $299.95. I must admit when I first got this accessory, I thought, there is no way I am packing this thing and adding an extra two pounds to my tent weight. I then realized that this wasn't in addition to the tent and fly but rather replaced the fly and added a huge vestibule on one side of the tent. Although I haven't gotten to use this on an extended trip, this will definitely be with me on longer trips and will be a game-changer, especially if inclement weather keeps you cooped up in your tent.
These tents are an all-around well-thought-out design with user comfort at the forefront of the design. The Copper Spur line deserves consideration if you are in the market for a new tent. For more info visit bigagnes.com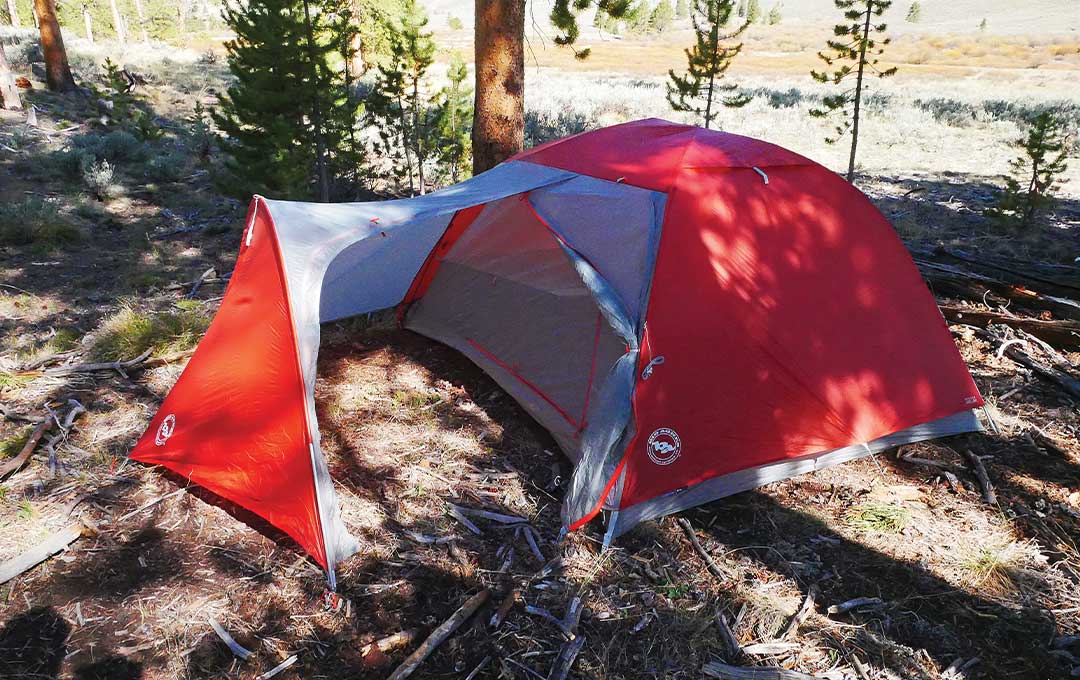 Kuiu Summit Star 1P $239
Zach Bowhay
When I am solo backpack hunting, light and fast is the name of the game. I want a tent that's lightweight and easy to set up when I am ready to go bed down for the night. I also want a tent with a small footprint so I can find a place to set it up no matter where I end up wanting to camp. When these are the criteria, the Summit Star 1P Tent from Kuiu is tough to beat.
With an overall trail weight of 1 lb, 4 oz, you will hardly notice you have it, yet with the large vestibule, you will have an overall living area of 43 square feet. A single trekking pole and a small carbon pole at the foot of the tent support the tent itself. If you don't carry trekking poles, a three-piece Summit Star tent pole can be purchased separately.
Entry to the tent is via a side door which is nice for keeping dirt and debris out when getting in and out or doing things like putting on or taking off your boots.
These tents are constructed from a high-strength 15D silicone/PU- coated micro ripstop nylon that for me has proved very durable. I have used mine in some rocky, carved-out deer beds and have had zero issues with tears or abrasions. Another nice feature is the tent is plenty tall for me (at 6'2") to easily sit up and move around.
This tent is a no-frills, all-business piece of equipment for the minimalist hunter who needs little more than a dry, roomy place to sleep. I love trying new tents, but I don't see myself replacing this tent in my lightweight setup any time soon.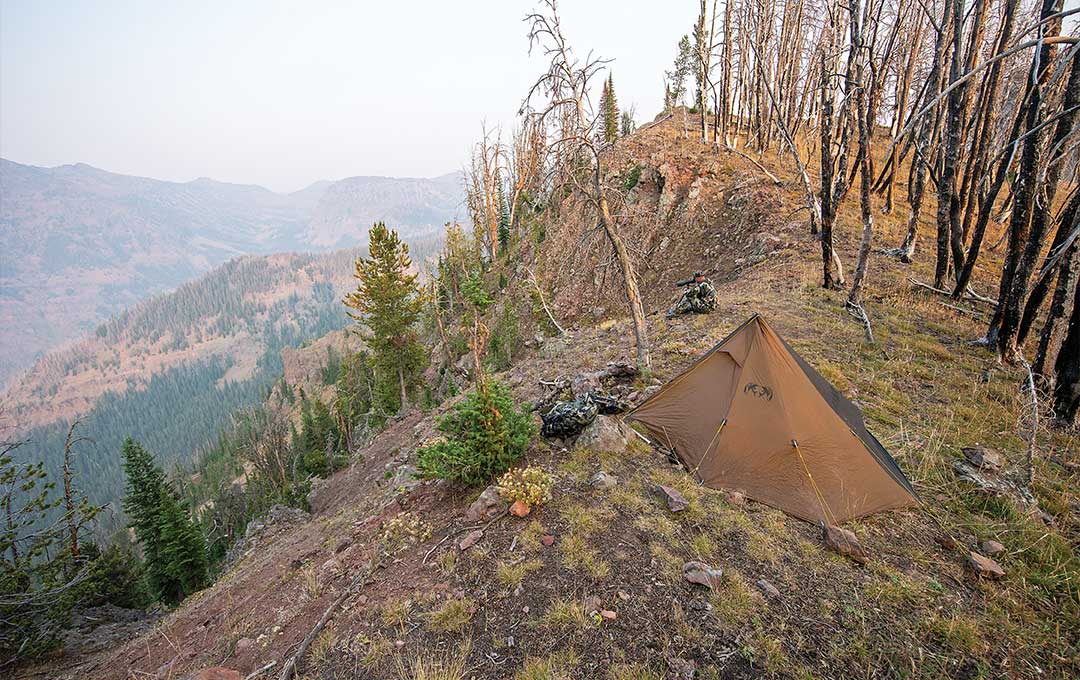 Stone Glacier SkyAir ULT Tent $165, vestibule $49, mesh insert with floor $125.
Chris Denham
On my Dall sheep hunt in Alaska, my guide slept under a tarp every night, even with heavy winds and non-stop rain. Each time we pitched his tarp, I was surprised how much we could do with a few trekking poles and guy lines. The Stone Glacier SkyAir ULT is the next evolution of a flat tarp and offers an incredibly lightweight option for fair weather conditions.
You need two trekking poles. I would recommend extendable poles like the Leki Carbon TA as opposed to folding poles, as these poles offer more adjustability when pitching the tent. The poles serve as front and rear supports while the stakes and guy lines provide rigidity. The packed weight of the tent is a scant 10 ounces! Depending on how you pitch the tent, you have more than enough room for one person, and possibly two, depending on how much you like your hunting partner.
The front of the tent is open and provides plenty of ventilation during warm and dry hunts. If you are expecting moisture or just want more protection from the elements, you can add a vestibule (4 ounces, $49). When condensation or bugs are in the forecast, Stone Glacier offers a mesh insert with a completely sealed floor (10 ounces, $125) for true three-season protection.
Stone Glacier has multiple videos on their website about how to properly pitch the SkyAir. I wish I had watched one before I set it up on a late October mule deer hunt in Idaho last fall; it would have cut my setup time in half. But without any instruction, I had a solid shelter set up in less than ten minutes. We were not expecting bad weather, so I didn't pack the mesh insert, but I did use a small tarp under my sleeping bag, which helped to keep the dust down and gear clean.
I couldn't have been more satisfied with its performance. I will never forget the look on Nate Simmons's face when I tossed him a 10-ounce bag and told him that was my tent! The modular design and quality materials make the Stone Glacier SkyAir ULT arguably the lightest three-season tent on the market. For more info, visit stoneglacier.com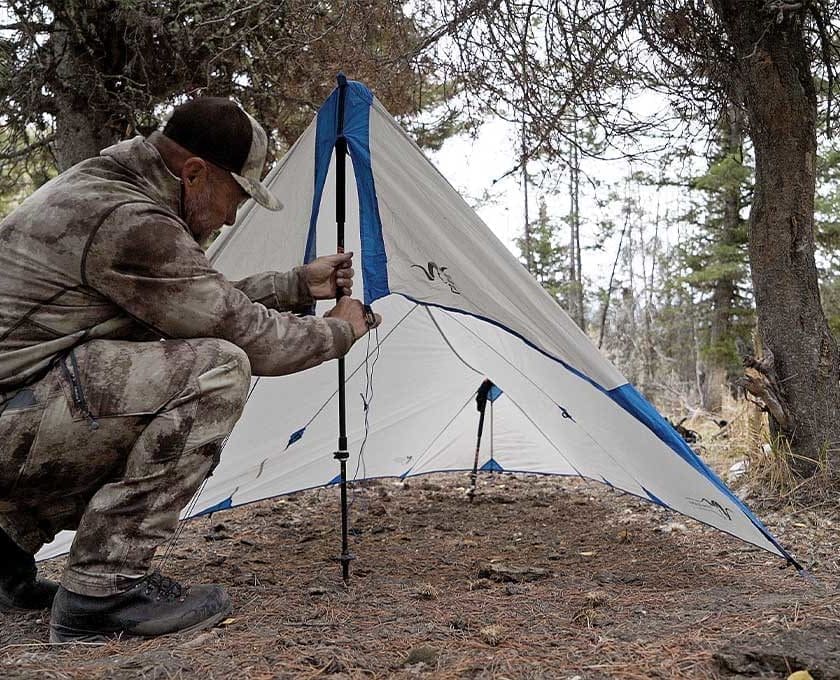 TarpTent Double Rainbow Li $649
Todd Harney
After following Dyneema Composite fabrics for the past few years, I finally purchased and used a number of items utilizing this cutting-edge material for the 2020 season. The most exciting Dyneema piece I picked up was the TarpTent Double Rainbow Li.
The most standout benefits to Dyneema over nylon are its weight savings and strength. TarpTent offers a standard silicone-coated nylon Double Rainbow tent as well. At 28.6 oz with poles and stakes, the 'Li' Dyneema model weighs an impressive 13.4 oz less than the same tent in nylon. The two-person, double-vestibule tent offers all sorts of room when using it solo as I did throughout the season, and it felt like a feather in my pack.
This is a single-wall tent, so a major intrigue I had was how well it would handle the condensation associated with rain, wet clothes, and boiling water inside… all of which occurred nearly every morning/night on a 10-day Alaskan backpack hunt. Without question, this tent withstood the conditions better than any other single-wall shelter I've used before.
TarpTent did a great job implementing some innovative features to control condensation: In addition to strategically placed vents, the ends of the tent have elevated mesh 'gutters'. These not only provide ventilation but also catch interior condensation and dispose of it to the outside before it reaches the floor area. A high ceiling allows me to sit tall and get dressed without my head/shoulders coming anywhere close to contacting the fabric.
I experienced the benefits of the Dyneema material well beyond weight savings. It remains fully taut when wet versus the sagging seen when nylon tents hold moisture after periods of rain. I've never had to re-tighten guyout points after initial setup, no matter the weather. The material is so hydrophobic that a sturdy shake sheds nearly all rain water from the exterior prior to take-down. It's a substantial benefit to pack/set a dry tent before/after each day's travels.
The TTDRLi has a built-in bathtub floor for extra rain/wind protection. While not free-standing, it's easy to pitch solo in about 90 seconds. One item of concern is the carbon fiber poles - I didn't break one, but they do feel a hair on the fragile side. Tread lightly around them in the dark! For more info, visit tarptent.com
Seek Outside Cimmaron Pyramid Tent $450
Zach Bowhay
I have to admit that I still am not sure if I am sold on the tipi life. I do appreciate many features, like the spacious living area you get with such a lightweight setup, but still am not sure how I feel about not having a floor in my tent.
The first time I backpacked with the Seek Outside Cimmaron was on my Utah elk hunt in 2018. My buddy Josh had recently purchased the tent and wanted to try it out. The set-up was a bit cumbersome, but once it was set up I was blown away. At less than four pounds carry weight, having 94 square feet of floor space is pretty impressive. With enough room for four people without a stove, the two of us had gobs of room in the tent. The next time we used the Cimmaron was on a backpack October mule deer hunt where the mercury was dipping into the low teens at night. On this trip, the set-up was easier and the packable stove made the long October nights much warmer and more enjoyable.
After several trips sleeping in the Cimmaron, I feel like we learn a little more each time about how to effectively live the tipi life. Spending extra time with set-up goes a long way. Getting the sides staked down close to the ground keeps cold drafts from coming under the walls. Also, when using a stove, packing a saw substantial enough to cut bigger wood is a good idea and honestly, just planning on the stove going out at night and starting it in the morning leads to more sleep than staying up and feeding the stove.
The Cimmaron doesn't have a ton of features. It's just made to be light and offer a large living area. Made from 30-denier Cordura nylon, the build seems robust enough to handle some abuse and yet remains light on your back. Although, as I said, I am still having mixed feelings about tipi tents, I am intrigued by the possibilities the Cimmaron can open up, especially on later backpack hunts. For more info visit seekoutside.com
Six Moons Lunar Solo $230
Zach Bowhay
For those looking for an affordable, solid setup, take a look at the Lunar Solo Backpacking Tent from Six Moons Designs. With a 26-square-foot living area and an additional 8.5 square feet of vestibule area, this one-man tent has lots of room for the solo hunter and their gear.
The Lunar Solo is made with a 100% silicone-coated polyester material and the 20D body and the 40D floor keeps the tent light yet strong enough to hold up on tough hunts in rough terrain. The weight of the tent is 26 ounces, not including the stakes and center pole. Most users set this tent up with an adjustable trekking pole, but a center pole may be purchased separately if you don't typically pack a trekking pole.
After you learn how to set up this tent, it takes literally minutes with the single-pole design. The canopy/body of the tent is a "floating" design, which increases ventilation and helps reduce condensation while sleeping. The floor is considered a floating floor as well. This helps to keep the floor from tearing or being punctured because it's not constantly under tension.
The internal gear area that keeps your essentials organized and accessible is a feature I really love in a tent. The oversized screen door makes getting in and out of the tent easy, and the 49" peak provides plenty of room to move around and makes getting dressed and undressed easier. Also, the hexagonal design with steep sides helps shed snow and rain and holds up really well to high winds.
All in all, I really like the design of this tent. It has some of the best features of a tipi-style tent while still having a floor and other gear organization features that I enjoy. For more info visit sixmoonsdesigns.com
Kifaru Sawtooth $837, Liner $288
Chris Denham

As we have mentioned many times in this article, floorless tents have their advantages and disadvantages. The Kifaru Sawtooth is a floorless tipi tent, so it is not exempt. But after using it on multiple backpacking and hunting trips, I have come to the conclusion that "conveniences and inconveniences" might be better terminology. As with all tipi tents, learning how and where to pitch your shelter is critical. Obstacles like moisture control and uneven or wet ground can all be overcome with practice and forethought.
The Sawtooth footprint measures 13'9" by 8'6", which easily accommodates two people with a wood-burning stove or up to four people without the accessories. The center pole stands up to 6'6" high for plenty of headroom for two people to stand up, while a shorter pole kicks out one wall, creating the modified tipi shape and adding a few more feet of usable interior space. It is a single-wall tent, so condensation can be an issue. For those types of environments, Kifaru offers a clip-in liner. The tent and poles weigh in at 4 lb 8 oz, and the liner adds just over one pound.
The tent can be ordered with a stove jack opening which will accommodate any number of backpackable wood stoves, which I highly recommend. The Smith Cylinder Stove from Kifaru weighs less than two pounds and straps easily to the outside of your pack. It is, more accurately, a stick-burning stove that must be tended often, but there is nothing better than going from cold and wet to hot and dry. Once again, you need to practice putting this stove together. It takes a little practice to become efficient. It is better to figure it out with warm hands and sunlight than with shivering hands and a headlamp.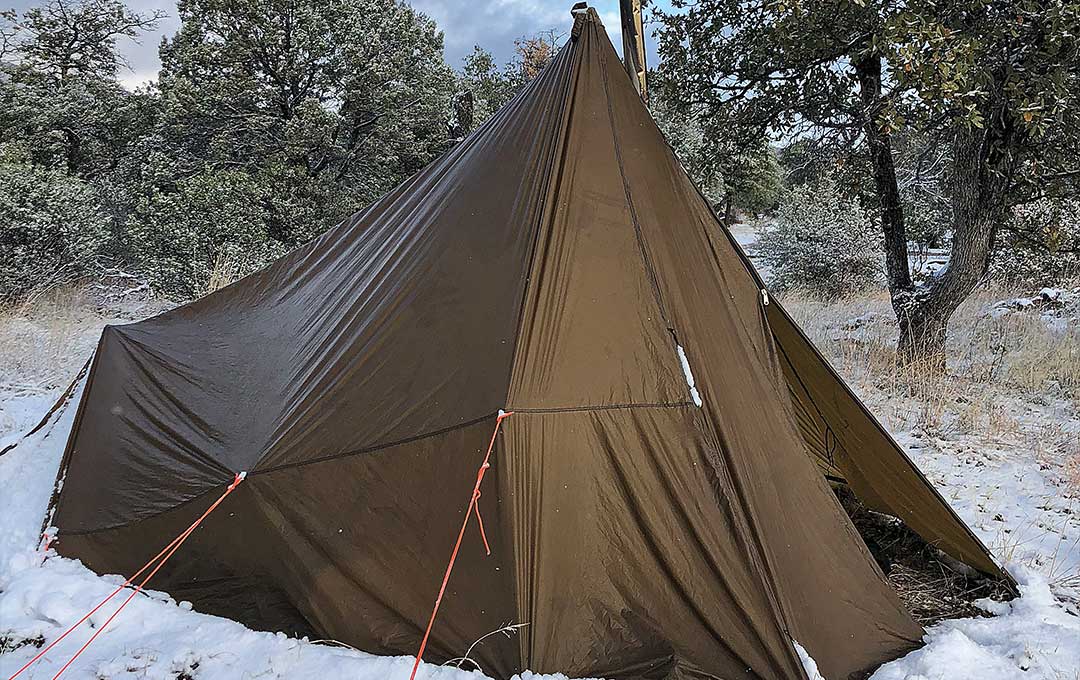 Decisions made from afar can have dire consequences on mule deer.
There's a familiar conversation about mule deer that we have heard before and seems to have become more frequently heard again. Mule deer numbers are down, and the deer hunting isn't what it used to be. The concern isn't limited to certain places and states but is instead an issue that is seen from the Sonoran Desert to the plains of Alberta and from the coulees of Eastern Colorado to the far western edge of mule deer range in the California Sierras.
Most recently, a downturn in mule deer numbers and hunting quality in Colorado seems to be quite the topic of conversation in hunting circles. This is probably because, one, the state is on the decline, and two, Colorado has always been the go-to state for both opportunity and quality of bucks. Problems mule deer face are not limited to Colorado, and the issues faced by both the species and by hunters deserve a serious conversation.
Recently I was a guest on a podcast with Jason Carter and Adam Bronson of Epic Outdoors. We discussed mule deer hunting in general along with Colorado's current mule deer hunting conditions and potential. What they both agreed on was they field more questions on Colorado deer applications than any other state or species. We also agreed that there is not a single go-to unit, season, or area in the state where a hunter has a reasonable chance of taking a buck that would justify 20 years' worth of applications and preference point accumulation. Mature buck numbers are down, and quality hunting opportunities are not commensurate with a perceived preference point value.
Words from an Expert
I recently had a candid discussion about mule deer in the Middle Park region with Clay Hill of Hill Guides and Outfitters in Kremmling, Colorado. Clay and his family have been ranching and outfitting in the area for over 40 years, and when I asked him about the current quality of bucks in Middle Park, he said, "It's the worst I've seen in my entire life. My dad says it's worse than the '80s and early '90s when it was bad. I've talked to locals about the deer, and everyone is in complete agreement. Mature bucks are nearly non-existent. I haven't heard of a single 180-class mule deer on the winter range this year, and many avid shed hunters in the area watch deer."
When asked about what he thinks is the issue, Clay said, "That's simple. Too many tags and hunters these days are too good. The CWD excuse doesn't hold water with me as I personally have never seen a single sick animal, and the positive test result prevalence is very low. We as hunters have killed way too many bucks for too many years. It's at the point where I would actually like to see them shut down buck hunting for 3-5 years."
Those are strong words and hold a very pessimistic outlook for that area, but Colorado's deer woes aren't limited to Middle Park. The neighboring Eagle County is hailed as the best Colorado deer hunting and has historically been one of, if not the top county for Boone & Crockett mule deer in the entire country. Record-book-eligible deer taken from Eagle county are not often seen these days, but that trend seems to be the norm in Colorado now. In the four years between 2004 and 2007, there were 131 typical B&C bucks taken in Colorado. During the most recent four-year span, there were 37 taken. That's 350% more Boone & Crockett bucks taken during the 04-07 time period than in the last four years. While B&C entries aren't the statistical gold standard for mule deer buck age class representation in a herd, there is a reasonable, common-sense correlation to a given percentage of mature bucks that will qualify for B&C out of a sample of mature bucks taken in an area with a genetic potential to produce them. The obvious answer is that there are not as many mature bucks in Colorado as there have been in recent years.
Local Evidence
Anecdotal statements from taxidermists all over bear a similar theme. Mature bucks from Colorado have become rare. No longer are there stacks of nice buck racks in taxidermy shops, ready for mounting. Instead, a small handful trickle in from random hunters lucky enough to cross paths with what seems to be an almost unicorn-like animal on the Western Slope of Colorado. One taxidermist I talked to, who wished to remain anonymous, said this: "Fifteen years ago I would have a stack of damn nice bucks in my shop every winter after season, and there were enough big deer killed that some hunters were electing to do European skull mounts of their bucks and sell me the capes to use. Now, I can count the nice bucks I get on one hand and sometimes not use all the fingers. I can't even find capes to buy when someone has an old mount they want re-done. It's not just me. I hear the same story from every taxidermist I know."
Randy Clark, owner of the renowned Traders Rendezvous in Gunnison, Colorado, has lived most of his life in the Gunnison Basin and has been in the hunting business for decades. He says deer hunting in the area is an item of concern and controversy. Randy states that hunters with stacks of preference points have drawn buck tags in the surrounding units of the "Basin" which are, in theory, managed for quality, not quantity, and have been for over 20 years.
Clark says, "I feel really bad for some of these hunters who have drawn their "Dream Tag" only to come hunting in the area and have trouble finding a mature mule deer. Quite simply put, the state is issuing too many tags, and we are overharvesting our mature bucks and have been so for a few years now. The winter range tells the story. We have a very open, visible, and confined winter range in the Gunnison Basin, so it's very easy to see what is out there. The giants of the early 2000s are gone, and the bucks we have now just aren't living long enough, on average, to reach their potential. I know it might not ever be the same as what it was 15 years ago, but I find it truly sad to know that there aren't many mature mule deer on the landscape anymore."
Common-Sense Evidence
I consider the Boone & Crockett record book to be a fair barometer of the quality of mule deer hunting in Colorado. It's quite rare for a hunter to kill more than one in a lifetime, so when hunters do manage to kill a B&C-class buck, I feel like they are more likely than ever before to have it measured and entered. B&C-class mule deer bucks are anomalies in general, for they are rare and uncommon. But I do feel like it is a fair statement to say that they do make up a certain percentage of mature deer, in varying numbers, depending on the local genetic potential and buck numbers if an area has the potential to produce B&C-class deer and has done so historically, yet the number of entries has dropped substantially. A reasonable person can assume that there are far fewer mature bucks in general in the area. Barring a severe winter, hunting is the primary mortality factor in buck numbers, and when we, as hunters, kill too many, both the age class and the buck-to-doe ratio suffer.
The Disease Element
Chronic Wasting Disease, known as CWD, is a major factor in mule deer management in Colorado right now. Recently, an attempt has been made to curb the spread and prevalence of CWD in some of Colorado's deer units by increasing the hunting pressure and buck harvest. In conversations with state wildlife employees that I've talked to, the basic premise is that older age class and more mature mule deer are active and mobile during the rut and tend to move from doe group to doe group looking for does in estrus to breed. These bucks have a higher chance of being exposed to CWD, contracting it, and thus spreading it. Buck tag numbers in many areas that have had deer test positive for CWD have been increased dramatically, and in just a few short years, bucks over 2.5 years of age have been wiped out.
Most deer rarely live beyond 10 years of age, so if you have reduced transmission by fewer mature bucks and natural attrition of infected deer, there's hope that CWD spread will be controlled and infection rates will drop. It's a hopeful theory that has some research to support the plan, but it truly flies in the face of common sense and is simply not guaranteed to work. You and I, as armchair biologists, have received enough communicable disease infection information in the last year to see that these infectious diseases simply do not go away easily enough. Wherever drastic measures have been taken to control an outbreak, they simply slow the spread but don't eliminate it. Most places and societies end up with the same infection and death rates eventually in different time frames. The bottom line on CWD is that we are taking incredibly drastic measures on deer herds to combat a disease that hasn't shown to have more than a single-digit infection rate. Most animals that test positive don't appear sick, and it's a disease that still hasn't infected or killed a single human to date via the consumption of venison.
The Predator Element
As if these other factors weren't enough, a more ominous figure looms darkly on the horizon for many hunters, and that is the impending reintroduction of the wolf to Colorado. Wolves have been occasionally spotted as rogue animals pioneering their way down to Colorado across the great sagebrush expanse of the Red Desert in Wyoming. A young female killed on Interstate 70 forty miles west of Denver, a lone black wolf on video near Walden a few winters back, and most recently, a pack of five in far Northwestern Colorado come to mind. Expanding wolf populations in Wyoming means the wolves are coming eventually, possibly finding their way onto the landscape more naturally and adaptively.
That promise didn't mean anything to impatient wolf-lovers who wanted to see them roaming the mountains ASAP. A ballot initiative for wolf reintroduction was drawn up for the 2020 election in Colorado, and it interestingly passed by a very slim, single-digit margin. The voters of the urban population centers in the big cities and a couple of counties with ski-town predominance passed the ballot initiative while a geographical majority of the state opposed it. Keep in mind that Colorado Parks and Wildlife has had these proposals from pro-wolf groups in the past, and decisions were made then to not reintroduce wolves because of the population density of Colorado and a high likelihood of conflict with rural residents and agricultural interests.
Those professional decisions and opinions seemed not to matter, and with the ballot proposal in play, Colorado Parks and Wildlife employees were strangely silent on a matter that they would both have to manage and implement. Our new democratic governor Jared Polis and his animal rights activist husband were very vocal in welcoming the wolves to Colorado and a possible muzzling effect, intentional or not, was quite obvious as the side of the proposal lobbied for public support in the months leading up to the election. Urban voters who loved the idea of hearing wolves howl on their weekend forays into the mountains of Colorado decided the issue instead of those who would be directly impacted. How this will impact mule deer in the future remains to be seen and is, in all reality, simply probable conjecture. A reasonable person could assume that introducing an apex predator that kills and consumes cervids does not bode well for mule deer, even if the impact is a few years away.
There will be some who will read this and say it is the lamenting of a trophy mule deer hunter who can't find big bucks to hunt anymore. Sure, that is an undeniable factor in how I feel, but instead, I would propose that I have in common what many wolf-lovers feel. I think that mature mule deer bucks have great intrinsic value. Seeing them on rare occasions in hunt-able areas, photographing, and watching them in places of refuge are very soul-enriching experiences for those of us who love mule deer. Just as a wolf-lover wants to experience that rush from a wolf sighting or hearing a howl, we want to occasionally cross paths with a black-antlered grey ghost of the aspen forests, whether during hunting season or a drive down a rural road, seeing one grit his way through a tough Colorado winter.
The future for mule deer in Colorado is uncertain with a burgeoning human population and some of the other factors I described. They are not uncommon in rural areas, so the public doesn't see what we fear, and that is an animal that faces many challenges. We must do our part in conserving mule deer and also understanding that some of the choices we make as hunters impact the future of the species. Every reader has a different value structure on what type of buck to take and how comfortable they are with going home empty-handed, but appreciate the opportunities you get to hunt this incredible animal because in the future, the opportunities will almost certainly be fewer.
You may have heard the joke, "I used to be a crastinator, but I decided to go pro." It always made me chuckle. Sadly, I know some hunters that are running around like crazy right before hunting season starts every year. They are scrambling to get arrows made or trying to get them ordered from an archery shop. They are trying to get their bow tuned, get a new string put on, even buying a new bow or trying to get broadheads at the last minute, and oftentimes the shop doesn't have what they want. So, they may have to settle for a different brand than they prefer from what a shop has left in stock or what they can get online.
It's the same with many hunters right before rifle season. They are trying to check their rifle at the last minute, find some ammunition (which is getting tougher these days), and if they can't find what they usually shoot, they grab anything that is left that might work.
I wish last-minute preparation was the exception, but unfortunately, it seems more and more commonplace today. I speak from experience as I have worked in both sporting goods stores and archery shops, including managing an archery shop. It would always shock us how crazy it was the week before the season and how frustrated people would get if you didn't have what they needed or they couldn't get their bow worked on immediately because of 50 other last-minute hunters trying to get work done. It's also not unique to the shops I worked in.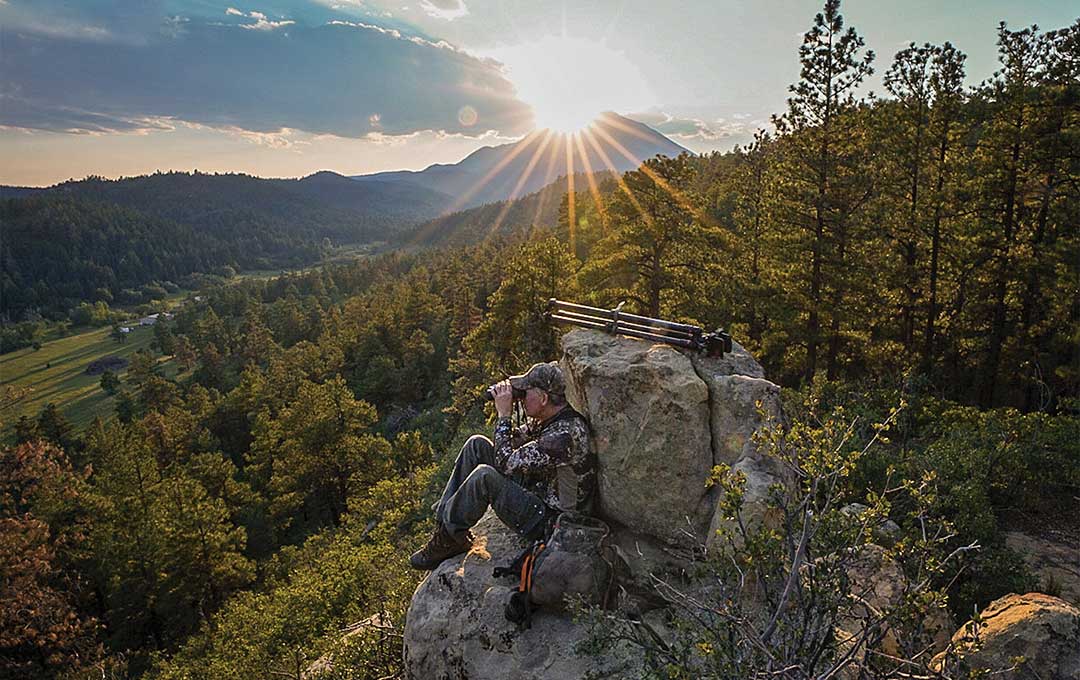 The Trend
I have buddies at both Bass Pro Shops and Cabela's that lament seeing the same trend. One of my buddies says that if people would just come in during the off-season, they would have more options in stock and be able to give them more one-on-one time and better service. This sounds much more appealing than taking a number and waiting your turn because there are 20 other hunters in front of you.
As an outfitter, I see every year that last-minute scrambling doesn't just apply to weapons. I see hunters that have new boots (and thus, blisters) pretty quickly. I also get guys apologizing because they just didn't have any time to get in shape for their hunt and asking if we can find an elk that's close to the lodge. My point is that to me, there is no such thing as getting prepared for hunting season. It really is an all-year preparedness. Being prepared offers peace of mind, and more importantly, allows us to be more successful.
Regular Prep = Regular Success
At the archery shop I managed, it was like a clubhouse atmosphere. We had the routine customers you would see all the time, the ones that would pop in once in a while, and of course, the new customers or the last-minute crew. What's interesting is that in Colorado, our archery and even rifle success rates for elk usually hover at 12-18%. Looking at that statistic, the odds are you aren't going to be successful. Those statistics also include guided hunts, limited draw hunts, and private land hunts.
We found out at the shop that it was the same 15% of people that harvested 85% of the elk every year. This was an eye-opener for me, and it helped me realize as a young man in my early 20s how important all-year preparation really was for the ones who took their hunting seriously. I'm also not talking about guys that were hunting primo areas. These were people that were hunting over-the-counter areas that everyone, including non-residents, had access to hunt. The reason the same people were successful seemed to be the fact that they prepared year-round. They shot more, scouted more, practiced calling more, and stayed up on new strategies and gear.
If you are reading Western Hunter magazine, you are probably already in the elite, small percentage of hunters that harvest the majority of the game. If you aren't and want to know how to stay prepared all year without spending a lot of money or time, please read on for what I have learned by studying the small percentage of good hunters that are routinely successful.
First, contrary to the late-night ads on TV, you can't strap something around your love handles, push a button, and jiggle your fat away without exercise or changes to your eating habits. You have to make a commitment and work to be more prepared. The "melt fat" thing doesn't work. Please don't ask how I know...
I have made some changes in how I stay prepared all year and here are some of my tips that have helped me.
Archery Practice
I make it simple so it is quick and easy and simulates real hunting situations. I shoot one arrow a day when I can. If once a day doesn't work, I shoot an arrow once a week or once a month. It doesn't matter where my second arrow goes. In a real hunting situation, it is all about numero uno. I also shoot at different yardages and practice with a broadhead. If time permits, I will also put on my Scent Blocker hoodie or long-sleeve hunting jacket even, if it's summer, to simulate what I will be wearing in the field during the season. This keeps me in tune, and if my equipment is having any issues, I usually can have them resolved long before hunting season.
Archery Gear
I make sure that I always have what I need to be archery-hunt-ready. Arrows, broadheads, extra strings, clothes, boots, wind detectors, etc. This not only helps if I get an invite for a last-minute hunt in the off-season for hogs or rabbits, but it also ensures that I am not racing for the gear I need to hunt when big game hunting season rolls back around.
Archery Season Research
I joined my state bowhunting association so I would stay informed of any changes in laws and regulations as well as hunting opportunities that may be added in my state. I also try and read up on hunting strategies and new products that may help me be more successful or comfortable in the field. I spend time scouting hunting areas old or new and work at staying in shape by walking or working out instead of watching TV.
Rifle Practice
With the current difficultly finding ammunition, I have slowed down on my shooting. I still, however, try and shoot once a month even if I only take one shot. A cold-bore shot for a hunter is the only one that matters. I try and shoot at different distances when I can because shooting accurately at longer ranges helps me shoot better at shorter ranges. I use a Caldwell Lead Sled when checking my rifles but also practice off my pack or Bog tripod to simulate a real hunting situation. This practice also helps me ensure that my equipment is in good working order so that when the season comes, I have faith in my rifle when I pull the trigger.
Rifle Gear
I like to carry extra ammunition as well as batteries for my rangefinder. I also pack a small Wheeler tool kit so I can check scope mount screws and strip my gun down to keep it clean and in working order. I also try to keep my spotting scopes and binoculars clean and ready to be packed up at any time.
Rifle Season Research
With states constantly changing gun regulations and ways to legally transport firearms, I keep up with laws as well as state regulations. I joined the NRA years ago to help protect my rights and keep me aware of any threats to the second amendment. I also try and apply for draw areas and research, through the game commission website, any opportunities or changes in regulation.
As far as staying in shape to enjoy my outdoor pursuits, I try and work out when time permits, even if it's just some pushups and hiking with a pack on. I climb stairs when possible and try to watch my Oreo intake. It's not a lot of work to stay prepared all year for hunting season, and I prefer to be in the small percentage of successful hunters that prepare all year instead of waiting until the last minute to scramble.
With each year that goes by, it seems that the wild game meat movement gets stronger and stronger. It's comforting for folks to know where their protein is coming from, and it's drawing more people towards the hunting lifestyle. With things like meat recalls happening in grocery stores, heck, I don't blame them at all. Meat recalls aren't things that hunters worry too much about at all - being in the driver's seat.
The vast majority of this urge for wild meat is really centered around ungulates like deer and elk. Whitetail deer, especially, make up a huge portion of deer harvested in the United States and are the most hunted wild game animal in the country. As for elk, they offer both adventure and a load of meat that will surely put a smile on any hunter's face. While deer and elk rule supreme in this "eat-what-you-kill" movement, they are not the only ones that offer some fine wild table fare. Black bears may not be the most popular for eating, but they are nothing to scoff at on a dinner plate.
Bear Meat is Old News
While it may be front-page news for some, the consumption of bear meat isn't something that started yesterday. People have been eating bruins well before our time. Native Americans used bears for all sorts of things such as making tools with bone and claw, using the fat for believed medicinal purposes, keeping warm with the hide, and of course eating the meat. Bear meat was considered a prized food in some tribes, making up a significant portion of their meat consumption.
Early American settlers also utilized bear meat, hide, and fat. Folks like Daniel Boone made a living selling the stuff to market. Eating bear was fairly normal until the early 1900s when the Teddy Bear was brought to life after Teddy Roosevelt spared the life of a bear that was tied to a tree. On that hunting trip to Mississippi, Teddy was having a rough go at finding bears.
His guides captured a bear and tied it to a willow tree for the president to shoot. Roosevelt felt that it wouldn't have been sportsmanlike to do so. Nonetheless, he ordered the bear be put down, given the rough shape it was in. From that point on, it seems that eating bear meat has flown under the radar of the vast majority of American culture. It was the beginning of people looking at bears as cuddly playthings, and their hearts have grown softer for the species.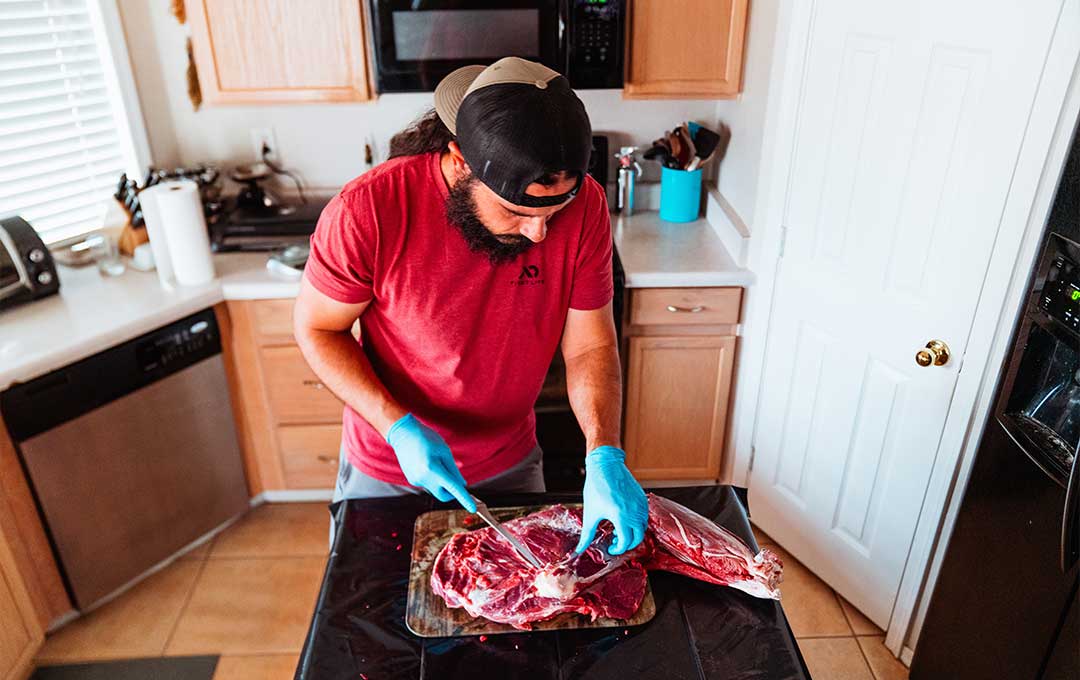 Horror Stories of Bear Meat
The speculation surrounding bear meat seems as vast as the species itself. Throughout my years of growing closer to bear hunting and bear meat, I've heard things from folks like "you can't eat bear meat, bears are too gamey, they are too greasy, they taste like garbage," and so on. The most popular deterrent is the fear surrounding trichinosis.
Trichinosis is a parasitic worm that resides in pork and some wild game. Anything that is consuming other animals seems to be at risk of contracting it, so predators like coyotes, mountain lions, and bears should be noted. Yes, bears indeed can carry trichinosis and are responsible for the majority of human cases in the U.S. This is from improper cooking though, I assure you.
The actual temperature that will kill the parasite is 137 degrees. With that being said, all of the meat HAS TO BE at that temperature. I wouldn't advise calling it good here. Most cook the meat to 165-170 degrees to be safe. Trichinosis can absolutely make you very sick, but it isn't a deal-breaker and is quite easy to avoid.
The misinformation about bear meat just shows how far our society has ventured from the natural world - the world where, at one point, eating bear was normal. This is quite sad, as it keeps many from ever trying the stuff. Granted, it does sound much more wild saying that you're going to eat bear rather than elk. In the past, I've always tried educating friends and family about consuming bears.
One time, during a holiday dinner we had, I served venison, elk, and black bear. The black bear disappeared from the countertop quicker than the venison and elk. People could not believe how delicious it was and were going back for seconds. So, when it comes to the horror stories one might hear about bear meat, I'd urge you to not pay attention. Take the time to form your own opinion and go from there. If you don't like the meat, that's fine, although I've never met someone that didn't after it was prepared properly.
It All Starts in the Field
Just like any wild game out there, the quality of the meat all starts in the field. Many bear hunts happen during warmer parts of the year. With that big, thick hide they carry around, this can be an issue. Years back, we lost a bear because of this. After shooting the bear in the evening, we decided to leave it overnight and retrieve it in the morning. Upon our arrival, the bear had gone past rigor and was limp. Once getting the meat home, it was very apparent it had gone bad and stunk to high heaven.
Stuff like this is never easy to deal with but offers a great lesson. Especially in warmer months, bears need to be taken care of ASAP. This means getting the hide off and separating the meat from the carcass. From that point, start the trek back to the cooler and get it on ice. Every time I've followed these rules, whether with friends or alone, no meat has been lost.
The first bear I ever killed was in October. I remember after we skinned the hide, we couldn't even see the meat and then found ourselves skinning fat. The layer was about 3-4 inches thick in some areas. In the field, we always take this off of the meat before putting it in game bags. Bear fat is a fantastic resource and can be used for all sorts of things. It can be rendered down into a cooking oil to make fried bear nuggets as well as used to make pie crust.
A friend once told me he brought cookies into work that were made with bear fat. The office devoured them. With that being said, I do think that bear fat is somewhat to blame for the "off taste" some folks talk about regarding bear meat. There is speculation surrounding freezing bear meat with the fat attached and the fat going rancid after some time. This is why I've always taken every bit of fat off of the meat before packaging, just like I would for deer or elk. I'm not saying leaving bear fat on the meat will definitely give it an off flavor, but I am saying I've never had an issue with such things.
How I Process a Bear
Once the bear is in the cooler and on its way back to your humble abode, one might be thinking about what they're going to do with the meat and how they'll process it. With the first few bears I brought home, I cut them up exactly how I would a deer or elk. Backstraps and tenderloins were steaks, hindquarters were used for roasts, steaks, and ground, front shoulders were all ground, the neck was used for roasts, and everything else was ground. Since the early years, I've changed up my tune a bit regarding what I do with bear meat. It's all due to the types of dishes where I believe bear meat really shines. These are mostly slow-cooked meals or ground meat dishes.
With the above in mind, here's how I break down a bear at home. I'm going to cover the main portions of the animal here. Just note that anything not listed here is likely used for ground.
Backstraps and Tenderloins
Unlike the backstrap/tenderloin steaks I'd normally get from ungulates, with bears I like to cut these into cubes for stew, strips for fajitas, or simply grind it. I tend to stray away from the steak game here, just because I like my steaks medium rare and lean on the side of caution with meat temps.
Hind Quarters
I mentioned above how I believe bear meat shines in slow-cooked dishes. The hindquarters are really to blame for that thinking. This is where you'll get those tasty roasts we all look forward to during the holidays. I'll split up the muscle groups of the hindquarter and just leave it be from there. These will be used for classic roasts and shredded or pulled meat recipes.
Front Shoulders
This might sound pretty boring, but for the front shoulders, I honestly just use it all for ground. That's just me, as I like my burgers. A person could plan on making a blade roast though and keep that portion intact.
Neck
This isn't unlike how I'd prepare deer or elk. The neck makes a fantastic roast. I'll debone the neck meat and keep it in 1-3 pound roasts, depending on the size of the bear, of course.
The Grind
Many of you have probably either done or seen folks adding in pork or beef fat into their grind. There is nothing wrong with this at all, but you 100% don't have to do this. I've never added fat into any type of grind at all and have never had any issues with burgers falling apart or not liking how things tasted. So, go that route if you want, but know it isn't necessary at all.
A Few Dishes to Try
There are a few dishes that have become my favorites over the years when it comes to bear meat. These are super easy and delicious.
"Beargers"
Who doesn't like a good burger? I put this at the top because this is something I eat weekly here at home. There's really nothing fancy about it. We'll add in our favorite burger seasoning, mix that into the grind, and then start forming patties. I like doing it this way so that in the future we just need to go in the freezer, grab a burger or two, thaw, and start cooking. There's no thawing a one-pound bag, then forming a patty, then cooking. Cook the meat to well-done, add your favorite cheese if you'd like, throw on some toppings(lettuce, onion, avocado, etc.), and enjoy!
Bear Spaghetti
This is as simple as it sounds, but even more delicious. Not to mention, you can easily dehydrate this meal for your backcountry hunts. A homemade meal far from home is always nice. I like to use about a pound of ground bear meat for this. Cook the meat thoroughly while boiling water for your noodles. Once the noodles are done, toss the meat into the pot with them, and add in your favorite spaghetti sauce. Mix it up and let it sit on low for a minute or so, just until the sauce warms up.
After you're done enjoying a nice "dinner de bear," portion out the rest of the pot into single meals. Grab a dehydrator and spread those single meals onto one tray per meal, as thin as possible. We don't want any big chunks, as these will take even longer to dehydrate. Set the temp to about 155 degrees and let the dehydrator do the rest. This will probably take about 12 hours. Now, you've got bear spaghetti in the backcountry. To rehydrate, add in about 8-12 oz of boiling water and let it steep for 15-20 minutes.
Green Chili Shredded Bear
Remember that holiday dinner I described above where the black bear meat disappeared before the elk and deer? Green chili shredded bear is the culprit! All you need for this is a crockpot, two-pound bear roast, two small cans of green chili, your favorite stock, and whatever other seasonings you'd like to add. I also like adding in a white onion with this. All you'll do is put that roast in a crockpot and pour in the stock until the roast is mostly covered.
Add in seasoning like garlic, salt, pepper, cumin, etc, then crack those green chili cans and add those in as well with the onion if you'd like. Set the crockpot on high, and go about your day. Once the meat reaches 200 degrees (usually about 8 hours), it's ready to shred. I like to shred the meat, pour out the crockpot, and then add the meat back in with some fresh stock. I'll leave that on low for an hour. This works out great for taco night. Enjoy!
Closing Thoughts
Probably the most frequent question I've encountered when it comes to bear meat is "What does it taste like?" The best description I can come up with is it tastes like beef with the texture of pork. And after I tell folks that description, I tell them that if I served them bear meat, they'd never know and would simply think it was some type of beef dish. The stuff is that good, and it's a shame it gets a bad rap. Bear meat may not get a lot of press, but it sure is worth a try if you haven't had it. Don't knock it until you try it. You never know. You might just find a new favorite wild game meat.
By Josh Kirchner
Fall Bear Hunting in the Southwest
When the air begins to cool and leaves start to change, the anticipation of fall hunting seasons is at an all-time high. Fall is a cherished time of year for hunters all across the west. It's that anticipation that prevents us from being productive at work and occupies our dreams each night. While most hunters are dreaming of bugling bulls or big mule deer racks in the sagebrush, I personally have another animal that walks through my dreams. Black Bears have always captivated my attention, and that infatuation rang true as I sat in the darkness of opening morning here in Arizona. Not many think of bear hunting, let alone hunting them in the Fall, but the southwest is rich with the opportunity to pursue these desert bruins.
As always, opening morning seemed to come with a strong feeling of hope. That giddiness was flowing through a hunting buddy and I as we waited for the sun to peek out. We were in a favorite spot of mine, one that I hold dear to my heart since it's where I learned to bear hunt. Unfortunately, we weren't the only ones with this spot in mind. The multiple sets of bouncing headlamps in the distance whittled away at our hope. The bears surely weren't going to put up with this, so we decided to move shortly after daylight. It was a crushing feeling leaving my honey hole but was something that needed to happen if we wanted a shot at one of these desert bears. Time would tell in the coming days if we made the right decision.
Why Chase Bears in the Fall?
For the most part, hunters look at fall bears as an opportunity type of species. We all have a bear tag in our pocket during the Fall, but only fill it by happenstance if one presents itself while out elk or deer hunting. Not many solely focus on bear hunting in the fall, especially in the southwest when compared to its trophy elk and mule deer opportunities. While breaking away from the beloved deer and elk hunts seem downright insane, I assure you hunting bears during the Fall can be just as rewarding.
Opportunity in the Southwest is Rich
Deer and elk tags in the southwest are hard to come by due to its famous trophy quality. Bear tags on the other hand are easily acquired in a majority of the southwestern states. Most of them are over-the-counter and only require a tag, hunting license, and the willingness to go afield. The seasons are also pretty liberal in length with many being a month or longer, and even a few that make it into December. So, for someone looking to extend their time in the field, bears are a fantastic opportunity to jump at.
It's Just Different
The thrills of bear hunting are hard to convey to someone who has never experienced it. It's just plain different than hunting any ungulate. From the habitats they reside in, their secretive nature, and even different hunting tactics, no other species is the same. To watch a bear live its daily life would not be the same as watching an elk. I love watching elk, but with bears, you really just never know what they're going to do. They might sit on their hind legs and gently pick acorns off of a shrub, climb a tree to grab some berries, or even roll around on the ground. Bears move across a hill almost ghost-like as if they're hovering along the rugged country beneath them.
Then there is a broad difference in colors. You never know what you're going to get in terms of fur color. One could be the classic jet black or maybe chocolate? Or maybe they're a cinnamon with blonde blotches all over? Whatever color, the point is, just seeing one is a reward in itself. Plus there is the delicious fruits of your labor, should you be lucky enough to get one.
Where Can I Do Such a Thing?
If Fall bear hunting in the southwest has piqued your interest, you're probably wondering "where can I do such a thing?". Like I mentioned before, the southwest isn't really held in high regard for its bears. So, knowing where to start is the first hurdle. As far as the southwest goes, Arizona and New Mexico have enough to keep you busy. Both states offer lengthy OTC seasons that'll dish out a load of experience.
NM has an OTC archery bear hunt that spans the majority of September, followed up by an "any legal weapon" that runs from the end of September through mid-December. Most of NM has open units for bear hunting with an abundance of public land to get your boots dirty. AZ offers some incredible opportunities during the Fall, with the first season opening at the beginning of August and subsequent seasons running all the way through the end of the year.
I want to point out that both AZ and NM operate off of a sow-quota for each unit. Once a sow-quota is met, that unit will shut down for the rest of that particular season. It's your responsibility to check with Game and Fish before heading out on which units are open to bear hunting. So, it's a good idea to have multiple options for areas to hunt.
How to Tag a Fall Bruin?
We've covered the why and the where, now let's dive into the how behind Fall bear hunting in the southwest. Part of the allure for many bear hunters is their elusiveness in the Fall. Someone could go five days without seeing one, and then all of a sudden see five the next day. They can be incredibly difficult to locate, but with these tidbits of knowledge, you'll be on your way to glassing more bears. Through this process, be patient, turning up a high number of bears will take time.
Habitat
The first area we need to address is habitat. Bears tend to like the nastiest country there is, which is why they can be so hard to find. Canyon systems are where I normally start my search. Not just any canyon systems, but the ones that include the proper elevation for the time of year. Elevation is key since it directly affects feed, which we'll get into. Look for deep canyons with water. It doesn't have to be flowing, but bears love water. Setting a trail camera on a watering hole is a good idea to see if bears are in the area. They use these canyons like roadways and can be spotted traversing right through the bottom. They'll often bed down towards the bottom and then venture up onto the surrounding canyon walls to feed. Some of these canyons will offer food both in the spring and fall, meaning the bears may never leave. If they have what they need, there's no reason to.
Food
Food is the golden ticket to bear hunting. They get so keyed into their food sources, and during the Fall, they are constantly trying to build up fat for hibernation. Popular Fall food sources in the southwest include acorns, prickly pear cactus fruit, manzanita berries, and juniper berries. There are loads of other things that they eat, but these are the main ones.
The tricky part here is predicting which food source they are going to be on in a given year, and then finding what elevation that food source is abundant in. With rainfall fluctuating from year to year, food sources change in terms of quantity and quality. For that reason, preseason scouting is a must. You really need to go out and find what and where the good feed is. For instance, some years, there aren't any acorns, and no acorns mean no bears in the oaks. Find the right food and you will surely find the bears.
Glassing
Glassing is by far the best tactic for locating feeding bears. The country they reside in is so rugged, it's far easier to grab a high vantage point and survey the country. This will avoid mucking up the area by walking around and will let you see what the whole area has to offer. Bears are most active in the mornings and evenings, with prime-time being the first and last hour of light. Because of that, it's imperative that you are in your glassing spot before the sun comes up.
In the evening, plan on staying until dark. Even if you spot a bear after legal shooting light, you'll still have an idea of where to look the following morning. If you spot a bear in the morning, but can't quite get a shot before they disappear for the day, don't worry, that bear will most likely be right out in that same feeding area in the evening.
Bears for the Win
After the experience my hunting buddy and I had on opening morning, our motivation was hard to come by. But through experience, I had learned that being able to adapt is key, and that's just what we did. On the fourth day of our hunt, I was left to hunt solo. I decided to push into a new area I had never been before and I had a good feeling a bear was calling this canyon home. The first evening I spotted a striking sight in the bottom of the canyon. A lone bear sauntered its way towards an oak patch right beneath me. The sun glistened off of the bear's chocolate hide.
After frantically grabbing my rifle and calming my nerves, the crosshairs settled perfectly, and I squeezed the trigger at 275 yards. The bear ran behind a giant juniper and never came out. Just like that, my Fall Arizona bear season had ended, and I was in disbelief at how fast things turned around. In no time at all, I found myself at the bottom of that canyon with a few friends that came up to help with the pack out. Another Fall, another bear. Southwestern Bears may be the underdogs of the Fall, but they sure are winners in my book.
By Josh Kirchner
The day started calm and clear as I made my way up the thin ridgeline. It was very dark, a stark contrast to the beginning of the season's full moon hikes. My goal was to reach a little flat in the burnt-out timber before dawn, giving me time to listen and plan my day accordingly. I was a few hundred yards from my destination out when I heard it. The faint, shrill scream of a bull elk pierced the air.
I stopped and listened intently, hoping to get a bit better direction on where the noise was coming from. The bull cracked off again, and then a second bull followed suit. Soon, the two of them filled the forest above me with grunts and chuckles. I only had to gain elevation to join the party.
Missed Chances
September had mainly been lows for me at this stage. Elk sightings were occurring, but the bulls just hadn't fired up in most of the draws I had visited. Enough miles had produced encounters in the past, but I was really having to earn it this year. I did have opportunities at two different bulls, though. Both of them resulted in tan butts headed in the other direction. Both left me a bit mentally defeated.
The first opportunity was early in the hunt when a bull just came in the wrong way. I had worked my way through the top of a north-facing bowl, bugling and hoping to catch someone starting to think about the rut. I had made it to the final pocket of timber for the day when I finally got a bull to respond. Instantly, I heard branches breaking as he cruised through the trees in seconds. It looked like he was headed above me and I ranged a couple of trees. I chose wrong and I watched the bull turn downhill and head for my wind. I stopped him right before he hit the scent and watched as my 30-yard pin drew air above his back. The 5x6 trotted off, a little smarter for the upcoming season.
The second elk encounter was just bad luck. I had bugled my way up a ridgeline all morning, listening for anything. Finally, right around 11, as I edged over a finger ridge into a small pocket, I got a bull to reply. He was right in front of me. I set up to see two six points headed in my direction. Being mid-September, it just didn't make sense to see bulls of their size hanging together with no cows. But I wasn't about to question any lifestyle choices. The first bull bugled 50 yards out and picked a trail right below me. I chirped a cow call at 30, stopping him in a shooting lane. It turns out it just wasn't as clear a shooting lane as I thought, and I watched my arrow plink-o off an unseen twig. It zoomed into the stratosphere, and the two elk soon joined.
Walking off the hill knowing I had missed a couple of good chances and that could be it for the season gave me a very difficult pill to swallow, but the key to bowhunting is a short memory. I knew that tomorrow was always a new day. I had hopes that the rut was beginning to heat up, and the next several hunts seemed to prove it. Elk seemed to be talking more, bulls seemed to be breaking out of their dark timber haunts and exploring more, and cooler temperatures were increasing activity. I tried to remain optimistic as the miles piled up.
Close Contact
I had a game plan for the two bulls above me. The light wind was perfect for a quiet approach. I inched my way up, skirting the dreaded arrowleaf balsamroot to remain silent. I worked my way up through the burnt-out bowl and eventually reached the green timber undetected. I slowly crept through the firs, approaching the ruckus ahead of me. It sounded like a herd bull was off to my right, with a deep growl tone to his call. The other bull to my left sounded less intense. I got to a point where I was out of real estate to sneak. I decided to rip a bugle and see if I could make things happen.
Instantly, both bulls exploded in front of me. A couple of cow calls also drifted through the trees. I found myself in the middle of a long, strung-out herd. I decided to see if the younger bull would want to play. I fired back a bugle and he threw a tantrum. He kicked and screamed above me, and I could hear splashing in a wallow across the draw. I hustled towards the noise, only to be greeted by an empty mud hole.
The bull fired off way up the ridge, headed towards the next draw. Knowing the climb I had in order to follow him, I decided to work around to the now-quiet herd bull. I assumed he had also gathered up his cows and pushed them to the next bowl on the opposite side of the drainage. I suddenly felt the emptiness of the woods around me. The once noisy forest was eerily still. Usually, I could hear some sort of chatter from a little chipmunk or grouse, but it was pin-drop silent.
Sandwiched
I was close to busting onto the last open hillside before the timber engulfed the remaining upper mountain. It was a good bedding area and a spot where I had seen elk in past. I found a nice, level spot and set up shop in the dirt. It was snack time. I pulled out my triple-decker peanut butter and raspberry jelly sandwich and sat it on the ground. Before I tainted the top of my mouth, I figured I should bugle and chirp a couple of cow calls. As strangely as the elk had been acting, eating and hunting sounded like a good idea. I did a small call sequence, sat back, and started munching.
I was about three bites in when I heard it. Just below me, a branch popped. I mentally brushed it off as a chubby squirrel. But it was the 22nd of September. I should act like it. I put down my delicious sandwich, nocked an arrow, and readied myself in case a bull came in silently. Close to a minute had gone by when I saw a flash of tan below me. It was an elk! The silent intruder, which I assumed was a bull, was just about to reach my elevation and appeared to be heading my way. My mind went into overdrive as I saw bits of antlers bust through the brush at around 40 yards. He was dropping towards an opening just in front of me. He looked like a medium-sized bull, and I was hunting any bull at this point in the year.
I readied for the shot and quickly realized a problem. I had peanut butter plastered to the top of my mouth and couldn't fit my reed into position to stop him. I was coming to full draw, thinking of what to do when he cleared all the vegetation. I made a very funny whistle. I don't know where it came from, but the bull froze. I put my 20 pin behind his shoulder and released.
I watched as my arrow drifted through slowed time, finally disappearing into the bull. My first impression was that I hit a little far back. I did see a good amount of blood-splashed hide, though. The bull spun and that's when I got a quick look at his antlers. I instantly knew I had underestimated this elk and put a broadhead through a stud. His right antler left me with more questions than answers. I noticed a kicker coming off the G4, as well as something else going on up there. I wasn't sure. Also apparent was his width as he turned his head, weaving through the trees. He looked Grand-Canyon-wide.
I quickly snapped into the reality of the situation. I awkwardly shoved the elk call into my mouth and squeaked a pretty convincing cow call towards the bull. I could see him stop on the other side of the trees. I studied him from my binoculars as he moved forward. He didn't look too hurt, and I was questioning my shot. He walked out of sight, and my surroundings came back to me.
I turned around and looked to the ground. My sandwich was sitting on my pack, staring at me, waiting for my return. I silently swore to never buy chunky again. It was smooth peanut butter from here on out. I sat down, took a bite, checked my phone, and shook the cobwebs out. It was 8:30. Did that just happen?! I put away the sandwich. How could anyone eat at a time like this?! I sent a few messages out and was working on keeping my brain occupied when I heard a large crash. I assumed the bull had just piled up and I was in recovery mode.
I spent half an hour struggling before I decided to take up the trail. I got to where the bull was standing and found blood immediately. Deep hoof prints and red splashes made the first 50 yards pretty easy. I was just stepping over a log when I caught movement. I looked up just in time to get a glimpse of antlers bobbing through the trees. He was alive and headed downhill away from me. I kicked myself. I knew better. I sat down, sick to my stomach. It was time to wait. Elk are such tough animals, and I knew my chances of recovery had gone way down.
Ups and Downs
15 minutes had passed when I heard it. A gurgling noise was drifting up from the draw below me, followed by a moan. I recognized it from years of bear hunting, and it sounded like the bull was dying. Minutes later I heard another big crash, and all was silent. I took the smallest deep breath of my life. I was pretty sure he was down for good, but I didn't want to push it. Another hour passed before I took up the trail. I got to his first bed and found some blood, but not as much as I hoped. The wound seemed to have shut up and the blood stopped from there.
I was lucky to find his deep tracks fairly easy to follow through the forest. I slowly crept downhill and watched as the tracks turned towards the direction of the moans. A couple of drops of red here and there confirmed my direction. I cleared a small knife ridge and the trail opened up into a steep ravine in front of me. I scanned the bottom for the piled-up bull. No sign of him, I took a couple more steps and glanced to the right. Precariously stuck upside down on the steep, rocky slope lay the elk. I threw my hands in the air and let out a funky little whoop. I had done it, and he was a monster!
I cautiously walked up to him and began counting points. Nine points popped up on his passenger side, and six on his left. I was pretty dumbfounded. The big, palmated G5 was too amazing. I didn't see the two extras when I shot, but they looked like flames coming off the back end. He had the width, the mass, everything; everything you dream of in an elk but never dreamed you would actually shoot. I had my elk of a lifetime.
Reality quickly hit again. The bull died in the worst spot I could imagine. His antlers buried in the rock and dirt was the only thing keeping him from moving. I was honestly a little scared. I checked my pack and found no rope. I didn't have anything to tie him to anyway. I set up my camera and pack for a few 10-second-timer photos to capture the moment. I frantically ran around the elk, falling and scraping my knee. As I tripped, I also fell into the elk and almost dislodged him from his resting spot. "No more of those", I thought. I took a few more random, as-they-lay shots and devised a game plan. I couldn't move him. Trying to cape him was not even remotely a possibility. My only option was to try quartering him, feet up.
I usually start from the back, so I was in a new world. I began cutting. I nervously moved around, always keeping an escape plan in the back of my mind. I got the first half done and was able to somehow flip him. Two hours, seven blades, and some tense moments later, I had the elk broken down. I took a moment and finished my sandwich–now steeped in folklore–loaded up a pack full of meat, and started the trek out. Phase two of the pack out was aided by great friends. Between my best buddy Josh, Duke, and his lovely wife Leigh, we had the bull to the truck just after that 10 o'clock that night; a long day on the mountain I won't soon forget.
Proper photos
I really like getting good field photos. It's something I love looking back on, reliving the moments that we've cherished. I didn't get an opportunity to on this occasion, but I had another idea. I messaged my friend Hillary Mayberry for some photos in the mountains with me packing the bull. We met up several days later and got the memory the bull deserved. I can't thank her enough for the great images!
By Keith Anspach
Sometimes, as hunters, we apply for draws that take us to entirely new areas, states, or even countries. Our application strategy can be as diverse as species, hunting area, and statistical advantage or as simple as a habit, blindfolded dart throw, or spine tingle. For me, drawing a mountain goat tag in my home state of Colorado would come from the former; a statistical number-crunching game with some weighted preference points and luck sprinkled in.
Before drawing a mountain goat tag, I had never been in the Maroon Bells/Snowmass wilderness. This area of Colorado remains a stronghold for the mountain goat. If you've ever watched goats on the mountain or been in the "Bells" wilderness, you'll know why. On this hunt, I observed goats in places that are completely unreachable short of tying into ropes to get up, let alone back down.
Access Denied
The Covid pandemic of 2020 made for a challenging year in almost all aspects of life. Much of the Maroon Bells wilderness access required a reservation to drive to some of the major trailheads. By the time I heard about the reservation system, there were no available slots to reserve. Despite this, I still took several scouting trips into the unit before the season opened. All the strategy, advice, studying of maps, and scouting trips had failed to produce the goat that I was hunting for. I was now on my third trip into the unit since the season had started. This trip would be a solo-venture into country I had not been to before.
As opening day broke, I tried to glass up a goat I had seen the night before. To no avail, I took a brief pit stop back at camp for breakfast and headed off down a different drainage. Later that morning, I spotted a small group of goats on a distant ridge that seemed to have the right "look" to them, but even through the spotter, they were too far away to really know what they were. I made my way further down the drainage to try to get a better look. As I emerged from a patch of timber, I noticed a patch of white on a cliff face on the other side of the drainage. Through the spotter I saw that the white patch was indeed a goat; a good goat.
Out of Options
The goat was in a decent position for a stalk. From his perch on the cliff face, he could see all the way to the bottom of the drainage. I would have to gain some elevation and come at him from the side. I took my time to close the distance but eventually I ran out of cover. Afraid that I would be spotted trying to get any closer, I set up for the shot. My shooting position was not ideal as I tried to balance my pack in the stunted trees and scree field. The goat was still bedded on his perch and unaware that I was there. I took my time to account for the yardage and angle and cleared any small branches that might obstruct my muzzle. The shot hit home, but the goat rose from his bed and walked into the timber. Damn, they're tough! I waited and glassed, and the goat never reappeared.
Not knowing if the goat was dead or alive, I slowly made my way to where he disappeared into the trees. I eventually spotted the goat, bedded up and still alive. After a quick finishing shot, the goat was mine.

I worked through the afternoon to get the goat caped and all the meat boned and into game bags. I shuttled the meat and cape down off the mountain in hopes the remaining pack out trips would be slightly easier. I cached what I couldn't carry out on the first trip in a rockslide, covering it with rocks and pine boughs. I then enlisted the help of my Dad and my friend Zac via InReach to get the rest of the goat and my camp off the mountain the following day.

Overall, the hunt itself was hard. The experience was humbling. I made some new friends and spent some time on the mountain with old friends. I certainly hope that someday I can pay it forward to all that were involved in the hunt.
By Brett Hemmerling
I spent a lot of time thinking about what I would do differently in 2020 to be as prepared as possible to maximize my opportunities to fill tags. The recently ended 2019 season left me with a bad taste in my mouth. I knew I could have done more to be in better shape physically as well as mentally for the grind of a hunt. I could have scouted more and spent more time shooting my bow. I had missed two different shots on bulls because of trying to take a quick shot instead of a good shot, and I had left three different hunts early instead of grinding them out. Two due to weather and no shooters located and another because our oldest son just had surgery for a broken knee four days into the hunt. I made a promise to myself that I would dedicate more time to my preparations for 2020, and I was going to start right away.
Out of my hands
The day after Christmas of '19 was one of the most difficult days of my life. My wife, Amie, got the call from her doctor that her test results came back positive for breast cancer. As anyone who has experienced this knows, everything in your life changes with this news. My full attention was now firmly directed to supporting and caring for my wife and taking care of our three kids. She would undergo surgery in early January and begin chemotherapy treatments a few weeks after that. Fortunately, there was some good news out of it all as we caught it very early and her prognosis was good.
I was able to sit with her for her first chemotherapy treatment, but then COVID hit. I would spend the next three treatment sessions sitting in the parking lot because only patients were allowed in the building. I was fortunate to be able to transition to working from home which aided in my ability to care for Amie as well as allow me to juggle my newfound second job as a full-time teacher for my kids as they moved to online schooling.
Most all of my plans to prepare for hunting season had been put on the back burner to this point. We knew the timing of treatments and additional surgeries for my wife, and as long as there were no setbacks we knew that she should be nearing the end of this tough road by the time hunting season came around. My wife understands how much hunting means to me, so we discussed the upcoming season. I decided I would still apply for some general tags in my home state of Utah knowing that even if I could only get out for a few days here and there, the time would at least be therapeutic for me. I also decided to apply for a limited-entry deer unit near my home knowing that I was unlikely to draw the tag.
Months later, when I saw the charge on my credit card for the price of the limited entry tag, I could not help but think this was just another one of 2020's tricks–to give me a coveted tag but limit my ability to scout and potentially hunt the area. I knew that turning the tag back in meant waiting another four years at a minimum to draw it again, so I decided to make the most of it.
Preparations
My first trip to my unit was in late June. I had never spent time in this area so I planned to get familiar with the roads and access. My e-scouting had given me starting points, but it had also made me wonder how concentrated the hunting pressure might be. The overall unit size is plenty big, but the mountains only took up a fraction of the unit. Utah is dry in a normal year, but 2020 had other plans, and we saw extended periods without rain and hot temperatures during the summer. After my first trip out and seeing the country firsthand, I knew that this hunt was likely going to have high pressure from other hunters.
My optimism faded, and I again contemplated turning in the tag. I made a second trip out in July for an overnight trip with my buddy Jarell. We were able to glass a good section of the country and learn some more of the unit. We did not locate any potential target deer, but we did find a couple of water sources for future reference.
My third scouting trip was a quick drive after work to glass for the evening and continue to check into new sections of the unit. I found one canyon that held a good number of deer and finally turned up one buck I would be happy to take if given the opportunity. My final scouting trip occurred a week before the opener. I found a few more deer and another hidden water source but knew that the canyon from the first trip was where I would start my hunt. Of course, my quad started having issues and was running poorly, which was just one more obstacle to deal with. I dropped it off for service, but it wouldn't be ready for the opener. Luckily, I was able to find an alternative to get me by until mine was fixed.
The mountains are calling, and I must go
The day before the season started, I planned to work until noon and then load up and head out to the unit. My brother Shaun and his son Braxton would join me that evening and spend the first weekend with me. My wife was doing well, so I planned to hunt the first nine days of the season, knowing I could get home in an hour if needed.
Just as I was wrapping up my work for the day, one of my kids came into my office and told me that one of the lights in the living room was "leaking!" I did not have time for this! My wife had just taken a bath so I knew the likely source of the leak. I proceeded to tear off the front of the tub, then cut a giant hole in the ceiling in the living room only to be unable to replicate the leak. I did not have time to further diagnose the issue so I told her to just not use the tub. To add insult to injury, before I left I jumped in the shower, and in the middle of it, she came upstairs to tell me a different light had water dripping from it now. Unfortunately, I would have to deal with it when I got back.
I got out to the area later than intended and my fears of pressure looked to be accurate, as four other camps were set up at the mouth of the canyon. My brother joined in on the bad luck by getting a flat tire on his trailer on the way in. To top it all off, my boss had to inform me that I would not be getting the promotion I had been promised earlier in the year. My morale was low and the hunt hadn't even started.
Finally, the hunt
Finally, opening morning had come, and we found ourselves in a good glassing spot where we immediately saw deer. Approximately an hour into our glassing, we spotted a good buck a couple of ridges over. We were extremely fortunate to spot this buck as we could only see the top 20 yards of that ridgeline, and he happened to be on top of it. He soon fed down into the canyon and out of sight, so we decided to make the hike up the adjacent canyon to try and get above him and find him in his bed.
We turned up a few of the other bucks we had seen but could not relocate the buck. For the evening we decided to move to a point where we would be able to see up that entire canyon to try and locate him feeding in the evening. The very first deer we set eyes on that evening was that buck and he was way lower on the mountain than where we first spotted him. He was with seven other deer, but he was the only shooter of the group. The deer disappeared into a group of aspens, so we waited to see which side they would come out on, as that would dictate where I might attempt a stalk.
While we waited, two other bucks came over the ridge, quickly moving down the hill. They were not spooked but they had somewhere to be. The canyon bottom had a dirt road but also had a small amount of water running down it. We knew they were headed for the water and decided that was where the big buck was likely headed as well. The deer came out to the right of the aspens and their trajectory suggested we were correct.
I dropped off the hillside, got down to the road, and worked up the canyon to where we expected them to cross. I finally spotted the deer 50-60 yards to my right and soon they were heading my way. The only good shooting lane was the dirt road itself, so I positioned myself on the edge next to some brush and ranged the opening I thought they would come out of. The first deer was a doe. She walked on to the road, stopped, and stared at me. She turned and looked away from me and I drew my bow. The second deer was the big buck and he stopped at the edge of the road. A smaller buck walked in front of him and blocked my shot. When the smaller buck moved to cross the road, the big buck walked out and stopped at 30 yards. The entire time I was drawn back, the only thing I was thinking about was my shot process and executing perfectly. I released the arrow and watched in slow motion as it hit its mark. The buck was down in seconds.
More than a trophy
This buck is my biggest to date, but he represents so much more than a trophy on the wall and meat in the freezer. I went into this hunt expecting it to be very challenging like the mountain of obstacles I had endured throughout the year. I had not prepared the way I planned to, but I persevered and was rewarded for it. We taped my buck at 178" gross with 42" of mass.
 It is the lessons I learned from this hunt that are the greatest reward. I am grateful for my friends and brother who helped me with this hunt and my wife for her support of my hunting passion and her example of perseverance.
By Brian Thomas
Having just wrapped up a limited entry elk hunt, I decided to try my luck at finding a mule deer buck with just a few days left in the season. I had not yet purchased my deer tag and knew it would be a tall order with a shortened season because of the harsh winters Wyoming had endured over the last few years. I bought my tag, grabbed my gear, and headed out the door. The first day I went to one of my favorite spots and worked through the trees and open sage, and as the evening started winding down I realized the winters had proven to be worse than what I had anticipated. I did not see a single deer.
The days passed one by one, and with the season nearing its end, I decided to try a spot where I had been successful in the past. I parked the truck, and as I worked up the hillside, I spotted a doe feeding into the trees. It was the first deer I had seen so far. On the way back to the truck, I found a buck track left in the mud from an earlier September snowstorm, and with no other evidence thus far I decided that I was going to hunt here until the close of the season. I was determined to turn up the buck that left this mark.
Ghost Patrol
With just three days left, I was hunting a buck that I had never seen. I didn't even know if he had already been harvested, and he may well have moved on to another area, but it was all I had. I carefully worked the hillside until I got the wind in my favor, then I slowly began stalking through the pines and quaking aspens. The wind was still, and every step seemed louder than the last. As I walked, I would stop and survey the area with my binoculars before continuing on. Eventually, I caught movement in the trees ahead. "Was it him?" I thought. I pulled up my binos to see a rag horn bull feeding for a split second as my heart skipped a beat. While it was exciting to see, it still wasn't what I had come to pursue, so I pressed on.

I was running out of light, so I decided to loop around to where I had spotted the doe the night before. As I headed that way, I saw a deer off in the distance, feeding in a small opening in the trees. I glassed over the area, and the deer seemed to be the lonely doe I had found the night before. As I carefully moved closer, I could see another deer drinking on the edge of a small pond. It had its head down and appeared to have antlers, so I started to get excited. Could it be the buck that had left the big track in the mud?
Surprise Guest
It must have smelled me or known something wasn't right, because all of a sudden it lifted its head up, spun around, and stared in my direction. It was a buck–a BIG buck! I dropped my binoculars and extended my shooting sticks in preparation for a shot. When I sat down, the brush was too thick to see the buck, so I scooted to my left to find an opening. A pine tree was still covering his head and I could only see his body. I found the buck in my scope, settled the crosshairs, and flipped off the safety. Next came the unmistakable 'thud' from the bullet hitting its mark.
At this point, besides a legal buck, I truly didn't know what I had shot. The deer jumped straight into the air and bolted toward the trees upon impact. I couldn't see him from my location but I knew it had to have been a good hit, so I readied another round and worked my way toward where he had disappeared. As I crested a small rise, there was another young buck that I had not seen before, staring off to the east. As I glanced in the direction he was looking, I spotted my buck laying there. It grew with every step I took in my approach. He was bigger than I had initially thought; no ground shrinkage here.
Word Spreads Quickly
I got to my buck and was in awe. I called my wife Amanda and was nearly in tears, shaking as I told her I had just harvested the biggest buck of my life. At first, she didn't believe me, but then she recognized the emotion in my voice. "You're serious!" she finally said before getting really excited herself. "Hun, I'm proud of you, congratulations!" The next call was to my father who took me everywhere as a child and had taught me the art of hunting. Amanda had called my friend's wife and told them I just shot a big buck.
The word was out and the next thing I knew, I received a text from my hunting partners Brad and Allen asking if I needed help. I called them and told them I shot a dang nice buck and I could use the help if they wanted to come and meet me. They showed up an hour later and brought my daughter Lillian with them as a surprise. We reached the buck well after dark, and our cheers and high-fives broke the silence of the night. We took pictures, broke the deer down, and headed off the mountain. It will be a memory I won't soon forget.
I reached the magic mark that every mule deer hunter desires yet very few ever achieve on the evening of October 8th, 2020. After 37 years and 361 days of life on earth, I had done it. My buck broke the 200-inch mark as a 28 ¾" wide 6x6, scoring an impressive 204 ⅛". My birthday present came early that year! Thanks again to my family for allowing me to spend the time I do, pursuing the sport that I love. Thanks again to Brad, Allen, and Lillian for the help that evening.
By Waylon Willett
Marijuana, psychedelic mushrooms, forest fires, and wolves are Colorado's latest trending topics. Not trending are the lifetimes worth of memories and hunting opportunities outdoorsmen have long been accustomed to in the state. Before quickly closing your mind to the blue voters and green weed, let me bring to light a current issue which you may be missing: Colorado is quietly shifting gears, turning once over-the-counter hunting units into quality draw-only areas, perhaps with a valid purpose in mind, perhaps not; and it's happening under our noses.
As this story begins, we find ourselves in the final five days of archery elk season, which many would consider to be the best five days. Aspen groves are a visual prism of warm yellow and gold. Bull elk are full tilt in rut, murdering innocent pine trees, fighting amongst one another, cows squealing as bugles abound. For the outdoorsman these divine moments of the season are anticipated with fervent promise of adventure and success.
I'm on this hunt with a longtime friend Jon Gunderson. We first met years ago as I was guiding him in this same unit in the Gunnison Basin. Glancing over Jon's gear I smile to myself as I look at the worn-out compound bow. The graphics are seriously faded and the string is frayed. I think it may be the same bow he used 12 years ago... heck I think it may even be the same Gold Tip arrows! Originally an OTC area, this unit now costs a person the time and effort of applying. As a result this opportunity took Jon years to acquire as a non-resident. I didn't draw a tag but was excited to go regardless.
It's 2020, a year we'd prefer to forget, yet we won't, and this Colorado elk season will be no exception. The Colorado Division of Wildlife turned the entire southwest corner of the state to draw, severely limiting OTC hunting options and ultimately over-crowding my usual haunts. If Unit 62 was statistically estimated by the state as the busiest unit before, now it's a madhouse.
Away From the Crowds
We find ourselves here by years of sweat and experience. No technology has aided our decision to pursue this path, but rather boot leather and following the rule handed down from hunting mentors: following the water will lead you to wildlife. Years of stumbling around chasing elk take you into these unexpected holes of hunting Eden.
This area in particular is known only to the few local ranchers and maybe one or two obsessive hunters that are tougher than smart. It's driven by and overlooked by just about everyone... a true honey hole. I smile as my boots climb without any sign of human activity before each step. With three more hours of walking ahead, I find comfort and satisfaction traversing these rarely traveled ambitious trails. It's a theme that reflects my choices throughout life; always taking the tougher path.
Cresting into our intended hunting location at 11,000 feet, the first bugle catches our ears and we sit, wait and strategize. Breaths come ragged as the crisp morning air and elevation burns our lungs. A break from the strain of the ascent is welcomed.
A Close Call
As an elk hunter and caller my technique is to give each setup 45 minutes to an hour. Without pressure from hunters and a stable wind direction, time is your friend. At 10:00am we start feeling the bull out, tenderly approaching and calling, trying to get an idea of his location in the dense quagmire of trees. After 15 minutes of silence, the bull responds. Checking the wind, I watch the puff of powder rise from my indicator bottle in the direction of the bugle. It's going the wrong way.
Forced to readjust we climb some more and slide over the ridgeline. Years of failed set ups have taught me that positioning yourself at the same elevation or above the target works best for successful call-ins. On the ridgeline the wind still isn't great, but it's better. The sky is overcast with an unremitting haze of orange smoke from the fires up north, which is affecting today's wind shifts. Visibility is minimal as we move in silently. A quick glance of my surroundings reveals that we are suddenly in his bedroom, as there are rubs in every direction. It's the most significant elk rut staging area I've ever seen, so I put it in the memory bank for next year.
I throw out a locating bugle, and he hits me back with a deep, nasty full throttle response. I like the sound of this one... a lot. I guess his distance to be roughly 500 yards, and Jon agrees so we push further into the woods as stealthily as we can. My goal is to cut the distance to less than 200 yards before making another sound. Suddenly Jon whispers the dreaded "HOLD", the kind that tells me we've been spotted. After what seems like an eternity in a mid-step freeze, Jon sighs while dropping his head and says "That was a big damn elk."
Immediately I'm crushed inside, but I try to hide it. It's my mountain, my calling, and ultimately my mistake. This country is immense, and physically demanding. It's one of the few places in Colorado that's so big it was intimidating to me the first time I set foot into it years ago. Even from the air, I'm always taken back by its vastness. Simple mistakes hurt like hell at the top of a big mountain. The bull was on a rope to us, and I just made a rookie error that I was consciously trying to avoid. "Don't do stupid twice", rattles in my head. We emotionally recover and realize we've still been walking through thrashed trees for the last 45 minutes.
Redemption
Still in route to the original hunting location I remain optimistic. There's an incredible amount of sign every step, and with so many tree rubs, it looks like they have disease from the ground level to seven feet up – my new favorite tree contagion. Once overlooking the next drainage where we can see and hear, I let loose on the call again. Five minutes later an elk bugles. I breathe a sigh of relief and the early mistakes are not as painful now as new opportunity greets us. This time we move in slower with determination, being stoic not to make another silly mistake.
As we creep in, I can tell there's more than one bull as the action amplifies within the 200-yard bubble, and I switch up calls for the situation. Calf calls and bugling are my favorites in close-quarter situations. Calves get away with murder on the mountain; no one pays them any mind, and the mature cows don't feel pressure from them in competing with the bulls. I start light with my calf calls, and the woods light up. Trees begin to shake, and two separate bulls sound back. It's a fantastic thing to hear an elk bugle under 100 yards in the woods when it rattles you to your core and you can feel it in your feet. The ground literally tremors, and trees vibrate.
Jon and I share a look, and instinctively move into the set-up without a word being spoken. The thermals are not favorable and going the wrong direction, but hopefully we can manage it. Jon moves ahead of me 25 yards as I stay put, pulling any of the elk's attention. Less than one minute later I see Jon draw and hold his bow looking downhill. I can only catch glimpses of elusive tan hide and antler flashing through small windows in the trees. It's been two or three minutes at full draw now. The anxiety is heavy and builds into the final seconds in this make or break moment, seven years of waiting, time away from your kids and wife in addition to money spent.
I bugle as pinecones fall out of the trees, and the bull's loud response reverberates through the timber. Seconds later I hear the sweet sound of a bow released and the distinct KAWHAPP as the arrow finds its mark. All hell breaks loose in a collision of trees, dirt and lingering dust. I scream a bugle hard in the bull's last direction to calm the situation, and the crashing slows... more crashing follows, then nothing. Moments later I hear death groans that remind me of a black bear in his last moment. In the same moment Jon stares downhill like he's lost something, bobbing up and down left and right, trying to steal some confirmation in the moments of chaos. He starts heading back with hands raised in a V in what we both expect is a triumphant moment.
Same Bow Confirmed!
Upon uniting, Jon recalls the whole sequence: A small 5-point at 20 yards, then a big 6-point walks up to 10 yards leaving him a full-frontal shot that he chose to take in the close proximity, and with the unpredictable wind it seemed the best choice given the situation. A minute later the adrenaline hits Jon, making him shake. A few seconds ago he was Joe Cool handling the whole thing like the seasoned hunter he is. Now he's reminded of why we're here.
We sit in a reprieve for 30 minutes. Sure enough, Jon brags on his old bow, confirming it's the same bow he had last time. I appreciate the simplicity and the admirable humility that goes with not buying the latest and greatest of today's techy gear.
Making our way down the hill we find a deluge of blood on the trees and ground, and soon see Jon's 6-point pressed under a tree with his feet in the air. It's a crash that we can now see fits what we heard in the final moments of chaos. We do our work to quarter and de-bone the meat knowing we have a long way to hike down, while also trying to preserve the moment. Jon has me dig around and pull the arrow out of the bull, hoping to recycle it... yep, same old arrows too apparently.
Good hunts like this are appreciated as they are few and far between. I still have 15 years before I'm 60, I know it'll be different for me in the future as challenging hunts like this are undoubtedly tougher on older bodies. These moments are hard earned, and we'd stay here all day to soak it in if we could. Maybe it's an awareness from working in an ambulance and experiencing people's worst moments that I've learned that we don't all have tomorrow, so appreciate today.
Smiling Through the Pain
It's 3:30pm as we point downhill, glancing back at the meat hanging in the trees, knowing that we have a second round-trip to make. Jim Carrey's movie line "I'm kicking my own ass, do you mind?!" plays in my mind knowing what's to come.
Five hours later, the last of daylight passes in imminent obscurity. We trudge out uttering profanity, stumbling in pitch black, unable to retrace the trail. Tree branches in the face and deadfall tearing at my shins, I know the trail is right next to us, but I'll be damned if we can find it. We are earning it now, crawling back to the truck on the last of our legs.
Once there I slam an old bottle of water left in the back of the pickup. I ran out 5 hours ago as soon as we left the top of the mountain. I'm nauseous, my head hurts, feet are on fire, and my traps feel worn... everything hurts. We crawl into our bedrolls at last, feeling the exhaustion of putting it all out there, readying for the final round two in the morning, still with smiles on our faces.
By Marc Carlton