There's always something special about your first time. A first kiss, first car, and first house are all deeply imprinted in our memories. Try as we might, we can never recreate the anticipation, wonder, and emotions that only come when experiencing something for the first time. Hunting the West has been on my bucket list for as long as I can remember.
As a lifelong resident of the east coast, the lure of the West aroused my longing for adventure and wild places. When I received an invite from my friend Elijah, a Utah transplant, to join him and two fellow Floridians on a DIY bow hunt for elk last fall, I jumped at the chance (after clearing it with my wife, of course).
I'm far from the first person to be drawn west. Having spent my entire life hunting woodlots parceled like a checkerboard, girdled with "No Trespassing" signs, the chance to feed my wanderlust in a seemingly borderless land was more than I could resist. For Mike, Jeff, and I, this would be our first time hunting the mountain time zone. Planning for a hunt of this magnitude was exciting.
We devoured every podcast and YouTube video about elk and backcountry hunting we could find (shout out to Hunting Editor Remi Warren). More than once, after reviewing our checking account, my wife questioned if the trip was here yet. As the summer waned towards September, our anticipation reached a fever pitch. It was clear that this trip was going to be a "first" that would leave an indelible mark in our lives. 
Taking It All In
When the day we had all been waiting for finally arrived, also my birthday, three expectant hunters converged in the early morning hours at the Orlando International Airport from different corners of the state to embark on an adventure we had only dreamt about. I couldn't think of a better way to celebrate my 39th year of life.
Landing midday in Salt Lake City, we were met at the airport by Elijah. After brief stops to grab lunch and load our gear into a small U-Haul trailer, we started the trek into the mountains. As we drove past wind turbines, antelope, and open landscapes, the panorama through the windows of the four-wheel-drive Tacoma was more than my eye's narrow lenses could take in all at once. Three hours later, we pulled into a trailhead I'd only viewed through a computer screen during e-scouting sessions.
Daybreak came both quickly and not quickly enough for our weary, yet eager group of hunters. We planned to hunt our way up a small, timbered, flat-bottomed drainage while calling and looking for fresh sign. Excitement came quickly with two encounters with spike bulls before lunch. After gaining 1,300 feet of elevation, our legs and lungs let us know that it was time to break for lunch. Refreshed by our brief respite, we spent the afternoon hunting above 10,000 feet, finding only dry scat and year-old rubs. It was clear that the fresh sign was down lower, so after waiting out a brief storm that rolled through, we pointed our direction back down the grade.
Bugles And Drums
While descending the high alpine timber, through intermittent rain showers, we entered a secluded bowl where one of our location bugles was finally answered by our target quarry, several hundred yards east. It's amazing how a hunt can go from doldrums to frenzy in an instant. Within seconds, three eager hunters were staged, bow-in-hand, straining our senses in the direction of the foreign noise ahead while Elijah, the most experienced caller of our troupe, dropped back to continue the vocal ruse.
Just after we set up, the big bull was directly in front of Mike at the center of our skirmish line, ripping a bugle and raking a tree. In even less time than it took for him to cut the distance, the bull's nostrils filled with our repugnant odor. He about-faced while Mike temporarily earned the nickname "Travis Barker" for the abuse he inflicted while drumming an innocent pine in the frenzy as the mature 5x5 ran away.
Our first close encounter with a rocky mountain bull elk left us shaken and exhilarated. We sat down for a short break to allow our heart rates to drop back into the green zone and think out our next steps. While recouping, a plan was put in place to hunt towards a north-facing slope a mile and half from camp for the balance of daylight. On our way there, we scrambled over two rocky spines, anxiously waited for looming thunder to pass, and learned firsthand what it means to be cliffed-out.
Within Range
Shortly after cresting onto the target slope, we were met by a pungent odor I can best describe as akin to a wet barn animal. It didn't take long for us to learn the source of this strong odor. A curious 3x3 bull trotted in from behind us to 30 yards, then quickly turned heel before any of us were able to get a bow drawn. Our second close encounter ended even faster than the first, leaving us looking dumbfounded, thinking "What just happened?!"
With an hour and a half of daylight remaining, we resumed our descent, only to be interrupted again 15 minutes later by another bugle 150 yards to our left. Another scramble found myself and Mike facing the presumed direction of the bull while Elijah and Jeff hung back to attempt to draw the bull in. During the wait, the wind briefly picked up, blowing over a dead pine tree that was close enough for me to momentarily question my sanity.
Before I was able to conclude that thought, the bull appeared below me on a path that would intersect within bow range. Scanning the hillside in front of him, I spotted a window through the pines directly below me that presented my only shot opportunity. As the bull approached, I drew back, and as he filled the opening, I split the difference between my 30 and 40-yard pins and released.
The only indication that the arrow found its mark was a momentary flinch before the bull continued his purposed march out of my sight and into Mike's, who I could see to my left. I quietly cheered as I watched Mike draw his bow and loose an arrow, followed by the all too familiar "crack!" of a projectile hitting a tree. The sound spooked the bull back past me and out of sight. Still in the "zone" I get into when my entire focus is on a singular task, I nocked a second arrow and slipped in the direction my shot had flown seconds before. When I cleared the small opening, I found the bull was facing away at 40 yards with the look of a mortally wounded animal unsure of what was ailing it. Drawing back again, I whispered to the bull, "Just give me something." As if hearing my plea, he turned back to look, providing the quartering away shot I needed to penetrate a second arrow.
With the bull out of sight again, I looked down to find the first arrow at my feet with the red tint I was praying for, confirming the arrow had found its mark. Returning the arrow to its quiver, the dam holding back my emotions began to breach. At that point, Mike walked up, and we excitedly recounted our versions of what just transpired which were repeated when Elijah and Jeff joined us. Cautiously excited, our foursome fanned out to begin tracking.
Recipe For A "First"
A mere 50 yards down the trail, we spotted the tawny hide of the elk laying on the mountain floor. After the bull was confirmed dead, we threw our caution to the wind and embraced the excitement as a band of brothers who had achieved something none of us were certain would actually happen.
In reflection, many ingredients made the trip and that day one that we'll never forget: the generosity of a friend sharing the culmination of his four years of learning he had invested; the rugged terrain sculpted at the dawn of time with the wild creatures that call it home; the camaraderie and unselfishness of four kindred spirits experiencing life together; listening to the primal bugles of rutting elk while gazing at satellites arcing across the starry night sky; the satisfying feeling of exhaustion after packing out the spoils of a successful hunt; and much more that will live on in our memories.I only need to gaze at the mount of the beast on my wall that drew us to this incredible place for the memories to come flooding back. We were fellow sojourners in a raw and beautiful land whose paths briefly crossed on one memorable day. While the elk's journey has come to an end, ours continues with a memory of an unforgettable first that will be carried and retold until ours reaches the same inevitable conclusion.
An Arizona Late-season Elk Hunt
After four years of waiting, my credit card got hit once again for a late-season rifle elk tag in northern Arizona. I had drawn the same tag as a resident in 2017, my first late-season bull elk hunt of any kind, but after 10 weekends of scouting and a week of hunting, I went home empty-handed. In the intervening years, I would spend countless hours reliving the hunt and all the close calls, determined to learn from my mistakes when I returned for an Arizona bull. Hunting less intuitively and more deliberately, focused on the basic needs of elk, would be the key to my redemption.
Two days before the hunt, around noon, my father and I rolled into the area. After setting up camp, we headed out for an evening glass. I parked off of a less-traveled forest road, and we hiked up to a glassing knob that rose a few hundred feet from the desert floor. From here we could see the better part of the mountainside I wanted to hunt and pick apart the high country where experience told me some mature bulls might still be holed up.
Gathering Clues
A thick coat of white snow graced the mountaintop, fading away a brief thousand feet below. A minute or two of glassing informed me that the snow was sufficient to cover all of the feed up high. I shifted my focus just below the snow line, where a patchwork of grass sprouted from small openings in the decades-old burn. The grass was yellow to the naked eye, but past years informed me that fresh, green blades were tucked down by the roots. These provided the preferred meal for late-season bulls, intent upon adding calories and bulking up after the rut.
As the sun began to set behind the charred, rocky ridgeline in front of us, the first bull of the trip made an appearance. He was an average five-point with a pair of turndown fronts. A buddy stood up behind him through the evergreens that served as their afternoon shade, and a third popped up 20 yards to the left, feeding along the edge of a small clearing. All were five-points, and none were overly mature. The last half hour of light turned up nothing more than a loner spike. One evening down, and there were elk right where they should be!
The following morning brought one more scouting day, which was invaluable for putting us one step ahead of both the elk and the competition that was slowly filing in. A repeat of last night's plan was in store, and we hoped to dig out some bulls that may have eluded us twelve hours earlier. At sunrise, we quickly found the bachelor group from the night before, though this morning a smaller-framed 6x6 joined them. Nearly an hour later, no further elk had appeared on the mountainside. With the weather heating up to the 50s and elk in their beds, I spent the middle of the day checking tanks for water and activity. The major tanks in the area were, in fact, full and bordered by mud dotted with elk tracks.
Overlooked Areas
At this point, my scouting had been deliberately focused on the needs of late-season bulls: food, water, and sanctuary. The food source was apparent and available all the way up to the snow line. I had confirmed that water was accessible near the food source, which isn't a given in the arid climate of northern Arizona. This sanctuary would be key, as it is with most late-season elk hunts. Yet, so far, I was working the most isolated and unpressured area in the unit and hadn't turned up anything special. My next move would be to check the smaller areas that, though not as far from open roads, still provided sanctuary due to rough terrain or lack of established access points.
For the final evening of scouting, I wanted to check an overlooked spot on the edge of my preferred hunting area. This was a location that held everything elk needed, yet with no trail or parking lot, most hunters drove right past. I picked a glassing point that allowed me to see into a hidden cut that wasn't visible from the main road and had a clear view of a south-facing opening with ample feed at a high elevation. An hour later, and only minutes before darkness set in, the tan coat of a bull elk materialized at the top of the clearing, emerging from behind a white fir. At just over a mile away in fading light, he clearly sported a sizable six-point frame with ample mass and a dark, shaggy cape.
I quickly decided he was plenty big for this tag – certainly big enough that I wanted a closer look. Slightly to the south of where he was feeding sat an open, prominent knob that was an excellent shooting location and was within range of the bull. The plan was set, and if the bull didn't move far overnight, he was killable at first light.
Right Where He Should Be
On opening morning, we started our hike just over an hour before first light. Clear skies and a quarter moon lit up the terrain ahead of us, the mountain's profile looming ominously, larger than memory served. Dawn marked the official beginning of the season, yet I was still a few hundred yards short of my destination. As the crest of the knob came into view, I noted a small group of burned ponderosa pines on the skyline. These would be perfect for breaking up our outlines, so we headed straight for them.
Just on the near side of the knob, we stopped to drop packs. Before moving forward, I peeked up and over the knob from a small rock outcropping to check the opening from the night before. I glassed slowly from left to right and, to my shock, the bull was right across from us! He was calmly feeding, just below the tree line on the edge of a rocky avalanche chute bordered by pines. As he was preoccupied with his morning meal, we crawled up to a shooting position without drawing his gaze.
The sun broke the horizon as I chambered a round and got lined up in the scope, illuminating the bull's rack through the crosshairs. I could only make out his back end with him quartered hard away, head down. I double-checked my bubble and turret in the time it took the bull to take a step or two forward. He was only a few yards from pines above and in front of him and inching closer. I needed to make a decision quickly or risk watching him disappear into the cover. "I'm shooting him," I whispered as I flipped the safety off.
A rock-solid rest kept the crosshairs completely still, and I held mid-body, just behind his front shoulder. BOOM! The first shot, and then a second, hit vitals. The bull took a couple of steps forward and began to wobble, but I wasn't taking any chances. A third shot, followed by a fourth, struck home and through the recoil, I lost view of the bull. "I think he went down," shouted my dad as the bull stumbled to the edge of the rockslide and out of sight. Try as we might, we couldn't find the bull with the glass. Knots in my stomach materialized and wouldn't dissolve until I laid eyes on the bull. With that in mind, we strapped on our packs and started the hike across the draw.
I picked my way down the backside of the knob, then through the burnt deadfall in the bottom of the draw. Once up the other side, we had a good vantage of where the bull stood at the first shot. I impatiently scanned to the right at the edge of the rockslide, finally with enough elevation to peek into the timber where the bull had vanished. With the naked eye, aided by the shine of the rising sun, I spotted the tan glisten of a bull elk laying only feet into the trees!
After celebrating with my father, I hurried over to my bull, and he didn't disappoint! A crown point on his right side was a nice surprise, as was a freakishly long turndown front. This bull was everything I had hoped for and with character, to boot!
The breakdown and pack out over the next few days were enjoyable and fair-weathered and, at last, I made the final hike back to my truck, antlers in tow. I could see most of the unit from atop this mountain, and as I looked out across the vast ponderosa forests and lava domes of northern Arizona that I had become so familiar with, I thought about what led me to this moment. The time and effort put in four years ago wasn't a waste as I had thought then, but rather the experience I needed on my path to redemption.
Every year when planning for hunting season begins, I ask my boyfriend what hunts I should put in for that we can do together. I get excited at the opportunity to go hunt out of state with him, but I also enjoy the added bonus of quality one-on-one time together. My boyfriend Mac travels for work, so we usually don't get to spend this kind of time together, especially during hunting season, when he is off on hunts around the western mountain states.
After about four years of unsuccessful draws, I got a text message alert that my credit card was charged by Colorado Fish and Game. I couldn't have been more excited to call him and tell him he was going to be stuck with me for at least a week! We'd be spending that week chasing elk in the mountains of Colorado.
After I got the good news, we began training for some hikes and hopefully one extra heavy pack out. After lifting in the gym, running for cardio, long weighted pack hikes every weekend, and shooting as much as I could, I felt ready! I live basically at sea level, so I expected the elevation to get to me, but I knew I was going to do my best.
Putting In The Work
I met Mac out in Colorado, and we made our way to the unit. I was told to expect "frigid temperatures," but that ended up not being the case. Although I was happy to not be extra cold the whole time, it made finding the elk hard. This was a unit we both had never been to, but Mac is an avid hunter with lots of experience in figuring out new areas. We scouted for a day and eventually found some elk. For the next few days, we had some opportunities on some bulls, but they were either too quick or too far away.
We spent the evening hunts riding around in the side-by-side, looking at new county to glass with no plan. I was starting to feel discouraged and that we were wasting our time. I was the inexperienced hunter on my first out-of-state hunt, so Mac, who has been hunting all his life, was starting to get frustrated when I told him we were wasting time and he needed to slow down so I could see. He told me we weren't going to just see an elk and have enough time to set up get a good shot. He said our main goal was to find a place to glass.
I looked around and pointed out the driver's side of the side-by-side and said, "Let's get out and glass over there!" He didn't say anything, he just kept on driving. I responded with, "Are you even listening to me?" I could only imagine the thoughts going through his head. He pulled the side by side over and said, "Get your stuff. We are hiking up." I looked up the hill and regretted my spot choice, but I didn't want to show it. I was trying to gather my things, but he just grabbed the spotting scope, and I took the gun.
I take two steps to his one, so he always beats me to the top. When I got to the top of that hill, I couldn't find him, but then I heard him whistle. I was annoyed, tired, and just wanted to find an elk. I made my way over to him, and he was looking in a different direction than the area I told him I wanted to glass. I made sure to tell him this, and he snapped back, "Do you want to see the canyon you wanted to glass?" He marched over and started to climb down the side of this scraggly cliff.
I Want To Shoot!
I was yelling for him to get off there, and he pretended to not hear me. I gave up and sat down, waiting for him to come back when he was done being mad. I took a picture of the sky because the sunset was so pretty and I couldn't help myself.
Then, I heard him whistle… I peeked my head over the edge and saw him mime an antler rack on his head. I forgot about my fear of the rocky cliff and climbed down with the rifle. He said, "There's a big bull; we are definitely coming back here tomorrow." I sighed and said, "Tomorrow?! How far is he? I want to shoot!"
Mac looked through his rangefinder and said, "It's a long way." He asked what I wanted to do. I responded that I want to shoot. I knew I could do it, but I only wanted to do it if he was OK with me taking the shot. I was confident and ready. He looked at me and told me to get the gun set up.
When I say this cliffside was a rocky mess, think of trying to get set up and comfortable on a pile of sharp rocks. It wasn't easy, but I got my body and the gun positioned and put the elk in the crosshairs of my scope. I started to shake. Mac told me to put it right on him. I shot and missed. I racked another, thinking the elk had to be gone, but the elk was still looking around, confused.
Mac told me to hold off his body two feet. I heard this but shot and missed again. I did the same thing again, hitting the same spot. The elk was looking back in our direction, still confused with what was happening. Mac sternly instructed me to hold "two feet." I shot, the bullet hit its mark, and the elk went tumbling down the side of the cliff.
First Look
I started crying again – I was so happy and shocked. Mac and I hugged and he made sure to tell me he was still mad at me. I told him I wanted to go down and see the bull. When I shot, it was around sunset so, by the time we got over to the elk, it was going to be dark. The elk was in one of the worst spots around, and it was going to entail a steep and treacherous hike. I was ready!
I sucked down some Mountain Ops for some energy, and we set off with our headlamps and hiking sticks. I was sliding around, navigating the shale rock and deadfall trees. I didn't want to think about hiking up it, but some part of me was excited to do it with a heavy pack. We made our way to where we thought I shot the elk and knew we were close. Mac spotted the elk, and I couldn't believe my eyes. I had harvested my first ever bull elk!
Good To Great
Mac started to take pictures of me, I took some pictures of him with it and, of course, I asked for a picture of us both. Mac got the tripod set up and came over to me. I was trying to figure out where to stand next to the elk when Mac said, "I have a question for you." I looked to my right, and he had a ring box opened and was down on one knee!
What I already thought was the best day harvesting my first elk turned into the greatest day of my life. "You have to ask me," I said. He said, "Will you marry me?" I responded with a "Hell yes!"
We took a few more pictures, and then the real work started. Mac cut up the elk and I helped where I could. I couldn't wipe the smile off my face. We packed out half of the meat that night, then went back the next morning and got the rest out. All the long pack hikes I did for training paid off!
My first out-of-state hunting trip had so many highs and few lows, but I wouldn't change a thing. We came out of the trip with full packs and full hearts! We are engaged!
Backpack elk hunts are tough, so pick your battles wisely
I'm a sucker for a good view. Consequently, I often take what the terrain looks like into account when planning my backpack elk hunts. This probably isn't the best way to plan a successful elk hunt, but for me it's a good starting point for the makings of a memorable one.
The views inspire me, but I also prefer big rugged areas for elk because I like to glass more on backpack hunts than I do when my camp is based along a road and I have access to my truck. After all, seeing is believing, and when I have to carry everything I need on my back, it's easier to stop believing if I can't actually see what I'm after.
What's the Difference? 
The main reason I prefer to glass more on a backpack elk hunt vs. a "non-backpack" elk hunt all has to do with mobility. This is a bigger concern in some areas I hunt than others; factors such as elk density, ruggedness of terrain, how good the trails are (if any) are all factors that play into this. 
I take into account that I can only hike so many miles and pack so much food, so if I run around forcing every encounter and being aggressive, I stand a good chance of running most of the elk out of the area that I can physically hunt on foot in one trip.
This is totally opposite when I'm hunting elk while based out of a tent camp next to the truck and doing day hunts. Here I'll usually be very aggressive with each elk encounter and if it doesn't go my way, then big deal; I'll hike back to the truck and drive to a new area and hunt new elk in a totally different spot the next day.
I don't want to give you the impression that I just run around like a headless chicken on this type of hunt, but when it comes to public land elk, they are often very unpredictable and tough to pattern, so waiting for the perfect conditions can often result in the elk vanishing before you ever even make a move on them.
On a backpack elk hunt this is a risk I usually have to take though, as I don't have the means to easily reach new areas each day in search of new elk. I'm usually logistically committed to that area.
Strength and Weaknesses
It's a good idea to really understand what benefits and/or disadvantages a particular style of hunting or type of terrain offer you.
Advantages. The main advantages I seek through a backpack elk hunt in rugged terrain are: 1) finding elk that are less pressured by other hunters, and 2) putting myself in country that because of its more vertical structure, allows me to see and hear farther.
This is also a huge advantage if the elk don't like to be vocal because of wolves or hunting pressure, or if there is just a lull in the rutting activity. If you can see them, you don't have to worry as much whether or not they bugle.
Disadvantages. The main disadvantages of this type of hunt are: 1) Lack of mobility; if you have trouble finding elk you can run out of energy and options real quick when you are running on manpower vs. horsepower. 2) Due to the previously mentioned disadvantage, it can make staying mentally committed to the hunt a lot more challenging.
I have actually truly felt devastated by blown elk encounters on the second day of backpacking in rugged terrain. It's not that I haven't felt this way on non-backpack hunts or when hunting more gentle terrain, but it usually takes longer to get frustrated. Not to mention, when on non-backpack hunts, I am usually sharing a camp with family or friends that encourage and motivate each other. On backpack hunts, it's often solo or with one buddy who is in no better mental condition that me. Understanding these types of backpacking attributes can help you tweak your hunting style to your advantage when in the field.
Think Like a Deer Hunter
I find that on my backpack elk hunts, my daily routine feels very similar to that of a high country deer hunt, in that I usually get up and head straight for a highpoint for glassing. Conversely, on a non-backpack hunt, I might power hike though a bull's bedroom on a timbered hillside, stopping to listen and call every few hundred yards while searching for a vocal bull to move in on. On backpack elk hunts, I'm very conservative about hiking into a bull's comfort zone. I will run into that zone if the conditions are right, but if they aren't, I won't push it unless my hunt is getting down to the wire and I'm leaving soon.
My favorite method. Like most hunters, I have preferred methods when it comes to ways to bowhunt for elk. My personal favorite method is to get as close as possible to the herd and wait for an opportunity to unfold. I'm not exactly sure why it's my favorite, but I think it's exciting to be close to a rutting elk herd and observing them behave naturally while totally unaware of danger.
Don't disrupt. Calling can oftentimes take that totally natural behavior out of the equation as they start looking for what they hear but don't see. Plus, on public land where they get called repeatedly, it can put the herd of high alert even if your calling is decent.
Adapt. More than anything though, I simply want to do what works best for the situation. I don't get stuck on trying to force a method to work; I'll call, stalk, use decoys, sit wallows, set up an ambush, or whatever it takes based on the current situation. This is true on any elk hunt I'm on, but when it comes to a backpack hunt, room for error is much smaller, so I start calculating my degree of risk more carefully.
Know when to back away. If the conditions aren't obviously in my favor - such as an inconsistent wind, loud stalking conditions, and/or a questionable calling setup, I'll often back away and wait for another chance. The reason I get more conservative on this type of hunt is because spooking the bull out of my canyon or area I'm hunting means I often only have two choices: 1) sit around and hope new elk move in, or 2) pack up my camp and hike off with a heavy pack in search of new elk in a different spot. Those aren't fun options.
Know when to press. Another factor in how conservative or aggressive I'll be with any given encounter is what stage of the hunt I'm in. For example, on a seven-day backpack hunt, I'll usually be patient and calculate every element of a potential elk encounter very carefully, while waiting for nearly perfect situation, for the first five days. But for days six and seven, I'll be far more aggressive and take more chances. Blowing the elk out of my area won't be an issue since I'll be leaving soon, so I might was well give it a shot.
Playing Your Cards Right
This past year I backpacked in to a rugged area and had somehow managed to spook every elk out of a sizable drainage in only a few days. I was dejected, and as I went to bed on the third day, I was convinced that I would need to pack up camp the next morning and hike farther out the trail in search of new elk. I figured I had one big move I could make on this seven-day trip, so this would be it; if I didn't find elk within a few miles, I'd be out of options, as this would be the edge of my physical limits.
The next morning I woke up and heard a bugle not far from camp. I soon spotted the bull along the edge of a timber patch above me and could see he was a nice six-point. Knowing this was likely the only bull left, I backed away from the location - even with a favorable wind - and headed for a vantage point across the drainage from the bull. This would allow me to get a better feel for the situation and gauge my risks better.
I was very excited that a new elk had moved into the area overnight, and as soon as I heard the bugle close to camp, I wanted to quickly move in (especially with a favorable wind), but experience had taught me otherwise. I still had time on my side and I wanted to know more before moving in. I had no idea if he had cows, if there was more than one bull, if he was on the move, or just hanging out. All of these details would make a huge difference in how I would try to kill this bull.
As luck would have it, I got to the vantage point and couldn't see or hear him. An hour went by and I started to second-guess if the bull was still around. Finally, he bugled softly and I now knew the exact timber patch he was in, which was a 20-acre patch of nasty deadfall.
I decided I still knew too little, so I waited. Unfortunately, a storm system started to move in and my earlier stable and favorable thermals were now gone.
After a few hours of sitting in the rain and freezing half to death while keeping on eye on the timber patch, all I knew was he wasn't moving and he bugled only occasionally.
My instincts told me he was alone and was a good "lovesick" candidate to call in. I packed up that afternoon to cross over and get level with him. Everything worked great; I was able to get into perfect position. Then the wind switched. I was sick, because I knew I would be moving camp in search of new elk if he winded me
Considering this, I swiftly backed out and returned to my previous vantage point, hoping it wasn't already too late. The bull bugled again after I returned to the vantage point. I now had a second chance at this bull and I was determined not to screw it up, even if it meant waiting until tomorrow.
Nearly the entire day passed when he finally showed himself. He wasn't alone; he had at least two cows with him! Armed with more info and steady thermals, I moved in. Wanting to make it as easy as possible for him to come to me, I got level with the herd.
I was only a couple hundred yards from the elk. I had a good wind the herd was small, so I pressed on. With only a couple cows, I knew the bull might be interested in adding to his harem. With daylight starting to fade, I either needed to make a move or wait for tomorrow.
I decided to set up a decoy behind me in the wide open and let out a couple soft cow calls. He bugled instantly and then again; I knew he was coming. He barely got into view and then stopped at 80 yards, staring in my direction. I knew he couldn't see me or my decoy yet, so I was tempted to call again, but I knew I'd run the risk of 1) him pinpointing my location, and 2) losing the affect my decoy might have if he voluntarily took a few more steps and saw it.
After a minute, he continued on his path and saw my decoy. The 20-yard broadside shot was all but a formality.
It's taken me years to learn that successful backpack elk hunts usually feel more like playing chess than rugby. Slow down and gather as much info as you can before you take on your next backpack elk encounter and stack the odds in your favor.
Josh Smith started making his own knives at the age of 11, which he funded himself by mowing lawns before and after school. After years of hard work and dedication, he went on to join the American Bladesmith Society (ABS). By the age of 15, he became the youngest Journeyman knife maker in the world, and by the age of 19, he officially became the youngest Master bladesmith in the world. It was during that period that he registered the name of the company, Montana Knife Company, with the state of Montana.
Fast-forwarding many years, Josh's wife Jessica encouraged him to quit his job and pursue his passion and dreams by launching Montana Knife Company. Josh began making some prototypes and around the same time met Brandon Horoho, who became his business partner and co-founder. Together, Brandon and Josh started creating marketing materials and more prototypes, and on January 1, 2021, they both quit their full-time jobs to go all in with Montana Knife Company.
In just two years, MKC has taken off like a rocket ship, and they've done it all without a single outside investor. It has grown completely organically into one of the most talked about brands in all of the hunting industry. Their limited drops of knives have consistently sold out in minutes (yes, I said minutes)! The quality, practicality, and durability of their knives have been unmatched, but people have also loved getting to know Josh and Brandon as great people. They continue to amaze their customers with giving back to the community, uplifting other brands, and standing true to who they are and what they believe in. No matter how big MKC gets, Josh and Brandon are always interacting with each and every customer with a genuine smile and appreciation. These are just a few reasons why so many people, me included, have been rooting for them to succeed.
Unapologetically American
Montana Knife Company makes and sources 100% of all of their materials here in America. Their knives are always built, manufactured, assembled, finished, and sharpened in the United States. They have stated many times that outsourcing overseas is non-negotiable, and regardless of the higher cost of goods to do this, they will never make knives overseas. That's a promise you just don't hear much these days. They stand completely behind their products (more on that later…), and customer service is a priority to them, not an inconvenience.
They have stayed rooted in Montana, and Josh, having grown up hunting and fishing on the edge of the Bob Marshall Wilderness, knew the importance of making hunting knives for hunters to use as effective tools, and not as mantel display pieces. Montana Knife Company is composed of real people who hunt, fish, shoot, and practice what they preach. In fact, every knife is named after different places, animals, and mountain ranges in Montana. They are devoted to making knives that you can pass down to the next generation. The intention is for you to use your knives with purpose and function, and these hunting knives are built as rugged tools. Having the confidence that the quality knife that you use to break down wild game will surely be an heirloom, is a special feeling.
Stonewall Skinner
I had previously always used very small blades in my kill kits (both for weight savings and for packability), but after every animal was skinned and gutted, I found myself working twice as hard with a smaller knife. The ergonomics of a small blade and handle were always uncomfortable in my hand. They would lose their blade retention more quickly than expected, which resulted in me carrying several smaller knives as backups. I was fed up with the unpleasant experience and wanted just one durable and dependable skinning knife that would be able to handle anything.
Having learned about the Montana Knife Company story, quality, and vision, I decided it was time to get my hands on one of these to put it to the test. I knew that I wasn't going to count ounces. After all, one slightly heavier knife that works is lighter than two or three that don't. I wanted a knife that would make skinning, gutting, caping, and cutting meat an enjoyable process again. For that reason, I opted for the Stonewall Skinner, which was named after Stonewall Mountain in Lincoln, Montana where Josh grew up.
Having seen many pictures of the Stonewall prior to choosing it, I wasn't surprised at how greatlooking a knife it was when I received it in the mail. However, what I didn't expect was how amazing it felt in the hand. The ergonomics of the G-10 handle and the overall balance of the weight of the knife were astounding–by far the best feeling knife I have ever held. The deeper belly on this blade was designed specifically to be the workhorse of the knife, providing you with longer slices on hide and meat. This allows the blade to do the work it was intended to do. The tip of the blade was made to have a bit of a drop point if you needed to do any caping, but the deep belly lets you use the entire length of the knife to your advantage.
The Stonewall Skinner can be purchased in two blade material options, ball-bearing steel and Magnacut stainless steel, but I chose the option made of 52100 ball-bearing steel. Ball-bearing steel has an excellent wear rating and gives you an edge that holds up very well to constant use but is still very easy to resharpen. The blade of the Stonewall Skinner is 4 ¾ inches long, with an overall length of 9 ¼ inches, and an overall weight of 5.5 ounces. At .135" thick at the spine, this blade is stronger than any task you'd throw at it, yet at only .15" thick at the edge, the knife will easily cut through any animal like butter. In fact, my Stonewall Skinner was used to completely break down two mule deer within a day of each other without sharpening. It worked as flawlessly on the second buck as it did with the first. The Stonewall was the only knife used, and I was remarkably happy with how it performed in the field. Each knife is equipped with a G-10 handle (several different color choices), which is exceptionally tough and hard-wearing. My handle was exposed to thick brush, jagged rocks, and debris over the entirety of several long and demanding hunts in the unforgiving deserts of Arizona, and it remained completely undamaged. When entirely covered in blood, the handle does not slip in the hand and retains an excellent grip when breaking down your kill.
Each knife also comes with a Kydex sheath that is vacuum form molded to the exact profile of the knife, providing a very responsive click into and out of the sheath. It has a quick-attach belt loop that can be applied horizontally or vertically, and it is fully adjustable to be used with any hunting pack or system. I personally attach my Kydex sheath vertically to use on my hunting pack shoulder strap (left side so when I take the knife out of the sheath the edge is always pointed away from my person).
The Generations Promise
Montana Knife Company doesn't just stop at a phenomenal American-made product, they back up their customers and their knives with the "MKC Generations Promise" for the lifetime of your knife. Their knives are made to be used as tools. That means getting them bloodied, dirty, and scratched up. When you do, you can send them to MKC, and they will restore your knife to its original working condition. They'll completely clean, repair, and sharpen your knives…for free. To get the full Montana Knife Company experience, I decided to send my Stonewall Skinner to them after my season's hunts came to an end to try out this Generations Promise for myself. It took less than a week to get my knife back to my front door in brand-new packaging, cleaned and sharpened. It's ready for its next adventure thanks to Montana Knife Company and their devotion to their customers.
If you're in the market for a durable, high-quality knife that can handle any big game that you throw at it, and that you can pass down to your children and grandchildren, then look no further than Montana Knife Company. While it's the last knife you'll ever need, you'll probably find yourself wanting all of the knives in their collection.
When it comes to preparing for a backcountry hunt, there are two camps of people; one camp throws a pack on a month before and gets just enough fitness in to finish the hunt. In the other camp is the type of person who sets their year up to train for a two-week period in August in which no mountain will be too steep and no range will be far away to achieve their lifelong goal of killing a stone sheep.
Both of these people can and will probably have success in their hunting career, but one will be dominated by it and limp to the truck, unable to move for days after the hunt. The other will bend the hunt to his will, have a beer or three at the truck, and get back to the grindstone for the next mountain adventure, either in a month for elk or preparing for the next year. My question to you is… which one do you want to be?
Introduction
In the world of strength and conditioning, a coach is not measured by how fast he makes his athletes, how strong, or how powerful because anyone following a program consistently will make improvements. A strength and conditioning coach is measured by the health of their athletes. If you have the most injuries throughout the year, guess what? You don't have a job next year. This is the mindset I have when preparing a hunter for multiple backcountry pursuits over a lifetime. Fewer injuries mean more consistent hunts, more experience gained, and more dreams come true.
Over the next handful of articles, I am going to lay out why we train, stretch, rehab, and recover for injury prevention and injury management. If you have ever had pain in your neck, low back, shoulder, hip, knee, ankle, or foot…you want to keep reading. But first, we dive into why it's important to not only sling a pack over your shoulder but to get into the gym for some weights and lay out the yoga mat for a stretch.
My Philosophy
I find success with athletes and patients by viewing the body as a simple machine made up of joints and muscles. Yes, I still think of major illnesses, nerve issues, hormonal problems, and genetics, but it's easy to get lost in the chaos and lose sight of what the goal is. If you have muscular dystrophy, then I doubt you're hunting mountain caribou in the NWT. Even if you had terminal cancer, I would still view the body as the same, we just have to be realistic about the outcomes and timeframes in which to achieve them. I learned my approach from two people: Mike Boyle and Gray Cook.
Mike Boyle is well known for the joint-by-joint model, and Gray Cook is well known for his idea of mobility and stability for movement. The joint-by-joint approach is an alternating pattern of stable joints followed by mobile ones. For example, the foot is a stable joint, the ankle is a mobile joint, the knee is stable, the hip is mobile, the lumbar spine stable, the thoracic spine mobile, and so on. If a mobile joint stiffens up, it then changes the pattern, and a stable joint must become mobile to allow the body to move. If stable joints become mobile joints and vice versa, that is where preventable injuries can occur in many different ways like advanced osteoarthritis, tendinopathy, disc herniations, and muscle strains, to name a few.
Simple Questions, Simple Answers
Gray Cook is well known for the Functional Movement Systems (FMS) and a whole slew of companies that are offshoots of that. The question that I took from him is this: Can a person move in a certain way? If they can't, is it because they lack the mobility to do it or are they too weak to do it? How we answer that is to determine the regular range of motion a person should possess.
Let's take the shoulder for instance. Can a person lift their arm straight over their head with a straight elbow and no other movement occurring in the body? If yes, this is a pass. If no, then I will move it for them. If it goes the full 180°, then this is a stability problem. If it doesn't go the full 180°, this is a mobility problem.
If it's a stability issue, we look at doing some rehab exercises for the shoulder blade, the shoulder, and the mid back. If it's a mobility issue, we look at doing some stretching, foam rolling, and tissue work. Of course, we can't look at just one joint or one muscle in a vacuum. The body works in a series of joints and muscles, but we are laying the groundwork for this article and future articles, so I will refer back to these terms as we continue down the road of becoming a bulletproof mountain hunter.
Get with the Program
Where to start? Honestly, "anywhere" is the right answer. If you wanted to do a month of pilates, three months of powerlifting, or run your first 10 km, it's a good start. The only thing that matters is consistency. But let's lay the year out as if you were all in and committed to this process. After hunting season, in November or so, get started on fixing any aches and pains that have developed throughout the season. Massage, physio, chiro, stretching program, whatever is needed, this is the time. I would also suggest looking at making any gear changes you need for the upcoming year because that comes up faster than you think.
Phase One
In December, get the home gym or gym membership rolling and start with some basic building blocks of strength training consisting of push, pull, squat, hinge, and loaded carry. These are the core movements on which a program is built, and you can follow along on the Beyond the Kill website for free workouts. As far as cardio is concerned, don't be concerned. We only need to be working for 30-60 minutes once per week at a talking pace (walking, snowshoeing, ski tour, x-country ski, bike) or something low-impact to let the body recover for the rigors of hunting season. We will continue this model until April/May, becoming stronger and more resilient to injury.
Phase Two
The next phase. At this point, you will have lifted the heaviest weights you will for the year, and it's time to change energy systems a little bit. We are going to push your aerobic capacity, using a lot of the main lifts you just did the previous few months but with lighter weights, less rest, more reps, and more intensity. There may be some hill sprints, sled pushes, and stairs thrown in just to remind you that you're a mere mortal as well (evil laugh). We will be looking at multiple sessions a week at 5-15-minute intervals.
We will also trade a strength session for another cardio session, but we will be starting to increase the intensity of those as well with some zone 1-4 for 60-90 minutes. Using zones for cardio training is super helpful as a gauge of how hard to push, and they are readily available with most apps, smart watches, etc. This phase lasts a couple of months, and then we push into the final phase where we will be doing 2-3 longer aerobic conditioning days with the pack to build efficiency with moving with a pack on. Also, we will hit the anaerobic system with multiple bouts of 20-90 seconds of max effort. Here is the key: recovery. This is a measure of how long it takes to come back to a baseline heart rate. This phase takes through July/August, and then it's time for your competition season to begin.
Harder To Kill
Now let's go back and cover what some of the terms I previously used mean. We have a couple of main energy systems, aerobic and anaerobic. Aerobic means we will use oxygen to make the energy to move our bodies, and anaerobic means we will use no oxygen to create energy to move our bodies. This is why you can sprint 20 meters flat out, but you can't sprint for an hour flat out (unless you're Jason Bourne, of course). The anaerobic system lasts for roughly 10-90 seconds, and the aerobic system can last hours to days if you are working out at a rate that matches how quickly you can make energy for your body. So, without a chemistry lesson, I think that should suffice to describe the two systems we train to become mountain hunting monsters.
Here's some food for thought. By the time you are 65 years old, if you have smoked your entire life, you have a 50% increase in all-cause mortality (dying from anything). If you have below-average strength, you have a 250% increase in all-cause mortality, and if you have below-average aerobic capacity (VO2max) you have a 400% increase in all-cause mortality. Sure, we are training for mountain hunting, but what we are really training for is being harder to kill.
Injuries Happen
The last point I would like to make in this article is how to deal with injury. Injuries, aches, and pains are just part of life. From turning your head the wrong way and having a neck spasm to lifting a piano cold bore in the morning and feeling a pop in your back…life happens. Your mindset needs to be, "What can I do that reduces the pain so I don't feel worse after I have done whatever form of exercise."
The first steps are to find a good physio, chiro, RMT, or trainer that can help you recover from injuries, or better yet, spot them before they occur via a quality movement assessment (FYI: x-rays of your spine to predict injury are of no value, so don't fall for that). Once you have a good team of people in your corner who understand your goals and activities, then you are in a good spot.
The next problem that I commonly see occur is a recurring injury from the same movement (ie: "Every time I do a deadlift, I hurt my back"). Don't blame the deadlift. You are either doing it incorrectly, using too much weight, or as you fatigue, you lose your technique. Instead of skipping the hinge movement altogether, find another movement that will suffice like trap bar deadlifts, sandbag deadlifts, sumo deadlifts, dumbbell deadlifts, Romanian deadlifts – the list goes on. The point I am trying to make is don't avoid a category of movement that is vital to your success. Just find a different way to do it that your body is better adapted to.
The Hard Yards
There are many ways to skin a cat. One of the best ways to avoid injury or have them be a short detour vs a complete reroute is consistency. If you are very tight, then find a 5-10 minute stretching or mobility routine that focuses on your target spots. If you have tight hips and shoulders, then 5-10 minutes a day isn't too much to ask to help that out. Once you start to overcome those tight areas, you will be shocked at how much easier it is to move and exercise pain-free.
I hope you have gained some insight into how I view the body, the importance of training for mountain hunting, and how to overcome injury during training. These were just the broad strokes. In future articles, I will be addressing neck, shoulder, low back, hip, knee, ankle, and foot problems specifically and how to go about fixing them. Get out there, put in the hard yards, and reap the rewards.
Sidebar:
There are lots of thoughts and opinions online/out there so why should you care what I say…
Well, I pride myself on not only talking the talk but I do my very best to walk the walk. When I was doing more speaking in the physio and chiro world, it always shocked me to hear the opinions of clinicians who didn't treat real patients; they just made claims based on research. It also shocks me the advice of some trainers and nutritionists who are clearly unhealthy and/or overweight.
If you want to talk the talk, then you better be willing to put in the hard yards and walk the walk. When I talk about the best way to prevent injuries for mountain hunting, it's because I hunt in the mountains 60+ days a year. When I talk about injuries based on a lack of training and recovery, it's because I have injured myself many times and treat patients who injure themselves due to the lack of training and recovery. So, all of what I am going to write for you, the readers, is a combination of evidence-based research, real-world practice and reps, and 15+ years of experience.
Dr. Matt Ward, DC, Kinesiologist
In this Made in America series, we're going to look at companies with different beginnings, different specialties, wildly different histories, some old and some new. However, there's a character and an ethic amongst these businesses and entrepreneurs that seems to be ubiquitous – cutting corners will never get you ahead, there's always a way to make it better, people matter, the process matters. When the idea to spotlight brands and products that are made in America started, I wanted to give a nod to the companies of our industry who navigate the American supply chain and manufacture their products in the United States. What I hadn't realized at the time was this was going to be impossible without telling the story of some special people. People who continually solve problems, people with creativity, and people with a work ethic only matched by their belief in themselves and their team. 
Family
"Family owned and operated" is a designation for a business that just about everyone loves to see. It tells us a lot about a company's values, how they make decisions, and what kind of experience you're going to have when you do business with them. In most cases, however, being family owned and operated is more of "just how things came to be" than a strategic marketing plan. The rise of Marsupial Gear is no different. Jim and Hannah Graham have been bootstrapping Marsupial Gear to where it is today since 2015.
At the outset of Marsupial Gear, Jim and Hannah worked relentlessly on building the business both while maintaining full time jobs - Jim working for his father's roofing company, Hannah working in the mortgage industry. Entrepreneurial spirit displaying itself best after hours, the duo worked on Marsupial Gear every night – answering emails, shipping orders, and focusing on their brand all from their house. Where that spirit came from was no accident. Jim and Hannah both grew up in the environment of small business with fathers who owned their own businesses. And as tradition usually goes, raising a family amongst the hard work, the late nights, and the grind of building a business from the ground up was exactly what Jim and Hannah were embarking on when they had their first son in 2017. Two years later their second son was born, and two years after that their first little girl joined the team.
Over the past 7 years, the Graham team has lived and breathed Marsupial Gear. From the humble beginnings of fulfilling orders on the living room floor while playing with the kids, to the 55+ employees operating inside their 20,000 square foot building, Marsupial Gear has evolved in many ways. Customer service, fulfillment, production, and innovation has all benefitted from immense growth and success. What has remained consistent, however, is the strength, love, and support of Jim and Hannah's marriage that makes the rest of it possible. Most everyone reading this article can appreciate that it's the team at home that matters most. You may be asking yourself why any of this matters. Well, it only does if you value things that are cared about most by the people who make them.
The Gear
A rugged forward opening bino harness, a sleek rangefinder pouch, and a thoughtful fishing pack. In 2015 Marsupial Gear built their first prototypes in these three products. As any successful businessman in the past two decades must do, Jim had to think critically about what problem he was going to solve for the end user. What was the focus, what was the niche, what was the bread and butter of Marsupial Gear? After spending several hours with Jim at the Marsupial Gear headquarters and getting just a taste of day-to-day operations and where the ideas are heading at the innovation table, I understood their secret sauce to be perfecting the wheel, not grasping at straws to invent a new one. Let me be clear – that is not to say there is no creativity or innovation involved. Improving upon pieces of equipment that have been engineered, reengineered, and produced by many successful companies before you requires true creativity and a knack for finding problems and solving them.
In 2015, if you were a guy wanting to make a bino harness for hunters, you were lining up against the big dogs of the industry. Alaska Guide Creations, also manufacturing their line in the U.S., had built a bomb proof utilitarian harness with a large base of die-hard users. Badlands, the powerhouse brand that began in 1992, built one of the most widely used bino harnesses that reached the Midwest whitetail hunter as well. And far from the smallest of them was Kuiu, in the era of Jason Hairston, who revolutionized how new technical materials could be deployed in a minimalist lightweight bino harness for guys chasing sheep in the mountains and those aspiring to be one. In the simplest of terms, developing a bino harness in 2015 took balls.
At the time, forward opening bino harnesses weren't a thing, and neither was modularity in your chest pack set up. Now it's the standard. So where did Jim and the Marsupial team hit the nail on the head? The details. To avoid using soft platitudes, I'll use a quote from former Secretary of State John Foster Dulles who said it best - "A man's accomplishments in life are the cumulative effect of his attention to detail." By burning enough brain cells and hours on the sewing machine reinforcing key areas of stitching, trying new materials, embedding foam of different densities in different areas, and thinking through engineering changes that can make a difference, Marsupial Gear accumulates enough attention to detail to arrive at truly innovative and valuable pieces of equipment.
I realize to the average guy or new owner of a piece of Marsupial Gear that the value and amount of human energy put into it might not be self-evident. We tend to think more of the high dollar optics or custom rifle within the case than we do of the case itself. To give some context to the complexity and overwhelming bean-counting laboriousness of it all, let's look at the Enclosed Binocular Pack, easily the hallmark SKU in the Marsupial Gear lineup. Each Enclosed Binocular Pack (without any accessories of which there are over 14) is comprised of over 30 pieces of fabric, padding, webbing, buckles, tethers, magnets, stitching, and foam. Each of these components, each raw material must first be cut to spec, ran through quality control, allocated to its appropriate station on the production floor, then hand sewn and constructed by a team of roughly 40 on site at the Marsupial Gear headquarters. Oh, and I almost forgot, one last and final look at the quality assurance stage before it gets moved to fulfillment.
The Growth
From the outside looking in, Marsupial Gear has grown like a business that went into the exam with the answers written on its palm. After prototyping for a year, they went into production in 2016 with a lean order of 100 units of three products. In January of 2020 they moved into their own 5,000 sq ft. facility with 5 sewers working for them. By May of the same year, they grew out of that facility and expanded into a 10,000 sq ft. space. Two years later, busting at the seams, Marsupial Gear purchased their own building and began piecing together the infrastructure for even more growth. Earlier this year, Marsupial Gear began operations in their new 20,000 sq ft. building with over 40 full time people on the sewing team, and over 15 people working on the next big move for the company. What began as a passion project and a team of two with an initial prototyping order of three designs has evolved into a thriving business with over 420 SKUs in its lineup and no sign of slowing down.
However, from the inside looking out, from the vantage of Jim and Hannah Graham and the rest of the Marsupial Gear team, there were no answers to the test or fast track to where they sit today. What there was and is, day in and day out, is commitment. Not only to solving the constant problems of a large manufacturer or navigating a post covid supply chain, but commitment to their customers, to their employees, to their vision of what they wanted to build, and to their family. That's Made in America if you ask me, plain and simple.
When it comes to late-season big game and winter predator hunting, I have tried everything to stay warm and dry while remaining still for hours on end, glassing or calling while sitting in snow or on wet ground. Most insulating clothing for the late season is bulky and heavy which is a no-go when hiking deep into remote areas to seek un-pressured game. With countless brands offering technical apparel marketed toward the hunter in a vast array of camouflage patterns, materials, and configurations, one pant stands out ahead of the crowd for me.
Stay Comfortable
Lightweight layering is key in the backcountry, and Stone Glacier's M7 pant has been dominating this space for me. A fleece-lined, waterproof membrane makes for the perfect outer shell when the snow is deep and the wind is blowing. This last fall, I wore these pants for all of my hunts in weather below freezing and, more often than not, below zero. This pant has kept me the warmest and driest I have been in these conditions.
Even while coyote hunting at night in Wyoming last month, with air temps in the single digits, I was able to stay comfortable in each stand with plenty of time for dogs to approach. This was made possible by my guide and hunting partner also wearing Stone Glacier M7 Pants. This kept us all on the same page as far as warmth goes.
Features
The M7 pant retains many of the same features as the M5 pant, including the front thigh pockets and the ¾ zip side zippers which make for easy on/off over boots when layering. It also serves as a vent if you get too warm. My favorite Stone Glacier feature is the contour waist system. This system offers a universal fit regardless of your layering underneath and flexibility if you gain a few pounds in the off-season. The ability to size the Stone Glacier pants perfectly in waist size and the offer of a "tall" length option makes this an excellent technical pant for the cold-weather Western Hunter. Like everything made by Stone Glacier, you get a quality, mountain-tested product designed by guys who live the mountain life and offer the best customer service and product support. For more information and sizing on the M7 pant, head over to Stoneglacier.com.
Hunger for adventure leads to a duel with a monster Arizona bear

This spring, a once-in-a-lifetime opportunity had my number, and it called it often. I was invited to hunt bears on the Fort Apache Indian Reservation in the White Mountains with Floyd Green of Outdoorsmans Outfitters, and soon after, I was invited to fish the coveted Christmas Tree Lake for Apache Trout. This isn't your typical big bear story; in fact, this was the first spring I've ever hunted bear. This is a story just as much about the upside of being a "yes man" as it is about the breathtaking place that hosted the trophy-quality memories I made there.
I was born a yes man – welcoming almost any adventure or challenging opportunity that life puts in front of me. This spring, however, I was more like an anxious kid in the dugout with his helmet on and bat in hand, waiting to get the nod from the coach for an at-bat. In January, my wife Courtney and I were blessed with the news that we were expecting a baby girl in October. (This baby girl will be Chris Denham's granddaughter. From here on out you can accurately refer to him as "Grandpa.")
Unfamiliar Territory
Among the life-changing realizations that came with being a new father was the awareness that new responsibilities would keep me tethered close to home this fall. The spring was my window to calm the angst that has very particular needs – cold mornings in the woods, game to chase, no cell service, and a tent to call home. As luck would have it, I got the nod. Ramping up for another season of guiding bear and lion hunts on the Fort Apache Indian Reservation, Floyd and his partner Shane Sass invited me out to get a taste for hunting world-class bears with world-class hounds. Naturally, I said yes.
From the first time I stepped foot on the Reservation, my mind was racing with curiosity and anticipation. There was so much to learn about so many things – hunting with hounds, hunting spring bear, navigating sacred land, the history of this land, and the woodsmanship it requires to be successful and welcomed here. If I kept my eyes and ears open, I was in the right company to get a head start on knowledge that took Floyd and Shane decades to earn.
My first trip was a crash course in many facets of this operation – learning roads, mountains, and landmarks, reading soft-footed hounds in their first hunt of the season, understanding how and why bears utilized this landscape, and learning how to not only catch one but how to kill one.
While driving across this beautiful and intensely rugged terrain, Floyd and I had a lot of windshield time for me to ask a million questions and for discussion about the more nuanced, philosophical points of hound hunting. At one point, I commented on people's general assumption that hunting with hounds ought to be much easier than without.
Even I was going into my first hunt with a large sense of advantage having the hounds on my team. Yet Floyd said that hunting with hounds is the hardest thing he's ever done. Here's a man who's flown helicopters, built and sold businesses, and built homes with his own hands, and he still believes this after over 40 years of chasing lions and bears with hounds.
I didn't kill a bear on my first trip to the Fort Apache, but I left feeling high on the experience and full of information I was going to need two weeks later.
Stacking Opportunities
I arrived back in bear camp with 47.5 miles on my feet and many colorful daydreams about big old bears and wild country. During my time away from camp, I hiked the Rim-2-Rim-2-Rim of the Grand Canyon along with my father-in-law Chris Denham and Western Hunter's own Dave Bond and Ben Britton. Over the course of those miles, I couldn't stop thinking about the next time I got to hunt on the Fort Apache.
Since my last visit, I was invited to fish for Apache trout at a fish camp hosted and outfitted by the White Mountain Apache Tribe at Christmas Tree Lake – a fisherman's dream. Naturally, I said yes. According to Floyd, spring bear activity had picked up measurably since I had left. As the days became warmer, more water sources were being used, more tracks sauntering down the road were showing up, and more mature boars were finding themselves on our trail cameras.
Watching Them Work
The first two days of this hunt were focused on new tracks from what appeared to be a giant bear, and it became difficult to focus on any other signs of activity. On the third day, Courtney arrived in camp to escape the Phoenix heat and enjoy the White Mountains for a couple of days. Our plan was to hunt one last morning before I needed to head out to Christmas Tree Lake.
The alarm went off at 4:30 AM sharp. There was one drainage we hadn't checked the day prior that also happened to be the only place this big bear had been seen weeks before. Our game plan was decided. We loaded the dogs and headed out. Knowing we needed to get on a bear early, we made our way there quickly. As we approached, Shane's hounds blew up with explosive howls and barks while still in the dog boxes – Shane calls this "riggin'."
One of the most mind-blowing things to witness – these hounds will catch the scent of a bear while moving in a truck if a bear has recently been through that area. Confident in their noses, I jumped out of the truck, hustled to the cameras, and threw the first card in the reader. There he was – a giant unit of a bear with the mass and stature living up to the magnitude of his tracks. Better yet, the last picture of him was taken just a little over an hour before we got there. He wasn't far.
Shane's hounds are the most experienced and gifted bear dogs I believe I will ever meet. Veterans of the pack such as Money, Sally, Gracie, and Ina have treed hundreds of bears and lions across the West. But it was Trouble, the nine-month-old phenom of the bunch, who finally started the rest of the pack on the most recent course of this bear. The first obstacle of any hound chase is determining the most recent tracks and direction of the bear or lion.
Once they did that, their intensity hit a new gear, and it wasn't but a few minutes before the dogs were several miles from us, making steep jagged mountains look like speed bumps. This began the "race" we were in with this bear for the next five and a half hours. Pretty quickly, the hounds caught up to the bear and kept the pressure on him in hopes of him climbing up a tree. Getting a bear treed is really the quintessential moment for both the dogs and the houndsman, but this bear had no intention of climbing any one of the 1,500 perfectly suitable pine trees he ran past. This bear was tough and seasoned.
Grounded
This was when the decades of hound hunting experience in this group began to shine. The understanding of the pack, as well as each individual dog, knowledge of bear behavior and tendencies, and awareness of the landscape were all being deployed simultaneously. Clear communication and thoughtful decision-making were the only way we were going to catch up to this bear who was far tougher and knew these woods far better than all of us combined.
It became evident this bear was not going to be treed, and if we were going to kill it, it was going to take teamwork to shoot it on the ground. Several times we got into position where we thought the bear's path would cross the range of my rifle, only to have him change course which kept the race going.
After four and a half hours of chasing dogs and scrambling over rough country, Shane and I dropped a few hundred yards into a basin loaded with thick pine and oak trees, getting into position for the bear's path to cross ours. Hearing the barks and howls of the hounds moving toward us, I rested my rifle in the Y of a branch and studied the shooting lanes below me. We finally spotted the bear, only 50 yards below us, with the dogs in close pursuit. I waited for a clear shooting lane and pulled the trigger, hitting the bear well. The bear and dogs continued running down the basin and out of sight.
Hot Pursuit
Over the next 30 minutes, we followed and watched the dogs' movement on the GPS units, hoping to see them stop and gather on what should be a dead bear. Evidently, this bear wasn't going down with one shot. We repositioned at the bottom of a road where we thought the dogs would push him. Several of the dogs had dropped out of the pursuit at this point. The heat, terrain, and sheer distance they had covered were staggering. As Floyd climbed up the backside of a peak to wrangle the tired dogs, the bear changed direction with only Sally and Money on his heels.
Shane and I hastily marched the steep rocky road below the bear, hoping he would give me another shot when he crossed in front of us. As we paralleled the bear, he winded us and picked up speed. Shane told me not to wait and haul ass to the top of the road. I began running up the road, racing the bear to an old Indian corral that was at the confluence of the road he was on and the road I was on.
As my lungs began to burn and I neared the top, I caught the orange of Money's collar out of the corner of my eye, the bear not 10 feet in front of her, loping across the open pasture. I went into tunnel vision over the next six seconds as I saw this giant cinnamon-colored bear running in my shaky scope 60 yards away. I hit him well again, sending him rolling in a huge cloud of dust.
In a fluid motion, he bounded back up and kept running. I shot him once more in the center mass of his body before he disappeared down a steep ravine. With nuclear adrenaline coursing my veins, I walked to the edge of the pasture and looked down to see the hounds face to face with the badly wounded bear. A fourth and final shot was needed to bring this king of the woods to rest.
After scaling the loose shale and cactus-covered cliffside to get down to the bear, I couldn't believe the magnitude of this animal. His forearm was the diameter of my quad, his head weighed a metric ton, and the length of him more closely resembled a grizzly bear than any black bear I had seen. Without time to waste, we took our pictures and got to cutting. I still had to break camp and make a 3.5-hour drive to Christmas Tree Lake through the remote White Mountains.
Yes Man
When this hunt was all said and done, I was left with visions and memories that extend far beyond the size of this bear. I have a profound respect for the land, its history, and the animals that grow old and wild there. Now, three months later, I still get a rush of adrenaline just writing this story. I'm very blessed to have been in this position, and I'm grateful for Floyd, Shane, every one of his amazing hounds, my family, and the White Mountain Apache Tribe who made this experience possible.
There were many opportunities throughout this Spring season for me to say "no." No to leaving the house at 2 AM, no to the extra work so I could take the time off, no to staying in the hunt of this bear when the odds became desperately slim that I would be successful. I suppose I'm doubling down on being a yes man because I'll never win a race I don't show up for. (For those of you wondering just how big this bear was – his skull green scored 20 7/16, and his length was 8 ft on the nose.)
To read part two of this adventure that took me to Christmas Tree Lake to fish for Apache Trout, go to Westernhunter.net. With bald eagles, 38 fish caught in one day, and the sound of wolves howling at night, there's even more wilderness in this part, as well as information on how you can experience it for yourself.
Nothing instills more confidence as a bowhunter than working on and tuning your own archery equipment. Knowing your bow and arrow inside and out will not only make you more accurate but will make you a better bowhunter. So much about shooting a bow is mental, especially when you are drawing back on a trophy buck or bull. Having the confidence that your bow is well-tuned and your broadhead will hit behind the pin will empower you to make a good shot in the moment of truth. My archery skills took a big leap forward when I took the plunge into working on my own archery equipment.
Why Tune Your Own Bow and Arrow
Even if you get your bow initially set up by an archery pro shop, having the ability to work on your own bow and arrow after the initial setup is very important. A few of the most important reasons to tune your own equipment are:
No two people shoot a bow the same. How you grip your bow, how you anchor, how you stand (posture), all affect how the bow shoots. If a bow tech tunes your bow, your bow is tuned to his shooting form, not yours. A bow tech can definitely get you close, but your bow definitely won't be super-tuned if someone else is shooting it.
Generally, pro shops tune bows by paper tuning. Even if you, the bow owner, shoot the arrow through paper while the bow tech makes the tuning adjustments for you, paper tuning is only a start. Getting your bow super-tuned requires more than just shooting through paper.
A bow's tune can and most likely will change after the initial setup. The cause of this is string and cable break-in. Even if you buy high-end, aftermarket string and cables, they will settle after a few hundred shots, and the bow tune can change.
It's not unheard of that your bow tune can change throughout the year because your form (grip, anchor, posture) may change slightly, your bow may get bumped in the field, or perhaps a bolt works itself loose. Shooting your bow and checking your tune throughout the hunting season is critical to ensure everything is perfect for when it matters the most. Being reliant on a pro shop for a mid-season tune-up will cost you precious time.
If for no other reason, knowing how to tune your bow is especially important for broadhead tuning. If the ultimate goal of a hunt is to pierce a big game animal's lungs with a broadhead, broadhead tuning should be pretty high on your priority list.
My DIY Archery Shop
Over the years, I've purchased every major piece of archery shop equipment to completely tune my bow and arrow at home. I've purchased nearly all this equipment from Blackovis.com; they have a great selection all in one place. The following is a list of shop equipment that I have used and recommend:
Weston 8000 RPM Arrow Saw (I wish I had the Last Chance Archery arrow saw)
Homemade drawboard (will be discussed in a future article)
Homemade paper tuning stand (will be discussed in a future article)
Tuning your Bow should Start with Archery Software
Tuning your bow starts with tuning your arrow. If you have not already read my three-part series on "Bowhunting Forgiveness" in previous issues of Western Hunter Magazine (Sept/Oct 2021, Nov/Dec 2021, and Jan/Feb 2022), I highly suggest you do so. In this series, I walk the reader through the process of picking an arrow design to maximize its effectiveness for a specific hunt. Once you have arrived at a chosen arrow design, the first thing to do is build out the arrow design using archery software. Personally, I use Archer's Advantage Online. It's $20 a year and worth every penny for shaft spine selection and building custom sight tapes.
For Archer's Advantage to work best, you need to start with a known arrow weight and arrow velocity (shot through your bow). I suggest going to a pro shop and shooting different arrows of varying weights through their chronograph. Typically, pro shops will have different arrows lying around that you can test shoot through the chronograph (the bow does not need to be tuned to the test arrow). You don't need to find an arrow that weighs the exact same as your desired arrow design; as long as the test arrow is within 50 grains or so, it should be good enough.
Within the "Setup" section of Archer's Advantage, enter in all your bow information and the TEST arrow build information; it doesn't really matter what you enter for arrow build information here as long as the overall arrow weight in the program is reflective of the TEST arrow. Once this section is fully defined, go to the "Sight In" section and, under the "Chronograph" tab, enter in the velocity of the TEST arrow and click the "Sight In" button. At this point, the program has linked the test arrow velocity to the test arrow weight that was entered in the "Setup" section.
Archer's Advantage Shaft Selector
Now, switch to the "Shaft Selector" section and here you enter into the program your DESIRED arrow build including shaft model, spine, length, and point weight. You can even play with the peak draw weight to see how that changes things. Archer's Advantage will calculate an arrow velocity for your DESIRED arrow design based on the test arrow velocity and weight.
The program will then calculate and plot the dynamic spine of the DESIRED arrow design. For a hunting arrow, I've had great experience staying on the stiff side of optimal spine. The reason for this is the broadhead. Broadheads are always longer than field tips, so the increased length of the arrow with the broadhead will weaken the arrow's spine. From a hunting standpoint, being over-spined is not really a problem; conversely, being under-spined is something you want to avoid. In the Archer's Advantage program, I like to be in the yellow region of the spine plot or "marginally stiff." I tweak the design of my arrow in this "Shaft Selector" section until I like the arrow speed and weight and, ideally, the arrow spines out "marginally stiff."
The main concepts for finding the right arrow spine are as follows:
The lower the spine number, the stiffer the shaft.
Increasing bow draw weight will decrease dynamic spine stiffness.
Adding point weight will decrease dynamic spine stiffness.
Shortening the arrow will increase dynamic spine stiffness.
Easton Arrows and Ironwill Outfitters Insert System
From here, the process moves to actually building your desired arrow. I like to use Easton shafts for a few reasons. The foremost reason is that they are very consistent in spine from shaft to shaft. Additionally, Easton shafts do not have a prominent spine line, which means they have more consistent circumferential spine. This translates to less time nock tuning to get arrows to tune together. The second main reason is that Easton hunting shafts are made by pultrusion/Acu-Carbon process; the ends of the arrow are not prone to wobbling like arrows that are made from the wrap-and-roll process; this is especially important if you have a long draw length.
To start building, I typically cut a little off the insert end of the arrow, and then square it with a G5 arrow squaring tool. I intentionally leave the arrow long at this point. I then insert the arrow with the chosen amount of insert weight. I prefer micro diameter (4 mm) shafts, and my favorite component system for these arrows is the Ironwill Outfitter system. The system consists of DEEP SIX H.I.T. inserts that insert up inside the shaft and an external collar that slips over the shaft. This system is very versatile because it comes in a variety of weight options, and you can also double stack inserts in the shaft.
Prepping the Bow for Tuning
Once the arrow is inserted, I start prepping the bow for shooting bare shafts through paper. I start this process by setting the arrow rest to a reasonable center shot (13/16"). The next step is tying on a D-loop such that the arrow is approximately 90° to the string with the center of the shaft passing through the center of the Burger Hole. I don't worry about pulling out an arrow square to get the arrow perfectly perpendicular to the string because, inevitably, I'll move the D-loop up or down according to the bare shaft paper tear. I don't cinch down the D-loop hard yet either, nor do I tie nock sets at this point (I do later) so that I can easily move the d-loop as needed. The last step before shooting bare shafts through paper is timing the cams and cam alignment. For these steps, you need a draw board and a bow press.
Cam Timing and Alignment
First: Cam timing. Draw the bow in the draw board and verify that the draw stops on the cams are hitting at the same time. If the bottom cam is hitting before the top cam, add twists to the bottom cable end. Alternatively, add twists to the top cable end if the top cam is hitting before the bottom cam. You will repeat this process of checking the bow in the draw board and adding twists to the cables until both draw stops are hitting at the same time.
Cam alignment/lean is a bit trickier. Cam lean exists when the vertical plane of the cam is not parallel to the vertical plane of the bow. Different bows have different methods for aligning the cams and adjusting cam lean. The most common methods for aligning cams are yoke tuning or shimming with spacers, top hats, etc. Either of these methods requires the bow to be pressed.
I like to observe the cam lean of the bow at brace/rest and at full draw. Because the load shifts from the string at rest to the cables at full draw, the cam will lean differently throughout the draw cycle. If the cam is leaning heavily to one side at either rest or full draw, it needs to be adjusted before tuning further. More on adjusting cam alignment below.
Paper Tuning
With the arrow rest, cam timing, and cam alignment/lean set as described above, I begin to shoot bare shafts through paper (remember, the bare shafts are intentionally left long at this point). I prefer to shoot bare shafts through paper because they are much more sensitive than fletched arrows. Vanes will instantly start correcting the flight of a mistuned arrow, and the vanes can also make it difficult to see exactly how an arrow is tearing. I start shooting 6 to 10 ft behind the paper.
The very first thing to do after shooting through paper is correct any vertical tear (disregard any horizontal component of the tear at this point). If you are tearing nock-high, you need to lower the nocking point by sliding the D-loop down. If you are tearing nock-low, you need to raise the nocking point by sliding the D-loop up. After correcting the vertical tear, the next step is to micro-tune the dynamic spine of the arrow by incrementally cutting down the shaft. As the length of the shaft changes, the dynamic spine of the arrow changes. This will change the paper tear most dominantly in the horizontal direction.
Tuning the Dynamic Spine of the Arrow
Shoot the bare shaft through paper again. After observing the paper tear, I remove the nock and cut the arrow from the backend of the shaft half an inch at a time until I start to see the paper tear resolve. Remember, you've intentionally left the bare shaft long to begin this process, which means the arrow's dynamic spine will initially be weak. Typically, a weak arrow will tear nock-left for a right-handed shooter but will tear nock-right for a left-handed shooter. A few times I have also seen a weak shaft tear nock-high; this is more of an exception than a rule, however.
After a few iterations of shooting and cutting, as I am zeroing in on the tune, I start cutting off a quarter-inch at a time. I continue this process until the arrow shoots a bullet hole. Once the arrow shoots a bullet hole, you've tuned the dynamic spine of the arrow to the bow. If the arrow is longer than you would like, I don't have a problem with cutting up to an additional inch off the arrow to stiffen it up (this may change the paper tear – if it does, you can adjust the arrow rest to compensate for it). As you are going through this process of tuning the arrow to your bow, if the paper tear isn't resolving and you've cut it down to the desired length, first review your arrow profile in Archer's Advantage to make sure you've selected the correct shaft spine.
If the spine is correct and cutting the shaft down isn't bringing the arrow into tune at your desired length, the next step is to go back to the bow tune. I suggest adjusting cam alignment first and then adjusting the arrow rest second (cam alignment adjustments are macro changes and rest adjustments are micro changes). It's certainly okay to tweak the cam alignment slightly or the arrow rest position to bring the arrow into tune at the desired shaft length. Be prudent here, as I don't recommend going too far from the standard bow center shot or cam alignment. Going through the exercise of tuning the dynamic spine of the arrow to the bow is important to optimize the overall tune of the bow and arrow.
Tuning the Bow
Now, the question is: How do you tune the bow depending on the paper tear? We will start with cam alignment. If the arrow tip is entering on the right side of the paper, and the nock-end is tearing to the left, this is called a "nock-left" tear. To correct a nock-left tear (regardless of being right-handed or left-handed) you move the cam (top cam or bottom cam) to the left. If the tear is severe, you can move both the bottom and top cam to the left or use a bigger/smaller set of spacers.
With the example of my Hoyt RX7, you move the cam left by adding a bigger spacer on the right side and a smaller spacer on the left. In the case of yoke tuning, add a twist to the left yoke and remove a twist from the right yoke. If you don't add and remove the same number of twists to/from each yoke, it will change the timing of the cams. The opposite of this is true if the arrow is tearing nock-right. For a nock-right tear, move the cam to the right or add a twist to the right yoke and remove a twist from the left yoke.
Like I said before, I like to adjust the cam alignment before touching the rest. I like to keep the rest as close as possible to 13/16". Although, in the case of cam alignment, you may not find an exact combination of spacers to get the arrow to tune with the rest exactly at 13/16". If this is the case, I adjust the cam alignment to get the paper tear as small as possible and then adjust the rest from there. If the arrow is tearing nock-left, you move the rest to the right. If the arrow is tearing nock-right, you move the rest to the left. The easiest thing to remember is to move the cam in the SAME direction as the tear but to move the arrow rest in the OPPOSITE direction as the tear. When adjusting the rest, be aware that a little bit goes a long way. I recommend moving the rest in 1/32" increments.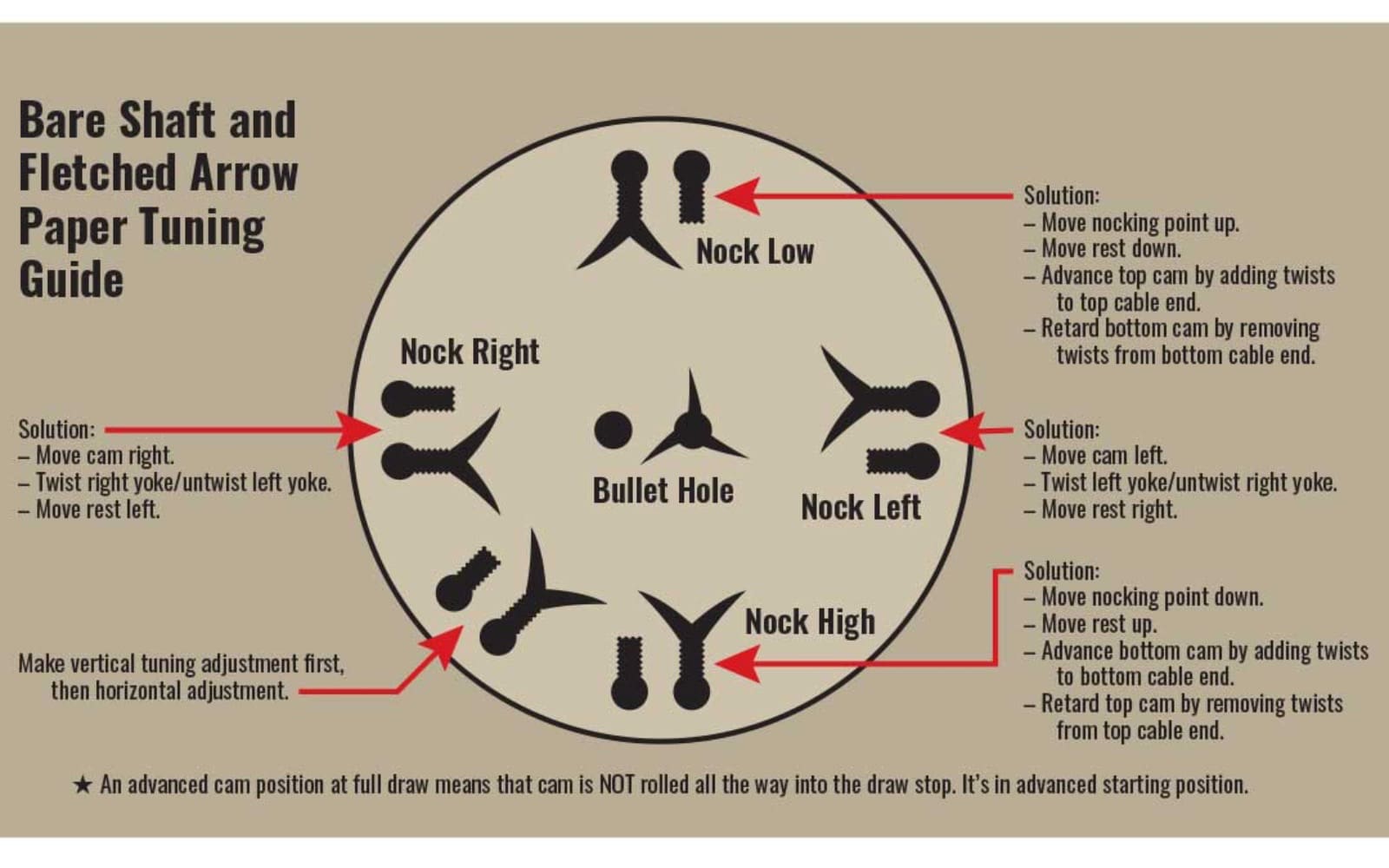 Confusion for Left-Handed Shooters
There may be a little confusion out there regarding tuning adjustments for left-handed shooters. I myself am left-handed. The adjustment rules that I stated above apply to both left and right-handed shooters. The reason why some confusion exists for left-handed shooters is that some online tuning charts reference the direction you move your rest by comparing to the riser (in- toward riser or out- away from riser).
For example, if I had a nock-left tear, I would move my rest to the right to correct it. Moving my rest to the right (me being left-handed) is moving the rest AWAY from the riser. For a right-handed shooter, moving the rest to the right is moving the rest TOWARD the riser. Since the riser is on opposite sides for right and left-handed shooters, this gets very confusing. So, don't think about the riser when trying to decide which way to move your rest. Regardless of left-handed or right-handed, if you get a nock-left tear, move your rest globally to the right. If you get a nock-right tear, move your rest globally to the left. It's that simple.
Bare Shaft Tuning Before Broadhead Tuning
The next tuning step I take after paper tuning is shooting bare shafts with fletched arrows at 20 to 30 yards. Shooting bare shafts at distance is the best way I have found to micro-tune a bow. Air resistance on arrow vanes causes the back of the arrow to track the front of the arrow; this causes a fletched arrow to quickly self-correct shortly after leaving the bow. A bare shaft doesn't self-correct, so any tuning-related errors manifested in the bare shaft are magnified at longer distances.
Broadhead tuning is particularly important and should never be skipped. After all, the ultimate goal of a hunt is to pass a broadhead through the lungs of a big game animal. You can certainly jump straight from paper tuning to broadhead tuning if you'd prefer, but I like to shoot bare shafts at distance first to minimize the impacts of shooting broadheads into my target. Most of the time, if you get your bow tuned well enough to group fletched arrows and bare shafts at 20-30 yards, you likely won't need to make any adjustments for broadheads. Never assume this, though. You should always confirm your broadhead flight before going afield.
Bare shaft and broadhead tuning are not complicated. The idea is to aim at a single spot at your preferred distance and shoot both fletched arrows and bare shafts/broadhead tipped arrows. The way the bare shaft/broadhead arrow impacts compared to the fletched arrow tells you which way you need to micro-tune your bow. See the adjacent diagram for tuning solutions depending on the bare shaft/broadhead point of impact.
Nock-Tuning
When shooting multiple bare shafts/broadhead arrows, it's possible that some of them will behave differently than others. If this is the case, you will need to nock-tune the misbehaving ones. Nock-tuning is quite easy and involves simply twisting the nock in the back of the arrow in small increments between shots. Shoot the arrow after each nock twist to see how it changes the point of impact. I like to nock tune during the bare shaft shooting phase. If you have to nock-tune each individual arrow, it can be very time-consuming. This is a huge reason why I like Easton shafts; they are very consistent in spine and do not require much nock-tuning.
Last Call for Cam Timing
One last comment about vertical adjustments. It is possible to correct a vertical tuning error by changing cam timing. However, this is not my preferred method for fixing a vertical tuning error. Depending on your bow, if you adjust your cam timing to fix a vertical tuning error, then your draw stops will not be hitting at the same time. If your draw stops are not adjustable to make them hit at the same time, the back wall at full draw will feel more spongy.
To correct bare shafts grouping ABOVE fletched arrows (corresponding to a nock-low paper tear), you need to advance the top cam by twisting the top cable end. Putting twists in the top cable end results in the bottom cam hitting the draw stop first at full draw. To correct bare shafts grouping BELOW fletched arrows (corresponding to a nock-high paper tear), you need to advance the bottom cam by adding twists to the bottom cable end. This results in the top cam hitting the draw stop first at full draw. Again, this is not my preferred method for correcting a vertical tuning error, but I wanted to bring this up because it may be the only method that will resolve a vertical tuning issue with some bows (a few older Prime bows required me to do this).
Conclusion
The off-season is the perfect time of year to learn a few concepts about tuning your own bow and arrow. Even if a pro shop does your initial bow tune, having the skill set to tune your own equipment will make you a better bowhunter. It will most certainly make you more accurate with broadheads (broadhead tuning is of paramount importance) and can save you in a pinch if something happens to your bow while on a big backcountry adventure.