Best in the West: Bow Sights for the Western Bowhunter
Western bowhunters require more from their bow sights than our whitetail hunting brethren. Our average shot distances are double that of a tree-stand hunter and many bowhunters today are comfortable shooting at distances that were muzzleloader territory not long ago.
Adjustable bow sights and computer-generated sight tapes have paved the way for pinpoint accuracy in yard-by-yard increments similar to how riflescopes with adjustable turrets have paved the way for rifle hunters to dial in exact solutions at longer ranges.
The most common point of debate when considering adjustable sight features is whether or not a single pin is better than multiple fixed pins. I've formed a very strong opinion on the subject after using adjustable sights for nearly half of my 30-year bowhunting career, and adjustable target sights for target archery since about 1990.
It's widely accepted that single pin sights yield slightly better accuracy because the smaller housing and single pin is easier to center in the peep aperture and the uncluttered view enhances the shooter's focus. In a perfect scenario, the sight is adjusted perfectly to the target distance, and the single pin is held dead-on the target. This scenario is perfect for target archery, when you either know the range or have time to judge the distance to a stationary target.
Textbook situations can occur when bowhunting, but all too often, game animals have a way of rewriting the script and ruining best laid plans. They show up at distances other than your sight setting, or they move while you're at full draw. Sometimes a bull steps into a shooting lane ten yards beyond the first cow you ranged or spooks off 10 or 15 yards when you draw and then stops for another look when you cow call.
I've seen excellent single-pin shooters fail time after time in real bowhunting situations and miss shots they'd routinely make with multiple fixed pins. The usual result is shooting over/under the animal because they didn't have other pins to reference for the new range to the animal.
A multi-pin bow sight is a tremendous advantage in dynamic bowhunting situations compared to a single pin despite the slight accuracy advantage a single pin can provide. The advantage is due simply to being able to accurately shoot at distances other than what your single pin is set for.
I wrote a detailed article describing a technique that does allow you to be far more effective with a single pin sight in dynamic bowhunting situations. I dubbed the technique the "Trick Pin". The Trick Pin technique works incredibly well, but I still use multiple fixed pins. When I'm mule deer hunting, my first sight pin is usually set at about 50 yards as a trick pin. It's worth a look, especially if you find multi-pin sights too busy.
When you combine the capability to adjust the sight with a multi-pin housing, you get the best of both worlds. The traditional pin rack is great for dynamic, up-close bowhunting situations and you can adjust the sight to the exact distance for longer shots when the animal is completely unaware of your presence. There's an obvious accuracy advantage to aiming dead on with a pin versus gap shooting in-between yardages or stacking pins for longer shots.
Well-appointed sights in this category feature round pin housings for easier centering and bright fiber-optic pins with lighting options usually included. The sights will offer 2nd and 3rd axis leveling capabilities that are critical when shooting in steep terrain, and a bubble level that is easy to see inside the housing.
The following list of sights all embody the features I look for in a bowhunting sight. I've used several of these sights or similar models from the same companies with excellent results. They each have unique features and design aspects that may suit your individual preferences, but I can recommend each of them based on their features and functionality without hesitation.
CBE Tek Hybrid Pro Series 5-Pin
This sight will appeal to target archers that have used sliders in competition. It's offered with a 4" sliding dovetail for a larger range of fore/aft adjustment or with a typical fixed mount with three sets of holes. I prefer the dovetail mount for its fore/aft adjustability, QD capabilities, and it feels a bit sturdier for the rigors of western hunting. Fore/aft adjustment helps fine-tune peep size to the housing and may offer some tuning advantages. The fiber optics are protected in a clear plastic housing that allows natural light in and also accepts the included rheostat light. Pins can be ordered in all green in .010" diameter or multi-colored with .019" fibers. The sight tape surface is angled to the shooter for easier viewing and uses unique metal sight tape inserts that can be swapped out with two screws rather than the old stick on and peel off method. The sight features micro adjustable windage and stainless hardware to resist rust. The pin housing has been redesigned and is much improved over the D-shaped housing of older models. The dovetail, 5-pin version retails for about $320.
Fuse Cybex Multi Pin Slider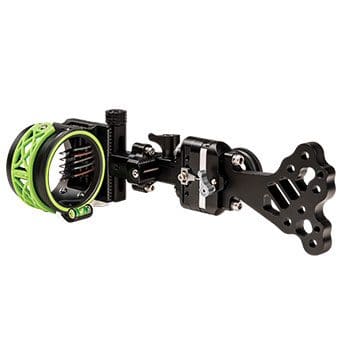 At first glance, this sight looks very much like a typical 5-pin bowsight with 2nd and 3rd axis leveling capabilities, but there is a compact slider mechanism mid-ship that is operable with a knurled knob on the side. A small lever near the sight tape locks the slider down. It features micro-adjustable gang windage and elevation and a nice adjustable indicator for the sight tape. It comes with calibrated sight tapes and several color match vibration damping inserts that mount to the round housing. Several sight hole sets are machined into the fixed mounting bracket to provide fore/aft and vertical flexibility when attaching to the bow. The Cybex is a solid option that retails for around $195 for the 5-pin version.
Spot Hogg Fast Eddie 5 or 7 Pin
If you know anything about Spot Hogg, you probably know their sights are tough. I took an epic spill on some ice while heading up the mountain one morning and caught my fall by driving my Spot Hogg bow-sight into a boulder with all my weight. I was certain it had to be bent, so I hiked about a mile back to my truck and shot my bow. The sight was only an inch off at 50 yards! I dialed a couple clicks on the windage and headed back up the mountain. A few hours later I made a perfect shot on a nice buck. That impact from my fall would have sent most sights to their grave and the archer back to town in search of the nearest bow shop; I was able to make the most of my hunt.
The Fast Eddie is a trimmed down version of the Tommy Hogg sight that I was using, but it has the familiar rack and pinion drive mechanism common to all of Spot Hogg's adjustable sights. It's a tried and true design with a new rack-stop that makes it easy to return the sight to zero after an adjustment. One difference you'll note with Spot Hogg adjustable sights is that the sight tape attaches to the round dial used for adjustment. Spot Hogg has a bright colored ring surrounding the pin guard that is designed to help archers center the housing in the peep better in varying lighting conditions. The Fast Eddie is offered in an XL version with a 6" dovetail mount while the standard version comes with a fixed mounting bracket. Several variations are available with an average retail price of about $300. I've always found Spot Hogg's micro adjustable pins to be easy to align and the vertical wire helps assure you get a perfectly vertical stack.
Black Gold Ascent Verdict Assault
Black Gold has been making sights for over 30 years and they've learned a lot from that experience. They offer several models that will suit the Western bowhunter, but I think the Ascent Verdict Assault is the sweet spot in their lineup. Through the Black Gold custom shop, you can outfit the sight with a 1.75" or a 2-inch housing - with up to 8 pins - and .029", .019", or .010" diameter fibers. You can even mix and match fiber size and customize the pin colors. For $15 you can upgrade to a 4" dovetail base. It features micro-adjustable windage and elevation gang adjustments, and a solid 3rd axis that will hold up to bowhunting punishment. Black Gold provides 54 sight tapes to fit just about any setup. They recently doubled down on their efforts to make their sights bullet-proof by improving the gear drive mechanism, improving the durability of their photo-chromatic fiber housing, and reinforcing their mounting brackets. This is a solid option that checks all the requisite boxes. A 5-pin Ascent Verdict Assault will run you about $300 with the dovetail mount. If you don't care to have micro-adjust windage, the regular Ascent Verdict will save you about $75.
Option Archery 6S
Option Archery produces the most unique offering among this group. Their pivoting fixed-pin bracket combines the best features of a fixed-pin sight with a built-in single-pin adjustable sight. When hunting, you would normally adjust the mover pin to the 6th pin position. If you want a clean, single-pin view, just pivot the fixed pins out of the way. You can use the slider pin to set the position of the fixed pins very accurately during initial setup with the sight tape for reference. 
My favorite feature of the Option sights is that the fixed pins remain stationary when you adjust for distance and only the single pin travels vertically. I am "that guy" that has forgotten to move my adjustable pin rack back to the "home" or "zero" position and then shot waaaay over a big buck at close range… The Option sights virtually eliminate the most common error adjustable sight users make. Even if you do forget to put the adjustable pin back to its "home" location, your fixed pins are there for reference, making it easy to spot the problem before it causes a miss. The 6S has five fixed pins, plus the mover pin. There are also 4S and 8S models. The 8-pin uses an elongated housing to provide room for all those pins and extra travel for the mover.
I prefer to center the housing in my peep and I feel the 6S best fits the needs of Western Bowhunters. The Option sights have intuitive 2nd and 3rd axis adjustments that lock solidly and can be dialed in with the adjustment screws. Each model is equipped with a dovetail mount standard. The new straight pins are machined from steel for durability and to protect the fiberoptic. Straight pins greatly simplify setup and improve pin alignment compared to prior generations of the sights. I prefer the cleaner sight picture the new pins provide compared to the angled pins in prior models. New models are shipping now from www.OptionArchery.com.  MSRP is $395.
Garmin Xero
This innovative sight deserves a full review and evaluation before I can include it here. The Xero is so different that it's really in a category of its own. Due to the on-board electronics, it isn't legal in several western states, but it might be worth a look if your state allows it and you're willing to spend as much on a sight as you might on a new bow. I'll discuss the rangefinding features, capabilities, and real-world performance and capabilities of the sight. I'd also like to address the ethical and legal considerations of bringing this level of technology to a "primitive" sport. Garmin brought their A-game with this bad boy and it's going to be fun to put it through the gauntlet.
Only Part of the Equation
This collection represents the best adjustable sight options for hunting the West. It would be hard to go wrong with any of them. These sights are all precision tools that can be used to extend or even shoot well beyond your effective shooting range.
Please be sure you put in the work to tune your equipment, practice your craft, and most importantly, know your limits. Being able to put a sight pin on the animal doesn't mean you should let an arrow fly. If you're not positive that you can cleanly harvest the animal, get closer or be patient and wait for a better opportunity. That's our responsibility as ethical sportsmen. Getting a shot opportunity in bowhunting can often be a matter of luck, but luck has no place in determining the outcome of your shot. Shoot straight!