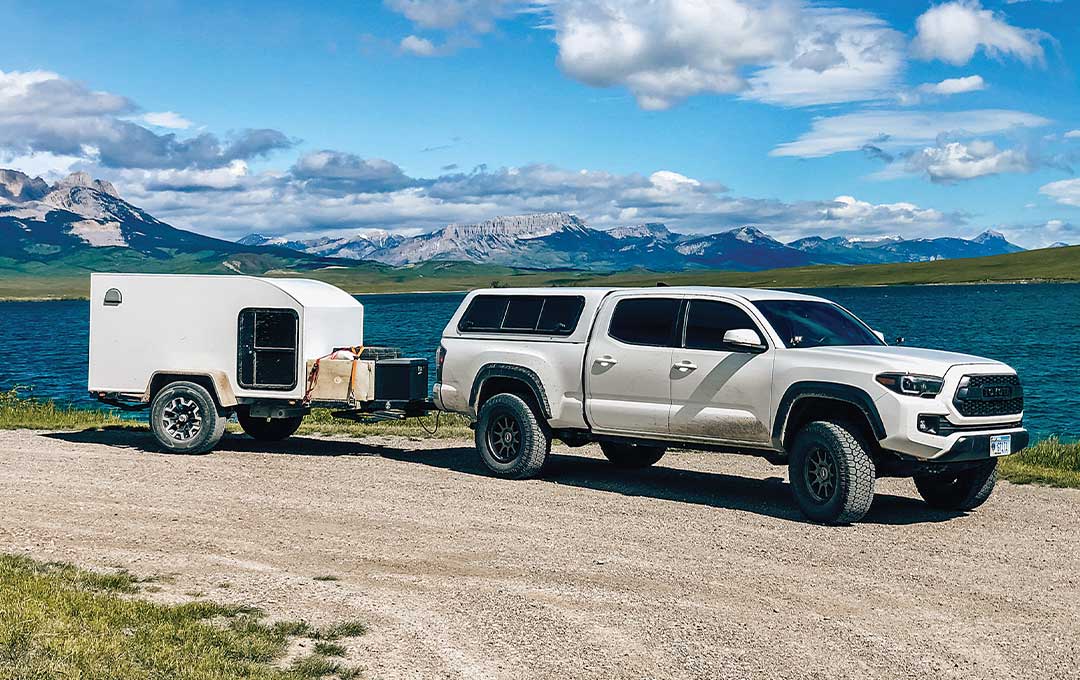 DIY Overlanding Trailers
According to what you might see online, overlanding is only a way to experience the outdoors, fire up your coffee press, and ice down an IPA – all while wearing a trendy plaid shirt. However, that couldn't be less true! I believe the reason overlanding and truck camping have become so popular today is we are longing for adventure and overlanding just makes it that much easier for the normal person to experience the outdoors. As hunters, we have been overlanding for years and have even perfected it in some ways. So it's no surprise that hunters like the idea of overlanding. There are some great things we can take from the recent growing popularity of overlanding. One of them is a small off-road camp trailer. These little trailers can go anywhere your vehicle can go.
Small and compact, these little trailers are designed from cargo-box-style to teardrop to everything in between. They often can be pulled by a small SUV or crossover. I happen to have a Tacoma, and anyone that has driven a Tacoma knows that their towing capacity is a little less than desirable. You've heard the phrase, "Everything but the kitchen sink," but in this case, you can even have the kitchen sink! Many of the trailers out there have a full kitchen and 12v iceless coolers in them, making them even handier for the family. My wife loves that even though we have sacrificed space, we can still have a fully functional kitchen out of the back.
Ease of Use
These trailers are incredibly easy to get from point A to point B. At only 12 feet long and under 1500 lb, my overland trailer is ridiculously easy to move around in tight places. I can get to a trailhead and, within minutes, have the stabilizer jacks down and heater on, making for a comfy night's sleep. The queen-sized bed has plenty of room for my six-foot frame.
Durability
Even though these trailers are a little on the small side, they can be very robust! Now, some shopping around will save you some headache, but for the most part, these trailers are typically built to be much sturdier than your typical camp trailer. Overland trailer builders tend to put most of their effort and money into the frame and suspension. Most of the trailers I have seen sport an off-road axle-less system and rigid tube frame.
Simplicity
"Simple" is the best word ever invented! I love simple things, and as a hunter, I don't want to be wasting precious hunting time fiddling with a big, bulky camp trailer. I subscribe to the K.I.S.S (Keep It Simple, Stupid) motto and apply that everywhere I can. I can't tell you how frustrated I used to get when I arrived at a hunting spot to find out I could not get my bulky trailer in there. That's not including the extra time I wasted driving on a rough road at 5 MPH. The great thing about having a small, lightweight trailer is that you can get where you want a little quicker and not be the one blocking the road.
Easy To Build
With the amount of information out there, many people have opted to take on the challenge of a DIY overland trailer. For me, it was pretty simple. I had my cousin, a great wielder, weld up the frame of the trailer, and I took it from there. The main cabin is 5' wide, 8' long, and 4' tall, all built out of ¾" plywood. I did spend a little extra on higher-grade plywood, but other than that, I have kept costs down to a minimum.
Options
These trailers are everywhere these days. You can find a manufacturer in nearly every state that builds these types of off-road trailers. I love looking at what other people have come up with to get ideas on how to make mine better or more efficient.
My goal when I started this project was to build something light, easy to pull, and simple. I feel like the simpler things are, the more likely I am to be successful when I am out hunting. The last thing I want is to get pulled away from a hunt because of problems with my camp or trailer. With this off-road trailer, I can dial in my efficacy and get in and out of all kinds of country that I couldn't access with a big trailer in the past.
By Tyler Boschma