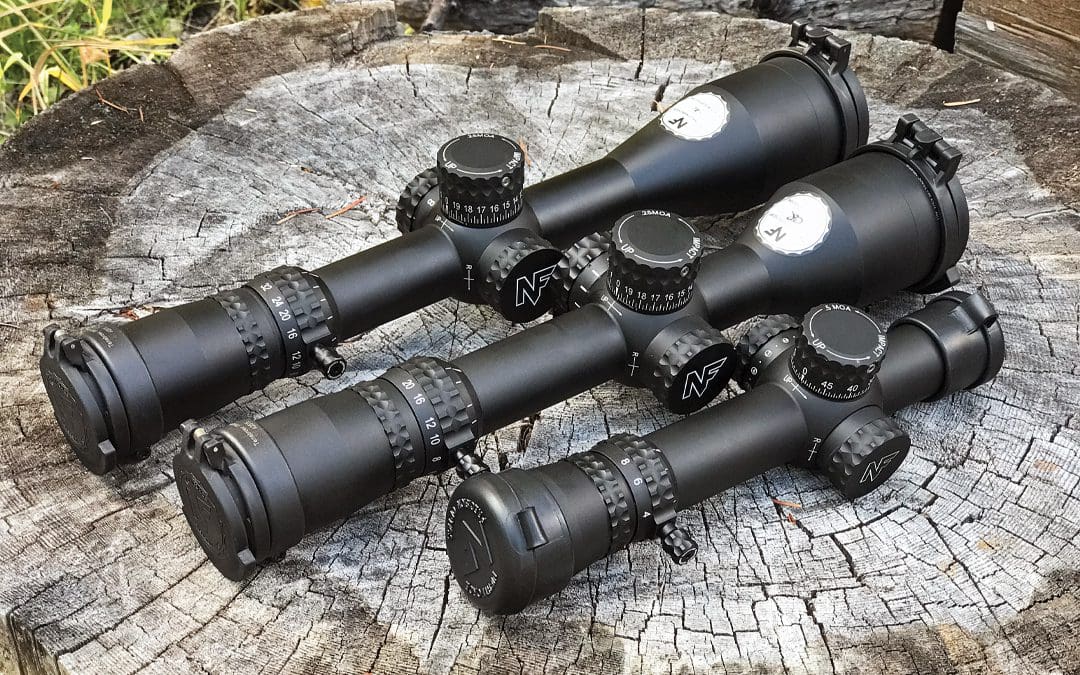 Nightforce NX8 Riflescope Review
The Nightforce NX8 isn't the first time sits on top of the industry. Nightforce Optics has been an industry leader when it comes to bulletproof riflescopes for the last 20 years. Their reputation for durability and accuracy has been proven through its application in both military deployments and benchrest competitions around the globe. Both end-users require an extremely accurate rifle optic that is dependable and holds zero at all costs. When the hunting crowd began increasing their shooting distances on game, the traditional 1" tube, single revolution turreted scopes did not hold up to the task at hand. Nightforce NXS Riflescopes quickly became the standard for hunters and long-range enthusiasts abroad. Many scope companies soon entered the market eagerly trying to get a piece of the long-range market pie, offering scopes with 30-34mm tubes and larger turrets. As they always say, imitation is the sincerest form of flattery.
Nightforce would continue to lead the long-range movement through its infancy and produce the ATACR rifle optic line in 2016, raising the bar again for what a long-range rifle optic should be. (For more info on the ATACR 4-16 Riflescope, check out my scope review here in Western Hunter Magazine's Aug/Sep 2019 Issue). With a long history of producing great optics suited for a variety of applications, it was no surprise when Night Force released their latest creation, the Nightforce NX8 rifle scope with 8x zoom offered in 1-8, 2.5-20, and 4-32 rifle optics. We, riflemen, have long been limited to the power range of our riflescopes to the traditional 3x with 5x and 6x added in the last 10 years or so. With the latest addition of 8x optics, we have a widely more versatile optical system that covers a broader range of applications.
The Nightforce NX8 lineup covers every rifleman's needs with the 1-8 for your AR platform rifle, rimfires, and magnum caliber rifles for dangerous game with its wide, bright field of view. The 2.5-20 is the universal hunters optic covering everything from dark timber elk hunting with the super bright 2.5 low end, plus the added ability to crank up the magnification and seek out a pronghorn bedded in the tall grass in the next basin. Last but certainly not least, the 4-32 is the long-range hunters dream with a max power of 32x this optic covers all your long-range needs with 90 MOA or 26 MIL of elevation adjustment but a low 4x for quick target acquisition, there is nothing out of reach for the Western Hunter.
Features:
1-8x Magnification

Objective Diameter 24mm

First Focal Plane

Tube Diameter 30mm

Turret Adjustment 100 MOA or 30 MIL in Elevation/Wind 

.50 MOA or .20 MIL Click Value

Parallax 125 Meters

Exit Pupil 7.9mm- 3.0mm

Eye Relief 3.75 Inches

Field of View 106ft @ 1x, 13.2 @8x

Weight 17 OZ

Length 8.75 Inches

Available Reticles FC-MOA and FC-MIL

Illuminated Reticle

Zero Stop


Features:
2.5-20x Magnification 

Objective Diameter 50mm

First Focal Plane

Tube Diameter 30mm

Turret Adjustment 110 MOA or 32 MIL in Elevation, 80 MOA or 23.3 MIL in Windage Adjustment

.25 MOA or .10 MIL Click Value

Parallax Minimum 11 yards +

Exit Pupil 7.1mm- 2.5mm

Eye Relief 3.44 Inches

Field of View 41.8 ft @ 2.5x, 7.0 ft @ 20x

Weight 28.3 OZ

Length 12.0 Inches

Available Reticles: MOAR, MIL-XT, MIL-C, and TReMoR 3

Illuminated Reticle

Zero Stop


Features:
4-32x Magnification

Objective Diameter 50mm

First Focal Plane

Tube Diameter 30mm

Turret Adjustment 90 MOA or 26.2 MIL in Elevation, 70 MOA or 20.4 MIL in Windage Adjustment

.25 MOA or .10 MIL Click Value

Parallax Minimum 11 yards +

Exit Pupil 7.3mm- 1.6mm

Eye Relief 3.40 Inches

Field of View 26.1 ft @ 4x, 4.6 ft @ 32x

Weight 28.6 OZ

Length 13.4 Inches

Available Reticles: MOAR, MIL-XT, MIL-C, and TReMoR 3

Illuminated Reticle

Zero Stop

At the Range
I mounted the full Nightforce NX8 lineup on several of my personal rifles including one rifle I was reviewing for Cooper Firearms after another optics company recalled the rifle optic I was actively reviewing for them. Apparently, management and bean counters would prefer scopes to sit in their inventory instead of getting real use in the field for more than 30 days, their loss. I started with mounting the Nightforce NX8 1-8 on my .375 H&H Magnum with a pair of Talley Manufacturing 30mm QD rings. This rifle launches 300 grain Nosler Accubonds at 2,560 fps creating 4,400 ft/lbs of energy at the muzzle. This is my dark timber rifle for bear and elk here in Montana, where your optic needs to combine a bright clear image with a simple illuminated reticle for fast target acquisition due to the limited windows of opportunity hunting Public Land.
The Nightforce NX8 1-8 proved to be as robust and durable as all it's Nightforce Optic predecessors holding up to repeated punishment from the .375 H&H recoil. Zeroing the optic at 100yds was quick and easy with the Nightforce NX8 Turret with ZeroStop feature. I ran the optic out to 400yds off the bench with repeatable accuracy and a beautiful crisp and clear sight picture. I usually do my turret test on a tall target to test the optics furthest turret movements for tracking, but with the limited range of the 8 power I felt 400 yds was ample for the intended testing, I don't know many people shooting a 1-8 beyond 500 yds, but I am sure the optic would track well regardless of the application. The versatility of the Nightforce NX8 1-8 optic is a benefit to the rifleman looking for an optic that can serve multi-purpose. You can shoot 3 Gun Matches throughout the summer on your favorite AR Platform and then swap it out for a hunting rifle come fall and be stacking the deck in your favor for a lightweight scope with an ultra-bright optical system plus the ability to dial dope out to your capable hunting distance.
The Nightforce NX8 2.5-20 was setup atop my 280 Ackley Improved; this is probably the most accurate rifle in my collection. I doubt this rifle has shot a group over .30 MOA in its life with factory or reloaded ammunition with 140gr Nosler Accubonds traveling at 3050 fps in a 22" barrel. This rifles is handy and is a great truck rifle so it sees plenty of action. The optic was set in a pair of Talley manufacturing 30mm Fixed, Medium Rings in the same fashion as about every rifle I have owned. This ring base combination is the most secure and lightweight option available if you want to mount and optic to a rifle and never worry about it again. The scope base hole spacing on the Winchester Model 70 Action left just barely enough space to set the eye relief due to the short amount of ring mounting space on the portion of the tube forward of the turret. This is a common problem with short compact optics so you may have to be flexible with your ring and base configuration. FYI, if you're running a standard 20 MOA rail base you won't have an issue setting the optic properly to your rifle.
When I first started doing load development for my 280 Ackley Improved the first group out of the barrel was well under a ½" at 100 yds and only improved with each passing shot. The rifle has always been a "one hole" rifle and my fear of shooting the barrel out has me only pulling this beauty out for testing mostly. The Nightforce NX8 2.5-20 zeroed well on the rifle after a quick bore sight and I was off and running. Nosler 140gr Accubonds quickly settled into the usual groups hovering under .20 MOA. I ran the optic through a box drill on a 48"x48" target board after measured out the appropriate reference marks. As expected the optic tracked nearly perfect on the test and returned back to its zero within .1-.2 of the center. As for the optical quality in the Nightforce NX8 2.5-20, I appreciated the bright image quality in this optic the most. For the hunter looking for a "one size fits all" type of optic, this is a great option, as it will cover just about any application a hunter will experience in the West.
Rounding up the Nightforce NX8 Trio with the 4-32 mounted on the Cooper Firearms of Montana Open Country Lightweight that I had just finished reviewing. It was being used for scope testing after proving to be an accurate Long Range rifle during my review. Chambered in 7mm Remington Magnum I had several boxes of Nosler Trophy Grade ammunition left after the review so no better time to finish the ammo off testing another optic (sorry to those of you who read my last piece reviewing the Cooper Rifle as I left out the caliber of the rifle I tested in the article). As mentioned in the article, I found 168gr Nosler Accubond Long Range bullets to shoot extremely well out to 1,000 yards in this rifle. No better rifle to run the Nightforce NX8 4-32 optic through its paces and test the tracking on the Nightforce turret. Once mounted in a set of Talley Manufacturing Tactical 30mm Medium height rings, this package weighed in at under 8 lbs for a well-balanced Mountain rifle. I conducted the same box test as the 2.5-20 on the 48"x48" target board to test the turret tracking. The Nightforce NX8 4-32 tracked very well and returned to zero after several passes through the test. I was able to shoot several sub MOA groups out to 1,100yards with the setup and appreciated the parallax adjustment offered to acquire a crisp target image in relation to my reticle. Overall the Nightforce NX8 4-32 is an excellent long-range optical system and will be well received by even the most critical long-range enthusiast.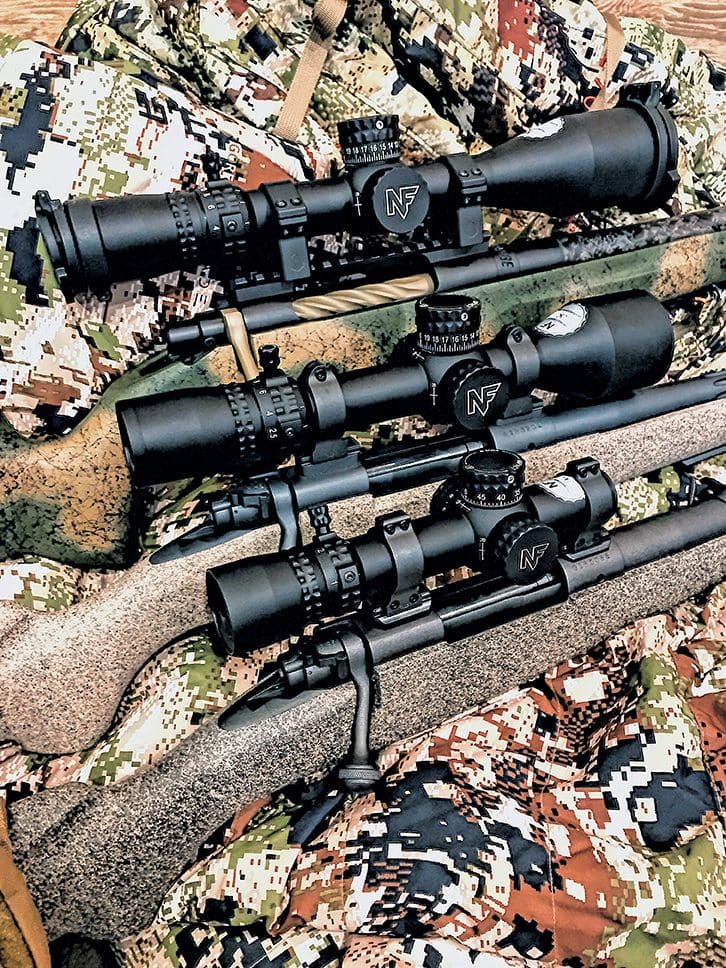 The Nightforce NX8 lineup from Nightforce Optics offers a well thought out and designed riflescope solution for a variety of applications. Keeping with the Nightforce tradition, these scopes offer bright and clear image resolution with an accurate repeatable turret system that continues the long-lasting Nightforce reputation. Check out the full line up of Nightforce Optics at www.Outdoorsmans.com.
Let's keep the rifle conversation alive by following me @papwinkle on Instagram, Pap Van Winkle on Facebook, or email me at Colton@westernhunter.net with topics or questions you want to see in future issues of Western Hunter Magazine!
And always remember… "Only Accurate Rifles are Interesting" – Townsend Whelen