A Guide to Hunting from a Canvas Wall Tent
I can still vividly recall the stories and photos of Jack O'Connor, John Jobson, Clyde Ormond, and Warren Page and the pack trips they wrote about in Outdoor Life, Sports Afield, and Field and Stream when I was a boy. The adventure and thrill of one day going on a backcountry trip with a canvas wall tent, horses, and mules was but a distant dream at the time. Although I longed for the day when I could make such a trip, it would remain just a dream for nearly two decades.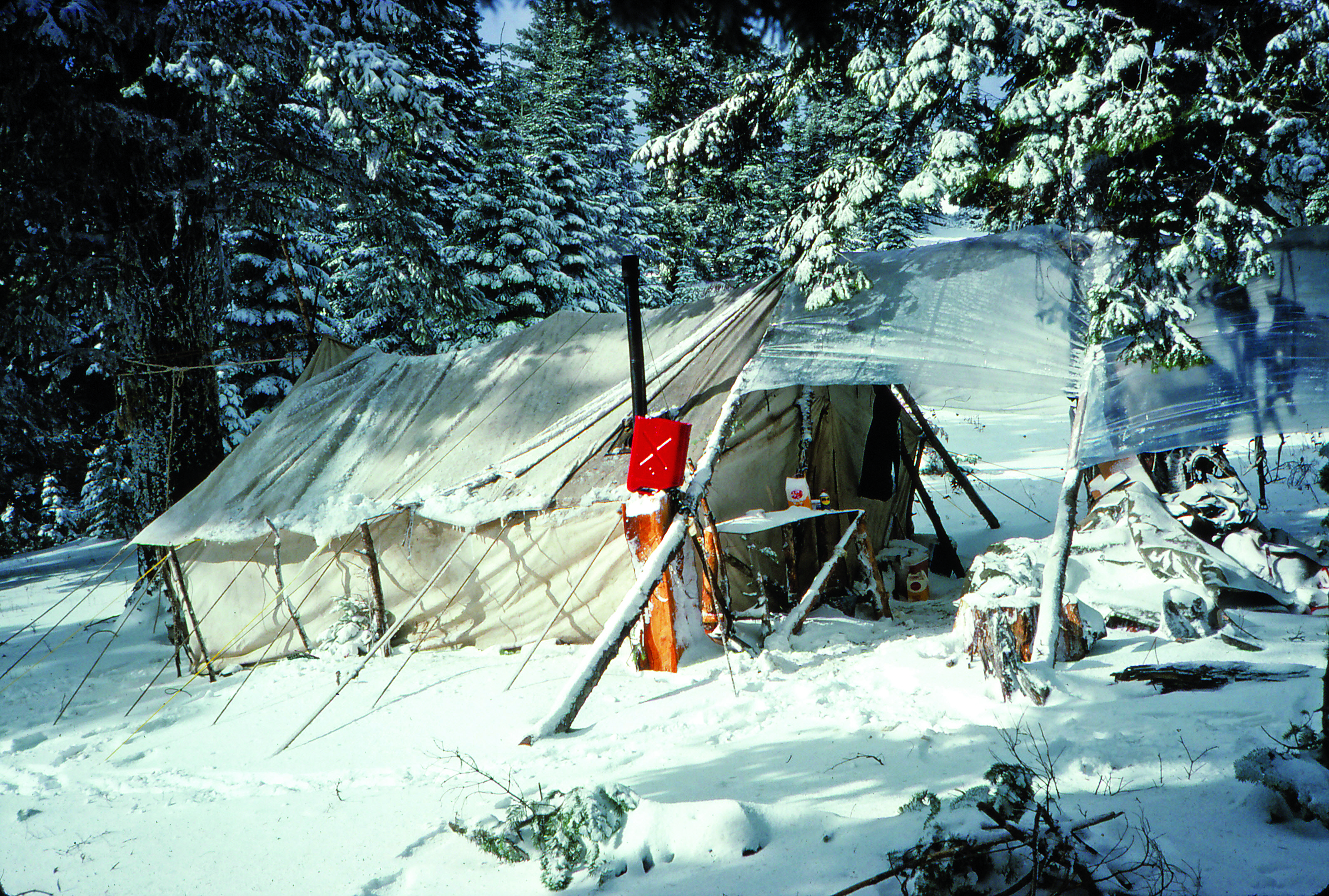 Finally, I was fortunate to be able to own a horse and make such trips on my own. Realizing this lifelong dream didn't come easy and I learned a great deal 'along the trail' to that adventure.
My first backcountry elk hunt was 50 years ago in November 1964 - just two weeks before I was to report for officer basic training at Fort Bliss, Texas. I got to go into the backcountry of Washington's Cascade Range with a friend and actually "sleep under canvas" and hunt elk. We got into the backcountry not with the horses and mules I had dreamed about for so long, but with an "Iron Horse" in the form of a World War II jeep. Even though we didn't have real horses, we created a memory that carried me through the Vietnam era and finally back to the Northwest, where I could once again hunt elk in the backcountry.
Guides, packers, and hunters who spend a lot of time in the backcountry depend upon durable shelters, which provide protection from the elements and serve as the foundation for a comfortable camp. Such a camp enables the hunter to dry wet clothing and gear, prepare meals out of the weather, and get a good night's rest, all of which are key components to a successful hunting experience.
The canvas wall tent has provided such shelter from the most severe elements dating back to our early pioneers, miners, trappers, and hunters. It has a history and legacy as part of the backcountry hunting experience almost as old as our country. Leading a pack string into the backcountry without a canvas wall tent seems a bit "strange" to me, as the wall tent is an integral part of the ambiance of the backcountry experience.
With today's technology and modern materials, there are other tent designs that will function at nearly all elevations and conditions. You can find tents that function well for mountaineering expeditions at high altitudes in the worst weather imaginable. You can also find roomy, four-season tents that will accommodate a woodstove and which provide a durable shelter for hunters and packers. But when it comes to packing with stock, the canvas wall tent is still the standard.
What Makes a Wall Tent so Great?
If you don't own a canvas wall tent, you're likely thinking, what's so great about them? I personally know a lot of hunters who are competent and successful DIY hunters who don't use canvas wall tents, so I'm not implying that other kinds of tents aren't suitable for the backcountry. So, just what makes a wall tent so great?
Portability
Canvas wall tents can be folded and packed over the top of a set of panniers, rolled up and man-tied as a side pack, or stuffed into a rectangular top pack. Nearly all nylon tents require some sort of internal pole system. Although you can get internal frames for wall tents, you typically don't use them in the backcountry. Tent poles required for nylon tents of suitable size and which can be used with a wood stove can be unwieldy and difficult to pack on stock and can also be heavy. Aluminum poles for most nylon tents of adequate size with internal frames are too long to fit in normal size panniers or man-tied loads. When you see such poles being packed, you often see them protruding high above the pack animal, where they're likely to get hooked on overhanging limbs, brush, or other obstacles.
Durability
The canvas wall tent, when using natural materials such as lodgepole or similar poles for frames, can be set up anywhere one can find such materials. A wall tent with a pole frame will withstand nearly anything Mother Nature can throw at you, including heavy snow loads.
Although most quality wall tents made of double-fill cotton fabric will withstand rain and snow, a simple lightweight plastic tarp, used as a rain fly, will allow the snow to slide off the roof and keep it dry. I like to use a tarp on my wall tents, mostly because a dry tent is a lot easier to pack than a wet one. If it has been raining or snowing and you're packing your gear to head for the trailhead, a woodstove will keep you warm while you're organizing your loads inside the tent and will dry your tent under the plastic fly. The tent is the last item to be packed and is easily man-tied or put into a top pack.
Long-Lasting
If properly dried, stored, and maintained, a quality canvas wall tent will last you a lifetime and can be handed down to your children and perhaps your grandchildren. The key is to dry the tent after each use and store it properly between uses. Regardless of the quality of the cotton fabric or its treatment, a tent that is rolled up wet will mildew and cause considerable damage, including discoloration, rotting, and falling apart. Proper storage in a clean, dry, rodent-free area is imperative. The cotton duck fabric from which most wall tents are made fails quickly when exposed to the harsh sun. Such tents must be stored out of the sun.
Versatility
A wall tent made of cotton fabric can be used in the hottest weather as well as the coldest weather. These tents are most often white and will allow light to come through the fabric, creating a pleasant daytime atmosphere. The white tent is also cooler than a dark tent and with full-zippered doors on both ends, the tent can be opened up during the day for cooling or zipped up tight for warmth.
Most canvas wall tents don't have floors, thus enabling you to use a woodstove without worrying about burning the tent floor. If you've hunted out of a backcountry camp in wet weather or snow, you've dealt with mud and snow being tracked into your tent. Without a floor, mud and snow can be knocked off your boots at the front of the tent by the stove.
I have a "no shoes" rule for the back half of my tent. I use a tarp that is sized to fit the back seven feet of the tent where we put our bunks and personal gear. The tarp is easily swept clean of debris such as pine needles, dirt, leaves, etc. with a fir bough. If mud or water accumulates on the tarp, it can be easily cleaned, making for a tidy sleeping area. I have the tarp sized to fit over the sod cloths (flaps) at that bottom of the tent, which is folded inside the tent. Having the tarp on top of the sod cloths seals out drafts caused by wind blowing under the tent wall.
Easy to Heat
A wood stove is an absolute must in a camp when the weather is cold, wet, and nasty. When using a stove, you have to have a stovepipe. I prefer having the pipe go straight up through the ceiling. I find that when the stovepipe goes straight up and above the ridgeline of the tent, the stove will draw better. The water that does come into the tent around the pipe through the stove jackhole is inconsequential.
canvas wall tents can also be purchased with stovepipe jacks in the sidewalls, making the roof more watertight. You may prefer this, but I've found that in windy conditions, stoves using sidewall jacks are more temperamental and inclined to smoke up the tent. You also have to pack an elbow for the pipe, which usually packs awkwardly.
Important Things to Consider:
Tent Fabrics
Cotton/canvas: Wall tents are usually made of cotton (canvas) fabric. I prefer the tents made of marine-grade double-fill cotton known as cotton duck. The best tent fabric is made of the long cotton fibers spun into individual threads, two of which are twisted together to form plied yarns and referred to as "double fill." This grade of canvas is an all-cotton duck with a special marine finish also called Otis Permasol, Vivatex, or Sunforger.
Although you can find tents made of heavier canvas, there is essentially no advantage in terms of durability over the 10-oz. or 10.10-oz fabric. Even though the fabric is a tight weave, the cotton duck allows for excellent passage of moisture through the material. When cotton duck gets saturated, the fibers swell and the openings in the weave will close, making the fabric nearly waterproof. The cotton duck will shrink some over time, even if it undergoes a "preshrinking" process. Seams, which are carefully sewn, will also be similarly waterproof.
If you're in the market for a wall tent, it's best to make sure the tent fabric has been treated with a fire retardant and mildew inhibitors. Some of the older canvas tents, including military tents, are not fire retardant.
Relite: I've also owned wall tents made of a material called Relite. These tents are very lightweight and work well in warmer weather. The roof seams need to be sealed or you need to use a tarp or rainfly to keep water from leaking through the seams. Relite is impermeable to moisture so the tent will sweat inside. With a good stove, I've found the inconvenience of some condensation is well worth the savings in overall weight when you want to lighten your overall load. Relite will melt when subjected to a hot stovepipe or hot embers, so pay attention to this issue.
Blend: Montana Canvas manufactures a tent made with a cotton duck roof and Relite walls. They call this tent a "Montana Blend." I've used these tents on a number of trips and, for the most part, they're quite satisfactory. The cotton duck roof doesn't leak and is more fire retardant than a full Relite tent. They're also lighter than an all-cotton duck tent. However, when it gets very cold, Relite tends to get stiff, and I've had the seams rip out of the walls of two such tents in very high winds.
Size
Most hunters are familiar with backpack tents, which are made for "1-person", "2-person" and so forth, but the actual internal space in these tents can be quite variable. For example, I've used "2-person" tents that were cramped for one person. In these types of tents, I consider from 14-18 sq.-ft./person to be acceptable, depending on how much gear you want in the tent.
As with other tents, you can get as many people into a canvas wall tent as desired. If you don't use cots, you can "make do" with smaller tents than you can if you want each person to have a cot and personal gear inside the tent.
Likewise, if you don't plan to cook inside the tent or have a wood stove, you can add a person to each of my recommended sizes. My basic rules for tent sizes are 10'x12' for two hunters and their personal gear, 12'x14' for three hunters and gear, and 14'x16' for four hunters and gear.
Everyone has a preference for how to arrange the cots, stove, and cooking area. My preference is to have the cots and sleeping area to the rear, arranged so that each person has a "space." I like to place the stove and cooking area at the front by the door and use "kitchen" panniers for a cooking area, as they fit nicely. Food is stored in bear-resistant panniers outside the tent. The provided diagrams illustrate the arrangements of cots, stove, and cooking areas that I prefer in my canvas wall tent camps.
Wall & Peak Height
Walls: Five-foot walls are a must when purchasing a canvas wall tent. Some manufacturers advertise five-foot walls, but their walls are actually finished at 4'8" or less. Others who advertise five-foot walls actually finish the walls at five feet.
Why is a five-foot wall important vs. a three-foot or four-foot wall? We used a 12'x14' canvas wall tent with three-foot walls on my first backcountry hunt and we spent much of our time in the tent moving around on our knees! The extra two feet dramatically increases the useable space.
One of my hunting partners has a 12'x14' canvas wall tent with walls that are finished at 4'8" and with three of us over six feet, we find ourselves hitting our heads on the ceiling while cooking or getting into our bunks.
Peak: That tent also has a peak height of just over seven feet high, which isn't high enough to hang a lantern to keep from hitting your head on it. My tents all have 8-½-foot peaks and the lantern is well above my head!
Doors
Zippered doors are common on one end of the tent. Specify zippered doors on both ends or have a zipper custom installed on the back end. With zippered doors on both ends, you can open them in hot weather for ventilation. You can also put two tents end-to-end if you need more privacy, additional space, or a sleeping area not in the hot end of the tent! I prefer zippers on both ends, with nylon straps and buckle "keepers" to protect the zippers in high winds and add an extra measure of strength to the end closures.
Sod Cloth
A sod cloth is a 10" wide band of fabric that is sewn around the inside of the tent at the bottom of the sidewalls and back. I like to fold it inside the tent and place a tarp on top of it at the back of the tent in our sleeping area. This holds it tight and forms a seal against wind.
You can also fold the sod cloth outside and put dirt or snow on it to keep out drafts. However, in freezing weather, you can have issues with the sod cloth getting frozen in the snow and ice or dirt. You can also put dirt on the sod cloth inside the tent, but I prefer not to do so.
Stove Jack
A stove jack made of two layers of fiberglass cloth will protect your tent from the hot stovepipe. The stove jack needs to be at least the same diameter as your pipe. Stove jacks in the roof are oval-shaped in order to accommodate the angle of the roof so the stove jack will fit snugly around the pipe. You can use a stove jack that is larger in diameter than your stovepipe but obviously not vice versa.
Note: Be careful of a stove jack that fits too tightly around your pipe, because in high winds, the wind can come under the wall or end of your tent and balloon the tent roof up, pulling the pipe out of the stove! This can be a real problem when you have a "cherry red" fire going in the stove or the tent fills with smoke while you're sleeping.
Tent Care
If you have a canvas wall tent, you've likely dealt with mildew. It's almost impossible to overstate how important it is to make sure your canvas tent is completely clean and dry before you store it. If you feel like it's starting to mildew, put it out in the sun for a while and that should take care of it. Also, air dries it well in an enclosed area like a garage or spare room to make sure it's void of any moisture. If you do have spots of mold/mildew, use a very light bleach-water solution on it. Also, stow tents up off the ground so they don't become victims of unexpected water or vermin. While you're at it, don't forget to clean/treat your ground cloths, etc.
Other Thoughts
As with anything, there are times when using canvas wall tents might not be a wise choice. They don't do well in areas of extremely high winds when you're unable to find a sheltered area to pitch your tent. They can also be difficult to set up in areas where suitable tent poles can't be found. But for 90% of the backcountry elk hunting the hunting horseman will encounter, the canvas wall tent will serve you well, provide you with a comfortable base camp, and add to your many wonderful memories of the backcountry, big bulls, horses, mules, and friends.